7 Wellness Leaders On Why They Stopped Eating Meat (And Haven't Looked Back)
mbg Sustainability Editor
By Emma Loewe
mbg Sustainability Editor
Emma Loewe is the Sustainability Editor at mindbodygreen and the author of "The Spirit Almanac: A Modern Guide To Ancient Self Care."
It's pretty hard to contest the health and environmental benefits of a veggie-heavy diet. And although everyone is bound to have their own unique eating habits, vegetarianism and veganism have picked up some serious traction lately. We asked seven leaders in the wellness world about the moment they realized that a meatless life was the life for them. Here are their stories:
Renée Loux, Chef and Author
I became a vegetarian at 14 years old, largely for moral reasons. But frankly, I also realized it was a great way to rebel. I recognized that I could make my views known multiple times a day through my actions.
I became vegan a few years later for similar reasons, though as I went on to study nutrition and environmental science, my conviction to eat plants instead of animals was strengthened by a much more comprehensive understanding of the impact of our diet. Namely, that several of the leading causes of death in the U.S. are directly diet-related; that many of the worst chemicals on the planet travel up the food chain and concentrate in animal products; and, perhaps most significantly, that there might be no single human activity that has a bigger impact on the planet than raising livestock.
Veganism is the best decision I've ever made; it has expanded my consciousness.
Julie Morris, Natural Food Chef
My lightbulb moment happened when I was 14: I watched a video about factory farming and was sickened to the core by the inhumane treatment of the captive animals as well as having the guilty realization that this slaughter was essentially for my own pleasure (be it a burger or a handbag).
It all seemed so barbaric, so grossly unfair (especially with all the plant-based alternatives available), and so I stopped consuming meat almost overnight. It wasn't until seven years later that I started learning more about all the healthy benefits of a fully plant-based diet, and as a result, I gradually went vegan, too. Today, at 20 years vegetarian and 13 years vegan, my dietary choices continue to be among the most rewarding practices in my life.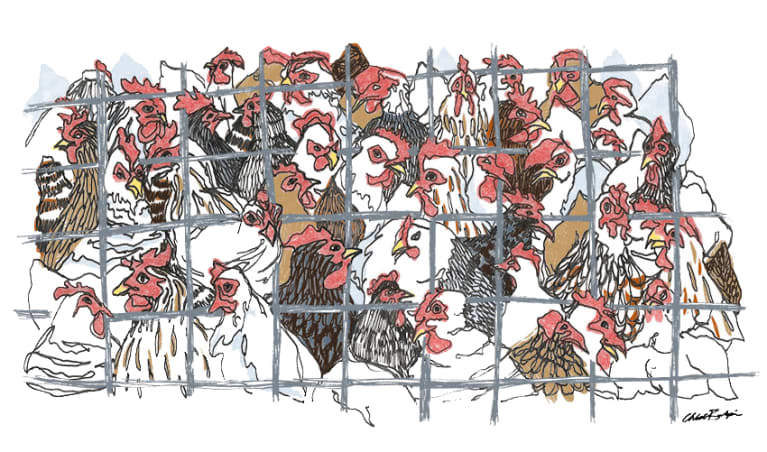 Gena Hamshaw, Author and Nutritionist
I stopped eating red meat when I was 8 years old. I'd just seen Bambi, and I had a visceral aversion to red meat after the concept of hunting hit home in such a vivid way. I became vegan much later, in my mid-20s, this time for health reasons (a GI doctor recommended I give up dairy, and I liked very few other animal foods). But everything came together a year or so later when I first visited an animal sanctuary.
At that point, I vowed to remain vegan long term because I deeply respect and value the lives of animals, and I don't want to partake in their exploitation, commodification, and harm. Veganism is the best decision I've ever made; It has expanded my consciousness, enhanced my sense of empathy for all beings, and given me a lifetime of delicious food with which to nourish myself.

Heidi Kristoffer, Rockstar Yogi
I was born allergic to dairy, seafood, and shellfish, and when I moved to New York City, I didn't buy red meat because it was expensive. When I went home six months later and ate it, my stomach revolted, so I decided that if that was happening to me from not eating it for so long (my body was no longer producing the proper enzymes to digest it), I was better off without it. Soon thereafter, I stopped wanting to eat anything that had a mom, so I did. That was about 11 years ago, and I have felt so much better ever since.
Dr. Joel Kahn, Cardiologist and Professor
I stopped eating meat in medical school 30 years ago upon learning the disturbing science behind meat's effect on the body. Then I learned of the conditions on animal feed lots and vowed never to consume dairy either. Then I studied the destruction of our planet by animal food production and I was determined to teach as many people as possible of the importance of choosing a plant-based diet.
Ruby Warrington, Lifestyle Writer
For me, there have been many compelling reasons to follow a plant-based diet. They include the health benefits of being vegan, the desire for a feeling of spiritual connectedness to our planet and fellow species, and the devastating environmental impact of industrial animal agriculture — as dramatically detailed in Cowspiracy (discovering this documentary was definitely a pivotal moment in my plant-based journey).

Since cutting out fish and eggs (I stopped meat and dairy a few years back), any and all of my lingering digestive issues have "miraculously" gone away and all my bodily systems feel like they are operating in perfect alignment. My skin is clear; my hair and nails feel strong. Veganism (or vegetarianism at the very least) feels like the inevitable future of food. The sooner we embrace this, the better for everybody. I am thrilled to finally see more and more restaurants and chefs catching up, and making more aspirational choices too!

Hillary Biscay, Ironman Champion
As a professional athlete, I had always been convinced that my
performance would suffer if I didn't eat meat. But at age 30, I reached a point
where I simply could no longer justify the sacrifice of animals' lives in exchange for my personal performance — even though sport was my job. Ethically, I could no longer live this way. My decision was made, and although I did indeed struggle to figure out a new way of eating, I never looked back.

Preview illustration courtesy of Chloe Bulpin, mbg creative