The Ultimate Thanksgiving Leftovers Bowl
mbg Contributor
By Leah Vanderveldt
mbg Contributor
Leah Vanderveldt is an author living in Brooklyn, New York. She received her bachelor's in communications and media from Fordham University, and is certified in culinary nutrition from the Natural Gourmet Institute. She is the author of two cookbooks: The New Nourishing and The New Porridge.
Salad chain sweetgreen is all about reducing food waste in the most delicious ways possible. Below is their recipe for the ultimate Thanksgiving leftovers salad bowl, The Roasted Turkey and Brussels Sprouts Salad.
Try it out at home with your leftovers — put your favorite roasted vegetables and turkey atop a bed of greens and make a simple dressing to bring it all together.
The Roasted Turkey and Brussels Sprouts Salad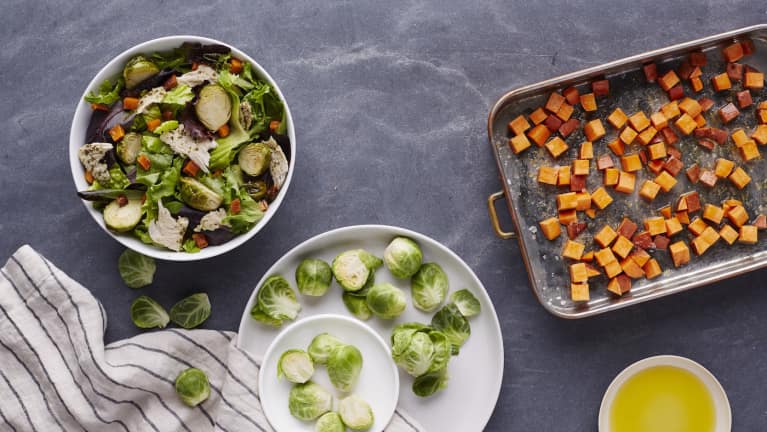 2 lbs. skinless boneless turkey breast
1 garlic glove, smashed
1 sprig rosemary, stemmed and chopped
1 tablespoon Dijon mustard
2 tablespoons maple syrup
½ cup grapeseed oil
½ cup warm water
1 teaspoon kosher salt
Ingredients for roasted vegetables
1 large sweet potato diced into ¾-inch cubes
4 cups Brussels sprouts, stemmed and cut in half
¼ cup grapeseed oil
2 teaspoons kosher salt
Fresh cracked pepper to taste
Baby lettuce or mescaline mix
Salad dressing of choice (see below for ideas)
1. Combine everything but turkey in a blender, and blend until smooth (about 2 minutes) to make a marinade. Place the turkey breast in a large freezer bag, with the marinade, and let the turkey marinate overnight in the fridge.
2. Then, roast in a 325°F oven until internal temperature reaches 165°, which takes about 40 to 60 minutes. Remove turkey from the oven and allow it to cool before cutting.
3. Once the turkey is out of the oven, turn it up to 400°F. Toss the vegetables in a large bowl with the oil, salt, and pepper to thoroughly coat.
4. Lay the vegetables out in a single layer, being careful not to crowd the pan (for better browning) — use two large cookie sheet pans, if necessary.
5. Place the vegetables in the oven to roast for about 20-30 minutes, or until well browned and fully cooked. Remove them from the oven and allow them to cool slightly.
6. To make salad, serve roasted vegetables and turkey over lettuce and top with dressing.
Salad dressing combos
2 tablespoons olive oil plus 1 tablespoon apple cider vinegar plus 1 teaspoon Dijon mustard plus salt & pepper (whisk to combine)
½ avocado plus juice of ½ lemon plus handful of parsley and cilantro leaves plus salt & pepper plus water (blend in a food processor)
2 tablespoons tahini plus juice of ½ lemon plus 1 teaspoon miso paste plus chili flakes plus water (whisk to combine)
Photo courtesy of sweetgreen