3 Plant-Based Recipes For Thanksgiving
It might seem like the holidays are a difficult time for the plant-based eater, but I think Thanksgiving is a great time to introduce family and friends to delicious plant-based dishes.
Below are recipes from two of our favorite plant-based cookbooks by Angela Liddon and Rich Roll & Julie Piatt.
Add these to your holiday table for vegan fare that will please everyone.
Delicata Squash, Quinoa, and Kale Salad with Lemon-Tahini Dressing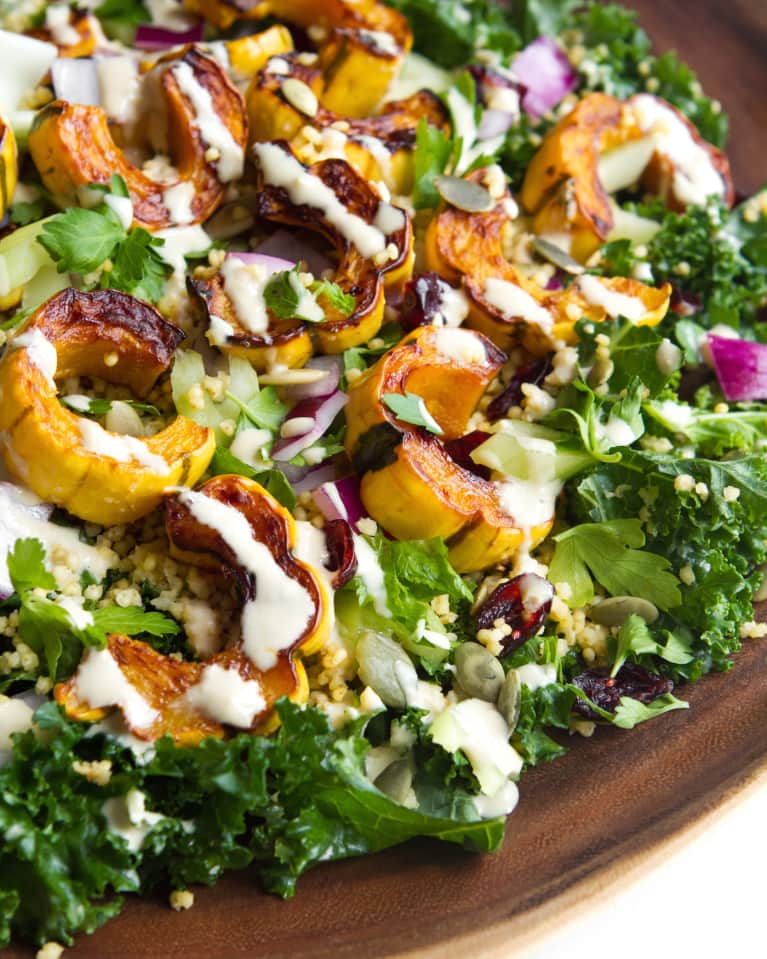 Delicata squash is my favorite squash to prepare because it has a thin, edible skin that doesn't require peeling, and it's easy to chop. In this cool-weather salad, kale and quinoa are topped with roasted delicata and a creamy lemon-tahini dressing.
It's hearty and comforting while still being light and energizing. Don't despair if you can't find delicata squash; feel free to substitute your favorite squash in its place.
Serves 3
Ingredients
2 delicata squash (1¾ to 2 pounds total), halved lengthwise and seeded
1 tablespoon sesame or coconut oil
Fine-grain sea salt and freshly ground black pepper
½ to 1 bunch kale, stems removed, leaves torn into 1-inch pieces
1 cup quinoa or millet
½ cup diced red onions
½ cup chopped celery (about 1 large stalk)
½ cup fresh parsley leaves
2 tablespoons dried cranberries
2 tablespoons raw or toasted pumpkin seeds
Lemon-Tahini Dressing (recipe below)
Preparation
1. Preheat the oven to 425°F. Line a rimmed baking sheet with parchment paper.
2. Slice the squash crosswise into 1-inch-wide pieces (they should be the shape of a U) and place them in a single layer on the prepared baking sheet. Drizzle them with the oil and toss to combine. Season generously with salt and pepper.
3. Roast the squash for about 30 minutes, flipping once halfway through the cooking time.
4. Meanwhile, cook the quinoa (ratio: 1 cup dry quinoa to 1½ cups water; cook for 15–17 minutes).
5. Place the kale in a large bowl and spoon 2 to 4 tablespoons of the Lemon-Tahini Dressing over the top. Massage the dressing into the kale with your hands until evenly coated. Let the kale sit on the counter for at least 10 to 15 minutes so the dressing can soften the kale leaves.
6. To assemble the salad, place the dressing-coated kale on a large serving plate. Spread the cooked quinoa over the top, followed by the onion, celery, parsley, roasted squash, cranberries, and pumpkin seeds. Drizzle on the rest of the dressing.
Tip: Try roasting the red onion along with the squash for a deep, caramelized flavor.
Lemon-Tahini Dressing
Makes ⅔ cup
Ingredients
1 large clove garlic
¼ cup tahini
¼ cup fresh lemon juice
3 tablespoons nutritional yeast
1 to 2 tablespoons sesame oil or extra-virgin olive oil, to taste
1 to 2 tablespoons water
¼ teaspoon fine-grain sea salt, or to taste
Preparation
In a food processor, pulse the garlic to mince it. Add the tahini, lemon juice, nutritional yeast, oil, water, and salt and process until smooth.
Tip: The dressing will thicken up a bit once chilled. Feel free to thin it out, if necessary, with a tablespoon or two of water or oil.
Reprinted from The Oh She Glows Cookbook by arrangement with Avery Books, a member of Penguin Group (USA) LLC, A Penguin Random House Company. Copyright © 2014, Angela Liddon
Cauliflower Mashed Potatoes With Easy Mushroom Gravy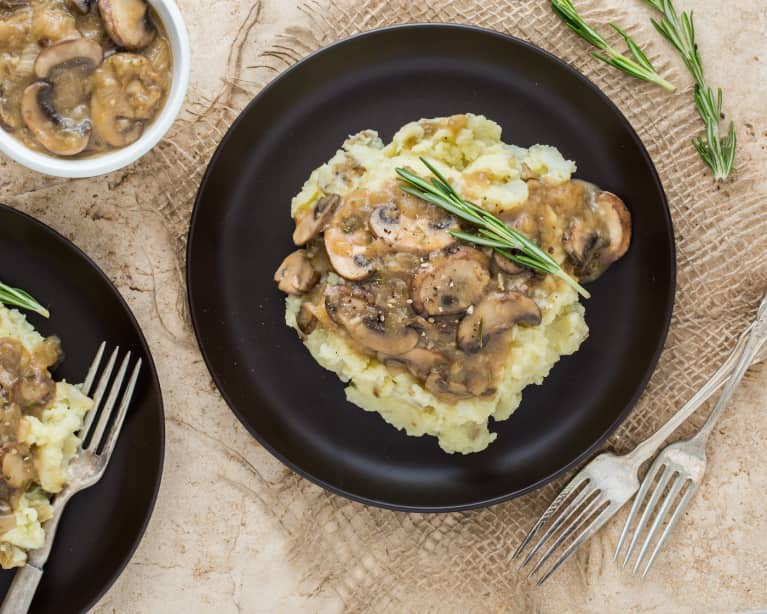 This cauliflower mashed potato dish is a fun way to sneak a superfood vegetable into your normal mashed potatoes without anyone being the wiser. When you gently cook cauliflower and mash it into potatoes, you add volume, decrease calories, and, of course, pack in a ton of extra nutrition.
I've paired this mash with a rich yet healthy mushroom gravy, but it's also lovely with a pat of vegan butter. A bit of minced fresh rosemary is great in this, too.
Serves 6
Ingredients
2 pounds Yukon Gold or yellow potatoes, peeled or unpeeled, cut into 1-inch chunks
1 small head cauliflower (1½ pounds), chopped into bite-size florets
2 tablespoons vegan butter
1 teaspoon fine-grain sea salt, or to taste
Freshly ground black pepper
1 garlic clove, minced
Non-dairy milk, if desired
Easy Mushroom Gravy (recipe below)
Preparation
1. Place the potatoes in a very large saucepan and add water to cover. Bring the water to a boil and cook the potatoes for 10 minutes, uncovered.
2. After 10 minutes, add the cauliflower to the saucepan with the potatoes. Boil both vegetables for 10 minutes more, uncovered, until they are fork-tender.
3. Drain the potatoes and cauliflower and return them to the saucepan. Mash with a potato masher until smooth, adding the vegan butter and salt, pepper, and garlic as you mash. Resist the urge to add milk right off the bat. As you mash the cauliflower, it will release some water and thin out the mixture. If you need to add some milk at the end, feel free to do so.
4. Serve topped with Easy Mushroom Gravy.
Easy Mushroom Gravy
Ingredients
1½ teaspoons extra-virgin olive oil
1 sweet or yellow onion, finely chopped
2 large garlic cloves, minced
Fine-grain sea salt and freshly ground black pepper
3 cups sliced cremini mushrooms (about 8 ounces)
1 teaspoon minced fresh rosemary
2 tablespoons plus 1½ teaspoons all-purpose flour
1¼ cups vegetable broth
2 tablespoons low-sodium tamari, or to taste
Preparation
1. In a skillet or saucepan, heat the oil over medium heat. Add the onion and garlic and sauté for 3 to 4 minutes. Season with salt and pepper.
2. Add the sliced mushrooms and rosemary and raise the heat to medium-high. Sauté for 8 to 9 minutes more, or until most of the water released by the mushrooms has cooked off.
3. Stir in the flour until all the vegetables are coated.
4. Add the broth and tamari gradually and stir quickly to smooth out any clumps of flour. Bring the mixture to a simmer. Cook, stirring often to ensure that it doesn't burn, for 5 minutes more.
5. When the gravy has thickened to your liking, remove the pan from the heat and serve.
Tip: For a gluten-free option, use all-purpose gluten-free flour and gluten-free tamari. For a soy-free option, use coconut aminos in place of tamari. If at any point the gravy becomes too thick, simply thin it out with a bit more broth. Likewise, if it's too thin, thicken it with a bit more flour.
Reprinted from The Oh She Glows Cookbook by arrangement with Avery Books, a member of Penguin Group (USA) LLC, A Penguin Random House Company. Copyright © 2014, Angela Liddon
Apple Pie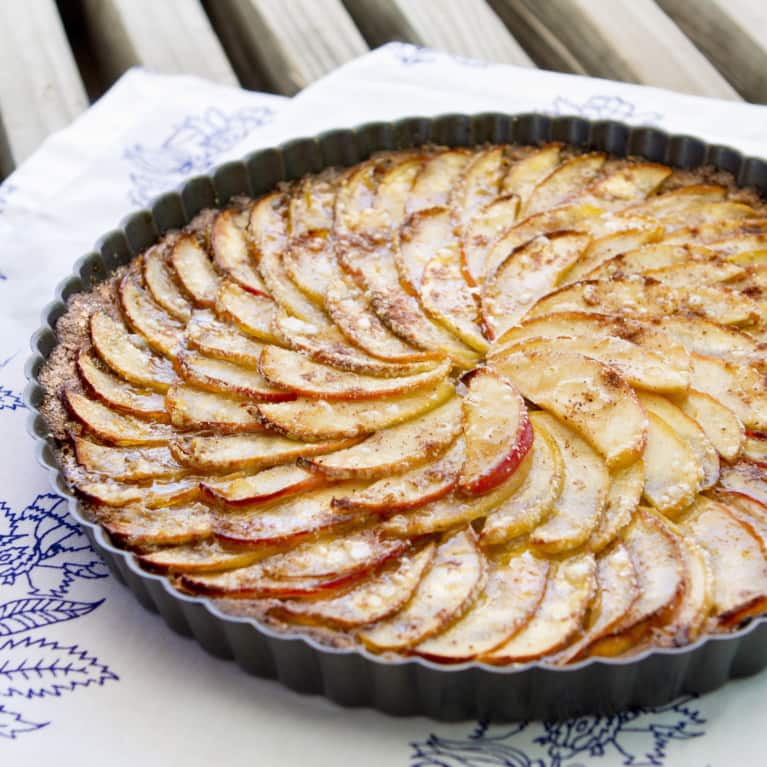 Rich enjoys this creation on his birthday as he is a lover of the "pie" and this one is his favorite. It's a fresh crisp taste that will feed your body and satisfy your sweet craving. The spiral of apples makes an impressive presentation. The secret is it's as easy as pie to make. The kids will want to help create this beautiful flower of thinly sliced sweet apples that will surely delight.
Ingredients for the filling
6 apples (red, pink, or green local variety), cored and sliced in very thin sections
1 cup organic sugar
¼ cup arrowroot powder
1 teaspoon pumpkin pie spice or cinnamon
Juice of 1 lemon
Ingredients for the crust
2 cups raw walnuts
Pinch Celtic sea salt
¼ cup ground flax seeds
10 dates, soaked in filtered water for 30 minutes and pitted
1 teaspoon coconut oil
Preparation
1. Preheat the oven to 325°F.
2. Combine the apples with the sugar, arrowroot, spices, and lemon juice. Toss and set aside.
3. In a food processor, pulse the walnuts until mealy. Next, add the sea salt and pulse a few times. Add the flax seeds and pulse again. With the motor running, drop one pitted date at a time into the processor. The mixture will ball up on one side of the bowl and form a dough.
4. Grease a 13-inch tart pan with the coconut oil. Press the crust mixture into the bottom of the pan.
5. Arrange the apples in a circular fashion starting at the edge. As you finish one round, begin again and add another layer and another until you finish creating a spiral flower pattern.
6. Bake for 40 minutes, or until the apples are soft and golden brown.
7. Remove from the oven and allow to cool.
8. Slice, serve, and enjoy with Coconut Ginger Ice Cream or Cashew Vanilla Cream.
Reprinted from The Plantpower Way by arrangement with Avery Books, a member of Penguin Group (USA) LLC, A Penguin Random House Company. Copyright © 2015, Rich Roll & Julie Piatt