A $7 Dinner ... With Ingredients All From Trader Joe's
mbg Contributor
By Leah Vanderveldt
mbg Contributor
Leah Vanderveldt is an author living in Brooklyn, New York. She received her bachelor's in communications and media from Fordham University, and is certified in culinary nutrition from the Natural Gourmet Institute. She is the author of two cookbooks: The New Nourishing and The New Porridge.
This bowl was inspired by Trader Joe's convenience foods. And by convenience foods, I mean stuff like precooked and pre-sliced vegetables and legumes that make putting together a healthy meal super easy.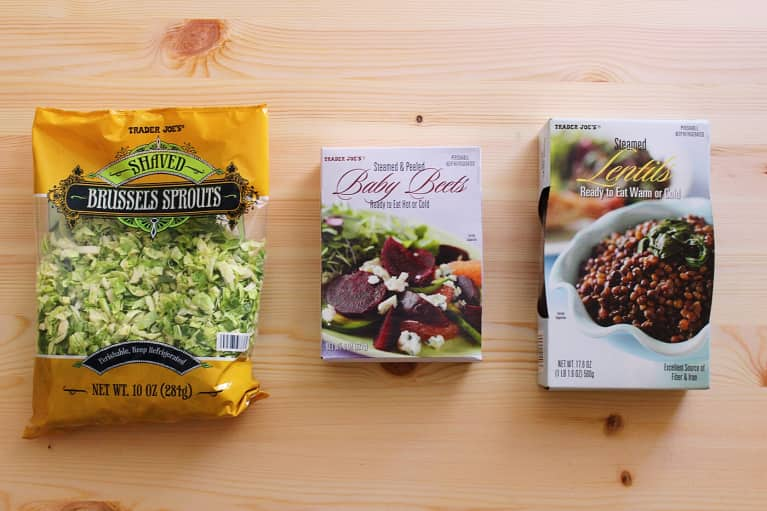 When your butternut squash and Brussels sprouts are already sliced, and your beets and lentils are cooked, you can throw together a dinner quicker than it would take for your Seamless order to show up.
Trader Joe's Brussels and Beets Bowl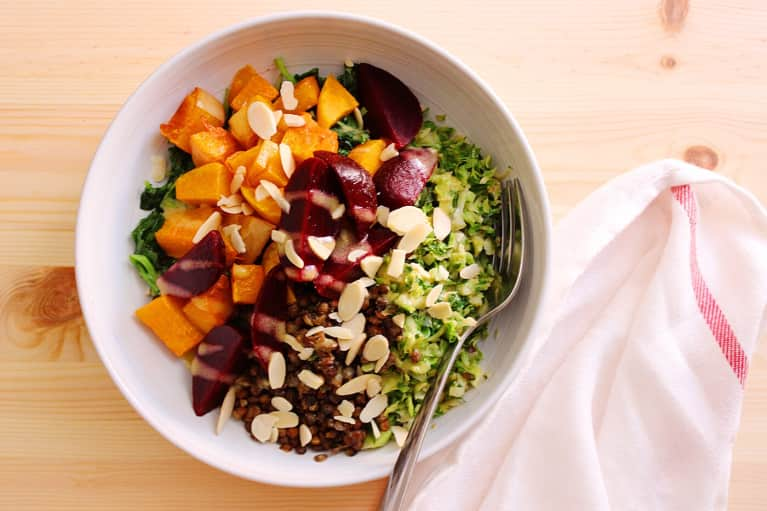 olive oil
1 package of cut butternut squash
1 garlic clove, finely chopped or grated on a microplane
1 package of shredded Brussels sprouts
2 big handfuls of baby spinach (optional)
1 cup steamed lentils
4-5 steamed and peeled baby beets
2 tablespoons sliced almonds
salt and pepper
1 tablespoon olive oil
2 teaspoons apple cider vinegar
2 teaspoons mustard
1 teaspoon honey or maple syrup
salt and pepper
Preparation
1. Heat oven to 425°F. Drizzle a baking sheet with olive oil and arrange butternut squash pieces on it. Sprinkle with salt and bake in the oven for 30-35 minutes.
2. Meanwhile, coat the bottom of a large pan with olive oil and heat over medium-high heat. Add garlic and Brussels sprouts, and season with salt. Cook, stirring, for 4-5 minutes until wilted and with just a little bit of crunch left. Remove from pan and portion into 2 bowls.
3. Wilt spinach in the same pan with a sprinkle of salt, about 1 minute. Set aside with Brussels sprouts in the 2 bowls. Add a bit more olive oil to the pan, heat, and add lentils, salt, and pepper. Cook for 2-3 minutes.
4. To make the salad dressing, combine all ingredients in a jar with a lid and shake to combine.
5. When the butternut squash is cooked through, assemble bowls by arranging squash, beets, and lentils on top of the wilted Brussels sprouts and spinach. Drizzle with dressing, and sprinkle with slivered almonds.
Photo courtesy of the author