The Most Damaging Body-Shamer Isn't Who You Think It Is
I'm Stacey, the woman in the picture below. A few years ago, I wouldn't have shown this picture to anyone, and I certainly wouldn't have posted it on the Internet for the world to see.
But I'm different now. I posed for the picture, and though it wasn't intended for public consumption, I'm proud of it. It may have taken more than 40 years, but I've arrived and I am strong.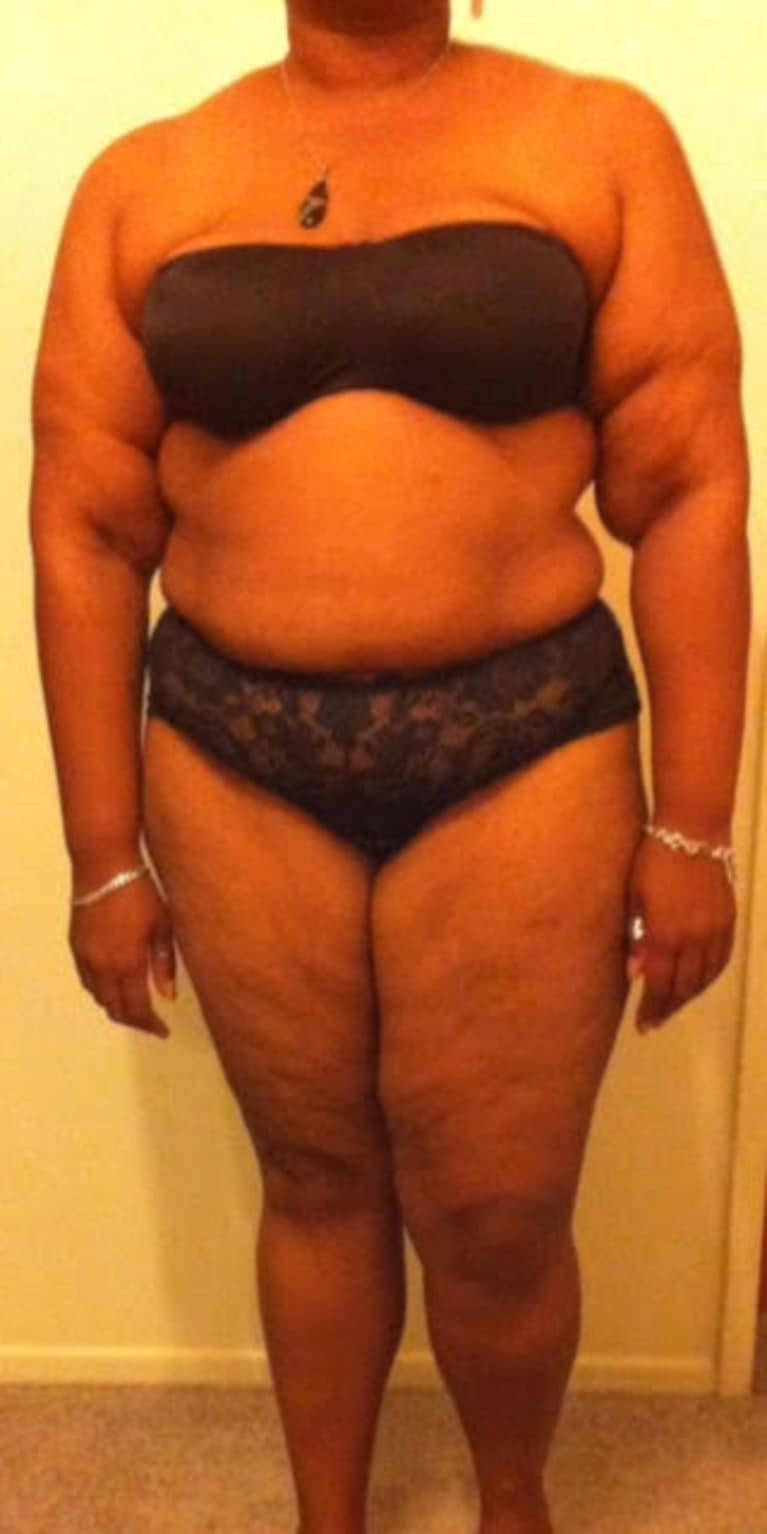 I do not have a skinny past. Weighing nearly 10 pounds at birth, I was my mother's largest baby and I was always bigger than my sisters. It was hard growing up in a house with a bodacious mother, curvy older sister, and petite baby sister — I was the fluffy middle of my sister sandwich.
Growing up, most boys didn't find me attractive, and yes, I was teased. Eventually, the tide turned and the men around me started to think I was "cute," but by that point, body shame and poor body image had become a habit.
During the first decade of my sex life, I refused to remove my shirt.
If I did, the room had to be pitch dark. I couldn't bring myself to believe a man would want to have sex with me if he saw everything; what would he think of my round middle and chunky arms?
I never told myself I was fat or ugly, never shied away from looking in the mirror. I wasn't born thinking something was wrong with me, that I needed to change, or that I was not good enough. Rather, thoughts that I should be smaller or look different came from outside, unwelcome voices.
Every time I was told I had "a pretty face" but should lose weight, those seeds of self-doubt grew. When someone else made me feel that my weight was a problem that needed solving, those seeds sprouted.
When I became a mother, I wanted to empower my daughter from the beginning to be proud of her body, but the truth is that I didn't want her to look like me. I never wanted her to struggle with weight or feel unattractive because she didn't "fit in."
I projected my own insecurities onto her, hiding and covering my body, and my own insecurities stuck to her like Krazy Glue.
Though I've finally arrived at a place where I love my entire body, my daughter is young and still struggles to see her own beauty. She's full-figured like her mother, and she doesn't see women who look like her celebrated very often.
The good news? Even though it took me a long time to get here, she now has an example of what it looks like to love your form, as she sees me, her fortysomething mom, walking around feeling great in her skin. She has a real-life model for healthy self-esteem, confidence, and unapologetic authenticity.
But body shame is still a problem ... a big one.
Women from all walks of life are affected by the body-shame epidemic. And the Internet has cultivated a new breed of vultures. The kind that troll the Web looking for unsuspecting victims to prey on. The kind that leave snarky comments belittling others. The kind that spew venomous hate on people they don't know.
Celebrities are attacked daily. Teens are assaulted for being fat, skinny, and transgender. Women are pummeled for having cellulite, back rolls, full faces. Mothers give birth and are made to feel unattractive for their baby-growing bellies.
The epidemic is spreading rapidly. But the most harmful assailant doesn't live online or outside your home. The most damaging body-shamer of all is you. I learned this the hard way, and now I see it in my daughter: Constantly picking yourself apart for simply being human is toxic.
Every time you look in the mirror and compare yourself to the person you were 10 years ago, that's body shame. Whenever you suck in your stomach or stuff yourself into a pair of Spanx, that's body shame. Chronic dieting, selfie edits, nipping, and tucking ... all body-shaming.
We've become a culture of body-shamers, and it's eating us alive.
Before we can stop Internet trolls and behind-the-back whispering, we need to start with ourselves. You must stop destroying the person staring back at you in the mirror. The change must begin with you.
Start by showing someone you love the part of your body you love least. Show gratitude for the parts of your body you may not think are beautiful. Be grateful for the dimples in your cheeks, your knobby knees, your small breasts.
It's only through accepting ourselves as we are that we can meet others where they are. It's only by loving ourselves that we can truly offer love to others. Real change begins within.
Are you ready to make a shift happen?