Steak... Made From Veggies
Our editors have independently chosen the products listed on this page. If you purchase something mentioned in this article, we may
earn a small commission
.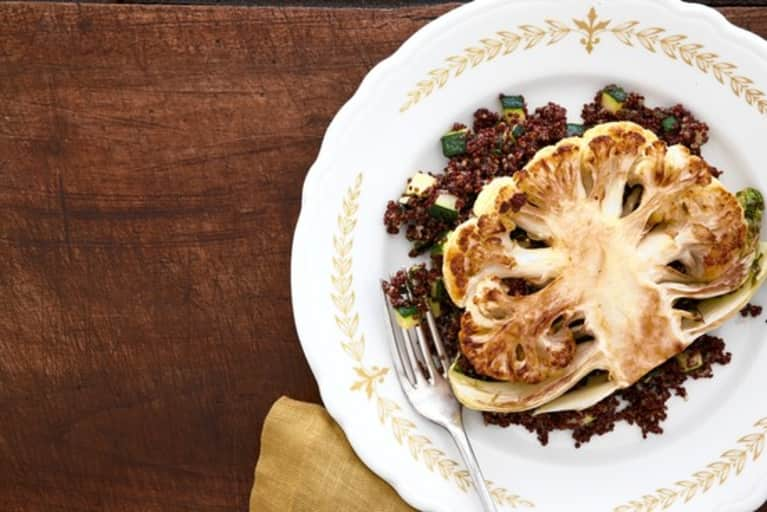 Though one of my 2011 wellness trends to watch was 'veggies for foodies', I definitely didn't expect something like this to happen. Chef Dan Barber of Blue Hill fame has literally created a steak-like dish, but made out of parsnips, carrots, and cauliflower.
The Wall Street Journal reports on this interesting trend, and even shares a few great recipes. I think it's pretty cool that chefs are getting creative and coming up with innovative and delicious veggie dishes. What do you think?
Cauliflower steak with quinoa (from the book, Great Chefs Cook Vegan)
2 large heads cauliflower, cut into 1-inch-thick "steaks"
Olive oil for coating and sauting
Salt and pepper to taste
1 cup quinoa
1 1/2 cups vegetable stock, divided
2 shallots, sliced
1 leek, rinsed and sliced (white part only)
1 small apple, peeled and diced
1 clove garlic, finely chopped
1/2 cup zucchini in 1/4-inch dice
1 teaspoon finely chopped fresh thyme leaves
1 tablespoon finely chopped chives
For basil oil
2 cups well-washed basil leaves
1 cup grapeseed oil, chilled
To make the basil oil, blanche basil and then shock in ice water; dry leaves well. In a blender, pure basil and grapeseed oil; strain and set aside.
At the largest part of each cauliflower head, cut two 1-inch-thick slices, or "steaks." Reserve remaining cauliflower. In a large saut pan coated with olive oil, brown the cauliflower steaks until golden brown on each side. Season with salt and pepper and set aside.
Over medium-low heat, sweat quinoa in 1 tablespoon olive oil until a nutty aroma is achieved. Turn down heat and add 1 cup stock; simmer until almost dry. Cover and let stand for 15 minutes. Fluff with a fork and set aside.
Cut remaining cauliflower into small florets and blanch in salted water until tender. Drain and spread florets on a baking sheet and place in a 300-degree oven for about 15 minutes, or until florets have dried.
In a saut pan, gently sweat the shallots, leek, apple and garlic. Add the cauliflower florets and season with salt and pepper. Remove from heat, place in blender, and pure. (You will only need a few teaspoons for this recipe. The remaining pure can be frozen or thinned with stock for a cauliflower soup.) In a large saut pan coated with oil, saut zucchini until slightly golden brown. Add quinoa and remaining vegetable stock. Season with salt and pepper to taste. Add 2 teaspoons cauliflower pure to thicken, add thyme and chives, and drizzle with basil oil.
Plate by placing the cauliflower steak on bed of quinoa-and-zucchini mixture and drizzle the basil oil around the plate.
Serves four.
image: Pernille Pedersen for The Wall Street Journal, Food Styling by Karen Evans, Prop Styling by Angharad Bailey