I Washed My Face With Bacteria For A Month & My Skin Has Never Looked Better
mbg Contributor
By Allie White
mbg Contributor
Allie White is a freelance writer and editor who covers news, lifestyle, health, beauty, and entertainment.
Welcome to "Product Of The Week." Just like the name suggests, we'll spotlight one product every week that not only does what it promises to do, but that also upholds the green, natural approach to beauty and skin care we value so much. Trust us when we say you can trust our beauty editor, Allie White — in her time here, she's sampled upward of 400 different products. These are her favorites.
When you fall and scrape your knee, the prescribed course of action is (for your mom) to clean the cut, apply antibacterial ointment and bandage it up. Making sure the injury and the surrounding skin are bacteria-free is of the utmost importance to keeping you healthy and making sure that little flesh wound doesn't get a chance to fester.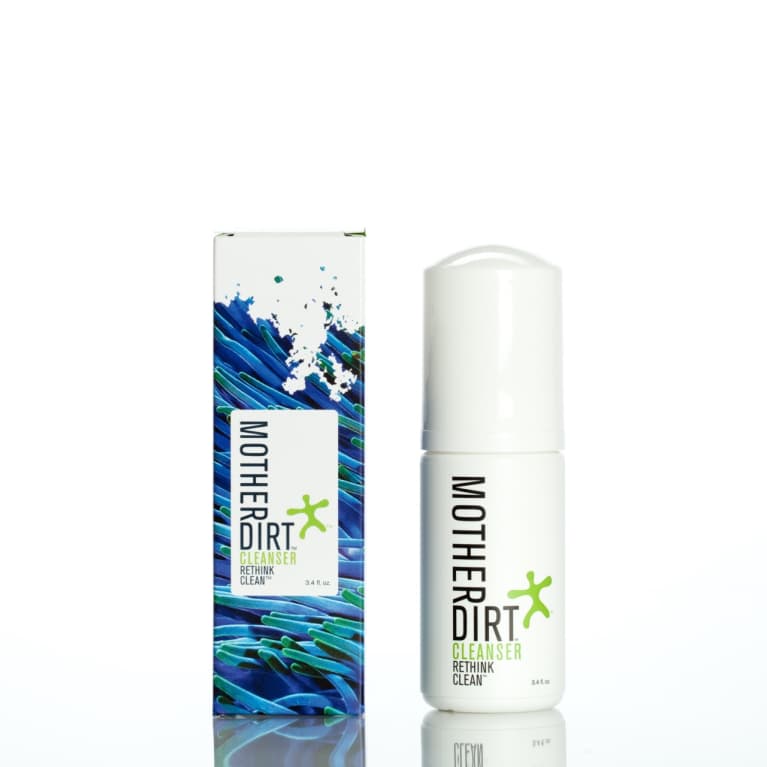 You're supposed to wash your hands with antibacterial soap, clean your countertops with antibacterial spray, disinfect all surfaces of potentially harmful, microscopic organisms that are out to kill you. Right?
But what if we've been thinking about self-care all wrong? What if we've blindly been on a quest to kill bacteria for years, when that bacteria may actually be good for us? What if instead of making us sick, bacteria can actually strengthen our immune systems? What if instead of causing pimples, bacteria can actually lead to glowing, healthy, well-hydrated skin?
If you responded any or all of those questions with, "hmmm...what if?!" then step right this way and let me introduce you to my new favorite product: Mother Dirt Face & Body Cleanser.
I know what you're thinking. Why would a cleanser, which by its very name implies that it cleans, have the word "dirt" in its title? And I'd be lying if I said I wasn't a little wary to test this out myself. But I promise, this stuff is legitimate.
I'll spare you the heavy science, but the gist of how and why this cleanser works is because like our gut,our skin has a microbiome that needs to be maintained. Many of the conventional products we use on our bodies may feel like they're getting us squeaky clean, but they're also killing all the good bacteria we need to keep our skin health. Between our environment and product choices, our skin biome has a hard time maintaining itself and the bacteria diversity it needs to thrive.
So this cleanser promises to reverse all the damage we've done to our skin by making it a place where good bacteria can live happily and their job.
This stuff doesn't foam up like a traditional cleanser, and it doesn't really smell like anything, so if you're the kind of person who isn't convinced a product is really working unless you can see bubbles and smell a garden, this may not be for you. But as a former skeptic, I'm pleased to report that I have totally jumped on the facial bacteria bandwagon.
My skin feels clean, not stripped or tight like it sometimes does after cleansing. When I wake up in the morning after washing with the Cleanser the night before, I don't have any surprise blemishes and I'm far glow-ier than the morning after a standard wash. Throughout the day, my usually-oily T-zone stays remarkable oil-free. If I listen really, really carefully, I can hear all the happy bacteria on my face shouting their thanks.
Mother Dirt Face & Body Cleanser, $15, motherdirt.com
EWG Score: 1 — low hazard
Illustration by Chloe Bulpin, mbg creative; photo courtesy of brand