The Ingredient That Will Elevate Your Skin Care
Welcome to "Product Of The Week." Just like the name suggests, we'll spotlight one product every week that not only does what it promises to do, but that also upholds the green, natural approach to beauty and skin care we value so much. Trust us when we say you can trust our beauty editor, Allie White — in her time here, she's sampled upward of 400 different products. These are her favorites.
In the world of natural skin care, the rule of thumb is typically "less is more." The fewer syllables an ingredient has, the more likely you are to be able to pronounce it, which means it's probably natural. A label with only a few lines of ingredients is far better than an endlessly long list of chemicals and preservatives. If you can whittle your skin care routine down to only a few rockstar products, you've found your beauty groove and know how to treat your skin.
But I'm a beauty editor, which means new, gorgeous, amazing products land on my desk every day. My bathroom cabinets are overflowing with things I need to try, and my shower looks like 15 people share it based on the quantity of bottles and tubes (only two people use it). Needless to say, "less is more" is not something I find easy to achieve.
Recently, I've been on a face mask kick. The weird weather in New York over the last few weeks has been less-than-friendly to my skin, so the 22 jars of all-natural masks and powders-that-become-masks are frequents guests on my face. From fruit enzyme formulas that exfoliate dead skin cells to charcoal mousse that promises to pull out black heads to chlorophyll goop to brighten my complexion, I've tried 'em all.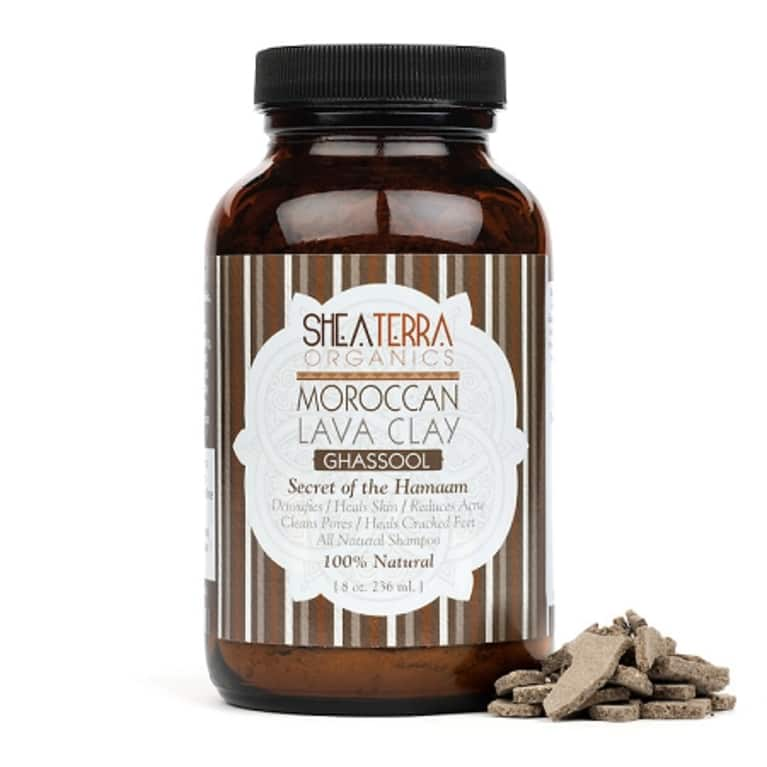 And while I like a lot of them (and love a few), none have really blown me away consistently. Whether I notice it immediately upon washing off whatever the mask du jour is, or upon waking the next morning, something always seems to be missing.
I have yet to find any one mask that can do it all, and leave my skin feeling and looking like I want it to (which is a combination of Lucy Liu, Paul Rudd and Liv Tyler, in case anyone was wondering).
So imagine my surprise when I was complaining of these mask deficiencies to my very-favorite all-natural aesthetician, Britta Plug, and she suggested that I add an ingredient to the mix. Namely, Shea Terra Organics' Ghassool Moroccan Lava Clay.
See, I expected to be reprimanded for switching up my skin care so frequently in the name of testing new things, and while she did tell me how important it was to figure out what products really worked for me and stick with them, I was given her blessing to add one more bottle to my medicine cabinet.
Not only can you use this clay as a stand-alone mask, you can also mix it with other products in your arsenal for an even more powerful acne-fighting, oil-combating, pore-tightening, skin-brightening concoction.
It takes a bit of work — you have to dissolve a few of the clay chips in some water for a few minutes, stir until there are no lumps, then mix in your add-on of choice before applying — but it's well worth the effort.
When I'm fighting a breakout, I add anti-bacterial Manuka honey. If I'm feeling extra-oily or black head-studded, I'll whip the clay with a detox powder. Dull skin? Mix in some spirulina to brighten my complexion and achieve peak glow-iness. It's as if the ghasool clay (also known as Rhassoul clay) amplifies the purported benefit of whatever I mix it with ... times ten. That's because this clay is uber-rich in minerals like silica, magnesium, potassium, and calcium, all of which nourish and heal the skin.
Bonus? You're really getting every bit of clay you pay for since it comes as dry chips you have to reconstitute, which means you're not paying for liquid or preservatives. Just straight up, skin-loving lava clay.
Shea Terra Organics Ghassool Moroccan Lava Clay, $18, sheaterraorganics.com
EWG Score: 0 — low hazard