The All-Natural Blush You Need For Winter
Welcome to "Product Of The Week." Just like the name suggests, we'll spotlight one product every week that not only does what it promises to do, but that also upholds the green, natural approach to beauty and skin care we value so much. Trust us when we say you can trust our beauty editor, Allie White — in her time here, she's sampled upward of 300 different products. These are her favorites.
The first time I wore blush, it was in the form of a department store freebie. My mom had purchased the requisite amount of "her colors," and the very nice saleswoman threw a few samples into the bag, which I immediately pilfered.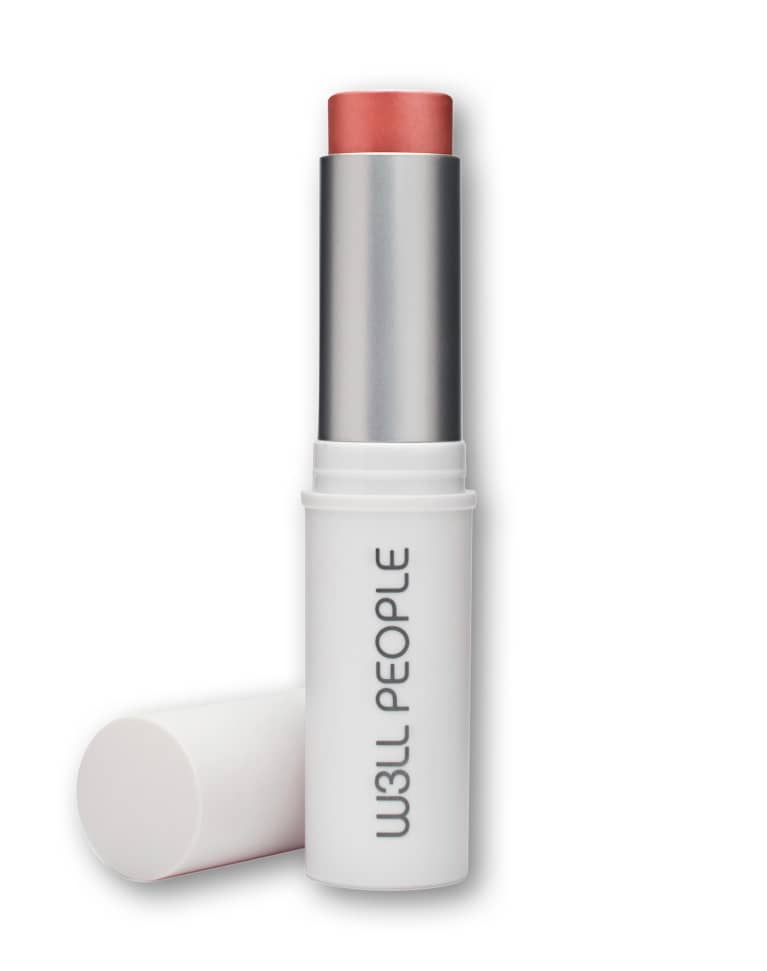 As a 13-year-old, makeup was illicit. It's not that I wasn't allowed to wear it, but none of the women in my life were huge on cosmetics, and so the only knowledge I had was from the women's magazines I'd hide inside copies of tabloids when I accompanied my mom to the nail or hair salon, lest she see cover lines like, "THE ONE THING HE WANTS YOU TO DO IN BED TONIGHT!"
So with the pages of Cosmo as my guiding light, I stood in front of the bathroom mirror and applied that free blush with abandon. I gripped the tiny, built-in-to-compact brush, swirled it around in the color like I assumed a real lady would do and gingerly applied a stroke to my cheek.
Then I did it again. And again. And again.
I looked like I'd just run a marathon in cold, windy weather. I looked like I had a raging fever that was presenting in two patches on my face. I looked like a 13-year-old who didn't know anything about makeup who had gotten into her mother's makeup stash. I looked amazing.
I swanned downstairs in all my adult-faced glory and positioned myself in the kitchen where I knew my parents would notice and remark on how gorgeous I looked. I shuffled around, poured myself some water, pretended to look at the newspaper. Then my mom saw my face and said, "What did you do?" She grabbed a dish towel and rubbed my cheeks. "Too much," she said. "Way too much."
Heartbroken, I've applied bush gingerly ever since. For 15 years, I've been afraid of overdoing it. But I love blush! It's one of my desert island beauty products, it's the one thing I'll throw on my face if I'm in a rush. It makes me look awake, not like the zombie I know I am some days. You'd be appalled to see the collection I've amassed.
But until a few months ago, I was a powder girl through and through. After my disastrous blush inauguration, I was afraid to use anything other than powder because it let me start small and build in tiny increments if necessary. Cream formulas scared me: what if I overdid it or it didn't blend well or it made my cheeks look sweaty?
All of this to say, I've finally found my spirit cream blush. The one that seems to take on the color that looks best on my skin, that goes on sheer enough to let me build and mix as I want, the one that doesn't scare me (anymore). When I finally took the plunge and tested out the Universalist Multi-Stick from W3LL PEOPLE, I was so pleasantly surprised that I packed up my collection of powder blush pallets in favor of this one, simple product.
I apply it in the morning (any amount I feel like, MOM!) and it's still there, brightening my face when I get home at night. It sinks in and blends with the chemistry of my skin so the color always looks natural, and the creamy formulation is packed with organic oils (grape seed, olive and castor to name a few) so it's incredibly moisturizing. Lately, my cheeks feel like ... well, a baby's cheeks.
The stick is natural, totally clean and completely free of chemicals and preservatives. Plus, the tube its housed in is recyclable.
Though I use shade 7 (a pretty matte peony color), there are plenty of options for any skin type, color and mood. Build intensity with one stick, blend a couple for your ideal flush, use it on your lips, get crazy. Just not as crazy as 13-year-old me.
W3LL PEOPLE UNIVERSALIST MULTI-STICK 7, $34.50, w3llpeople.com
EWG Score: 3 — moderate hazard
Cover illustration by Chloe Bulpin, mbg creative; product photo courtesy of W3LL PEOPLE