SeaWorld Killer Whale Is "Too Depressed" To Nurse Her Baby At San Diego Amusement Park
October 22, 2015 — 13:36 PM
Editor's note: We have heard from SeaWorld and have updated this post to include their comments. You can read their entire response here.
At this point, nothing that happens at SeaWorld shocks us anymore.
Ever since the release of Blackfish, the 2013 documentary that depicts the appalling treatment of killer whales and dangerous working conditions of their trainers, the amusement park has been scrambling to regain the trust of the public.
But recent footage taken at SeaWorld suggests that not enough has changed.
According to the UK's Daily Mail, Ingrid Visser, Ph.D., a marine biologist who specializes in orcas, and John Hargrove, a former SeaWorld trainer, recently took a trip to SeaWorld San Diego with a team from Superpod, an upcoming orca documentary project. They claim that what they saw — and filmed — is a mother orca who's too depressed to nurse her calf.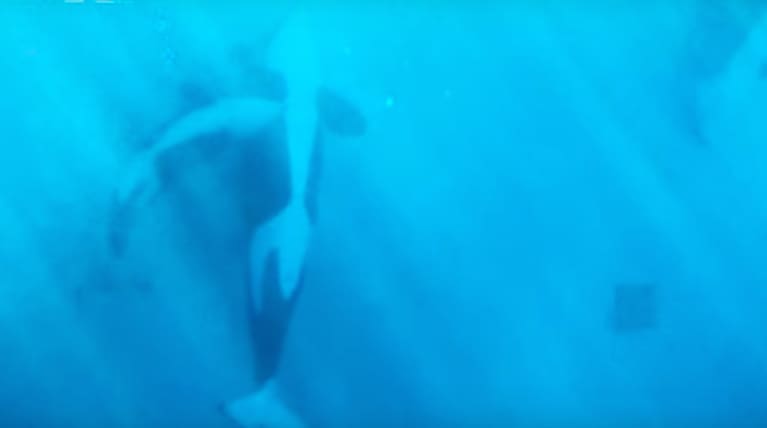 In the video, the 2-year-old calf, named Makani, can be seen head-butting her mother Kasatka's stomach, which they claim is a sign she wants to nurse, explains Hargrove — but Kasatka ignores her child.
Instead, the whale swims upward. Additionally, they spotted a large bruise on the mother's belly from the calf's repeated prodding, which Visser says is because the calf is "constantly trying to get food."
However, SeaWorld's Corporate Communications Director, Aimée Jeansonne Becka, says that the whale isn't bruised and that they're misinterpreting whale behavior. "Makani 'bumping' Kasatka is a commonly observed bonding behavior," she told mindbodygreen in an email.
SeaWorld adds that Visser and Hargrove "have confused a fully weaned killer whale with a nursing baby," noting that "Makani is fully weaned and eats about 65 pounds of fish a day."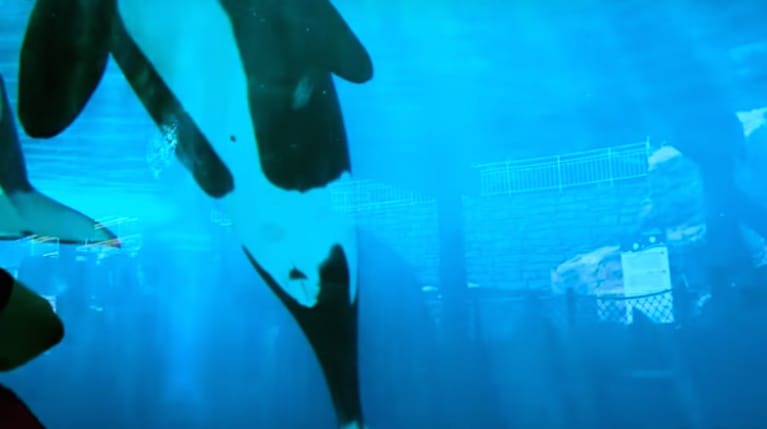 The video ends with SeaWorld security kicking Visser and Hargrove out of the park.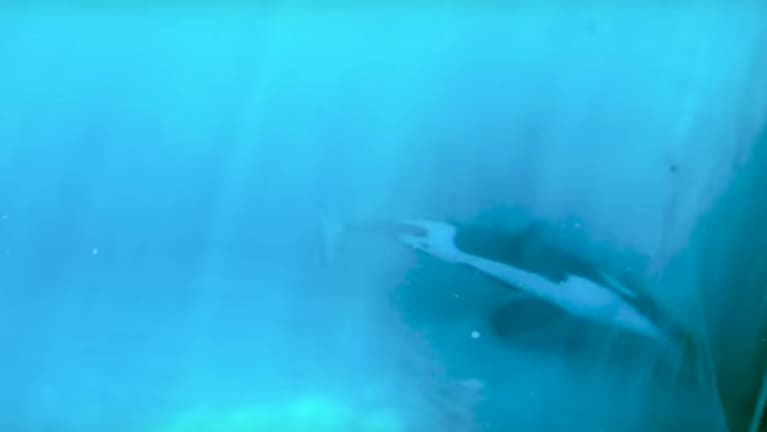 "A lot of the people that have never seen an animal in the wild, they've taken the behaviors that they see completely out of context," Visser says of the SeaWorld staff. "There's no mistaking it if you know what you're looking at, and that really is painful to watch."
You can watch the entire video below:
Screenshots via Superpod Doc/YouTube