Q & A with Rainbeau Mars: On Yoga & Ayurveda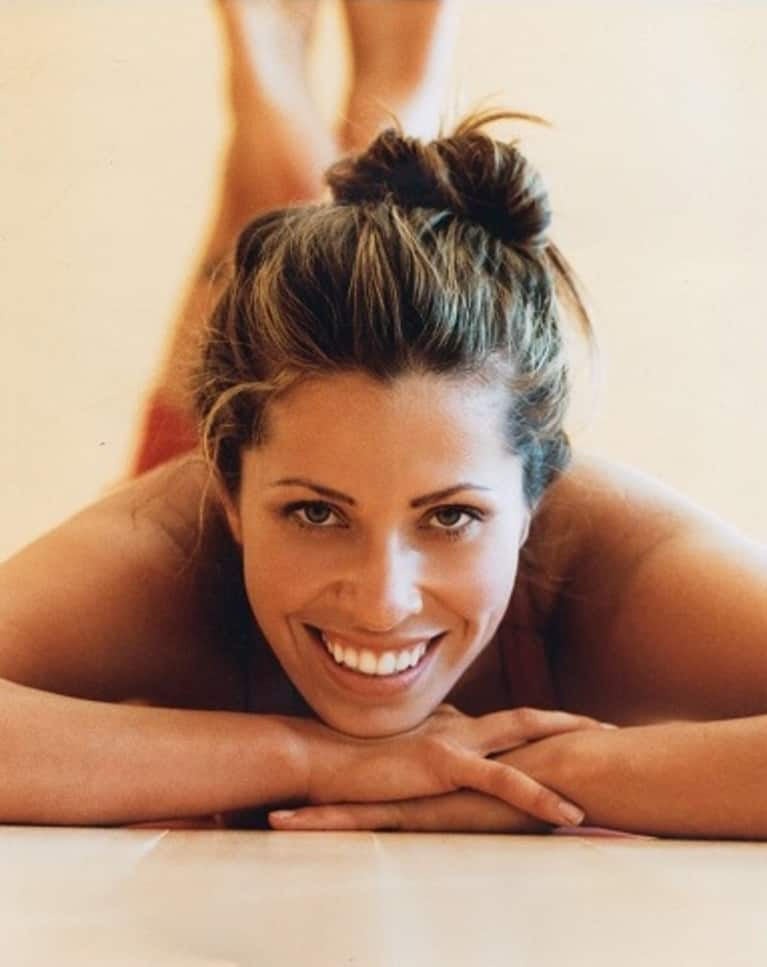 Rainbeau Mars -- yes, that's her real name -- was born under a double rainbow in a teepee in the Ozarks. She was raised in Boulder, Colorado by her mother, Brigitte Mars, an author and master herbalist, and by her father, Tom Pfeiffer, Uni-Tea founder.
Rainbeau spent her teenage years in Hawaii with her godparents, Dr. Light and Dr. Bryan Miller, an Ayurvedic naturopath and an Ayurvedic chiropractor, respectively. Rainbeau's holistic upbringing led her to an apprenticeship with yoga gurus Chuck Miller and Maty Ezraty -- both of whom helped shape her career and catapult her to the forefront of the yoga community.
Rainbeau talks to us about her yoga practice, her influences, and more!
When/how did you come to yoga?  
When: My mother did yoga with me everyday when she was pregnant. My Godmother is an Ayurvedic Doctor (the scientific sister of yoga) for purposes of herbal and medicinal health through constitution, food and cleansing modalities. I grew up around it -- had friends and parents who were teachers. But while yoga was always a part of my life, I didn't really fully embrace it until much later.  
How: When I was seventeen and modeling I began to use it as an addition to my fitness routine, finding its alignment abilities. It helped me get a better work out and also sleep better -- both very important things in that industry and at that age. But it didn't go much further than that.
When I was nineteen and moved to Hollywood on my own, as an actress, I found the emotional and life changing benefit. Yoga has grounding abilities in my life that is often a whirlwind of chaos. It had such an effect on me that I gave away $100,000 dollars worth of personal possessions and furniture and moved to the beach so I could fold blankets and clean bathrooms in a yoga studio, taking in daily studies of yoga in addition to my studies of acting. I wanted to be more than just a talking face obsessed with the external. I gained (healthy) weight and started writing, needing to know I could love myself, whatever weight, shape or face I took on.
How has Ayurveda influenced the way you live? 
I spent my summers and a couple of my high school years in Hawaii where my Godparents owned an Ayurvedic and chiropractic clinic. It was normal to have someone come stay with us for any length of time to heal from one terminal disease or another. But I was also doing normal things that other teens do, like cheerleading. During these strange and sometimes awkward teen years, my Godparents taught me so many things. They instilled in me that whatever I liked or didn't like about someone else, was something in myself. When I got a brown recluse spider bite they prescribed essential oil massages, colemas (an oil enema) and other herbs. I learned that about live foodshave cleansing properties and also about foods that are grounding. This was not far off from the studies and teaching of my own mother who is an Herbalist and author of 16 books. I learned to eat wild edible plants from the front yard and how nature provides remedies for all ailments. I also learned about the inner energy centers and innate patterns we carry in our internal body, mind and tendencies. Our work is to refine align and balance the different doshas and inner bodies to be a better offering to the world.
My teaching system, ra'yoKa, has culminated through these many different influences. Looking at emotional, mental and spiritual manifestations into the physical realms. We believe in deepening our understanding of all of our different tendencies, and rather than trying to fit anyone into an external box, we seek and find balance. We use innovative movement, visualization and affirmation to help ascend plateaus. We practice non-static movement to help support the ever-moving world. The certification process to become a ra'yoKa teacher involves a three week cleanse where one must look at their own patterns and tendencies without calorie counting or limitation but instead refining our understanding of healing through food. We want people to be educated about how healing from the inside is effected by every aspect of our lives -- from one's sport to the kitchen to the bedroom, bathroom, garden and home and back to sport and life.
It takes a willingness to look at all dimensions of one's own personal life to have a true and lasting change and effect on it. We are dedicated to teaching teachers who can teach other teachers. This takes time, study, commitments and willingness. This feels like an Ayurvedic approach to business, life, our teaching and practice.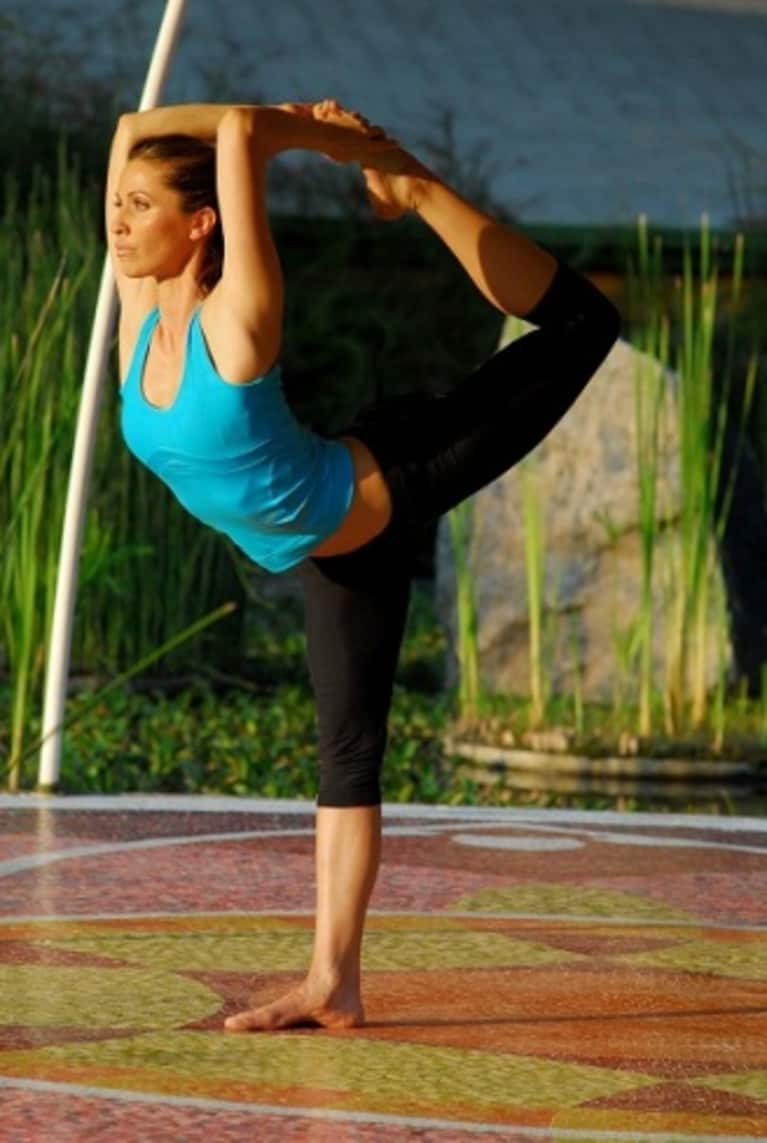 What teachers have been inspiring in your practice?  
Wow -- Big question. Let's go from Gold to Bronze -- each medal is still special.
Brigitte Mars, Tom Pfeiffer, Light and Bryan Miller, and Jade Mars (my daughter)
Chuck Miller and Maty Ezraty, Lisa Walford, Richard Freeman, John Friend
Pattabhi Jois, Angela Farmer and Victor van Kooten, Gary Kraftsow, Matt Pesendian, Nancy Goodman 
Juan Ruiz, Don Migues Ruiz
Seane Corn, Shiva Rea, Baron Baptiste, Saul David Raye 
Tara Stiles, Kathryn Budig, Vinnie Marino, Noah  
All my own students -
Adidas - Guayaki, Gaiam, Natural Journeys, Yoga Journal, Essential Living Foods
Any tips/advice for someone just beginning their yoga practice? 
Yes -- my first tip is to START TODAY! At this point there really are no excuses. The longer you wait, the stiffer your body and mind can get. Start by doing at least 30 minutes 3 times a week and then working up to that amount of time daily. If you don't have time to make it to a live class you can do a class download. For instance on the rayoka.com site, we have four different downloads that you can try out at any time. It's an hour an half course and you can start on foundation and standing poses or therapeutics all the way to a more cardio work (Level Yellow Core) with dynamic movements. Wherever or whatever your excuses are, start somewhere and then veer out -- try a couple of different workshops. Try different styles and find a teacher that walks their talk and cares about your needs. They should be doing their best at practicing what they teach.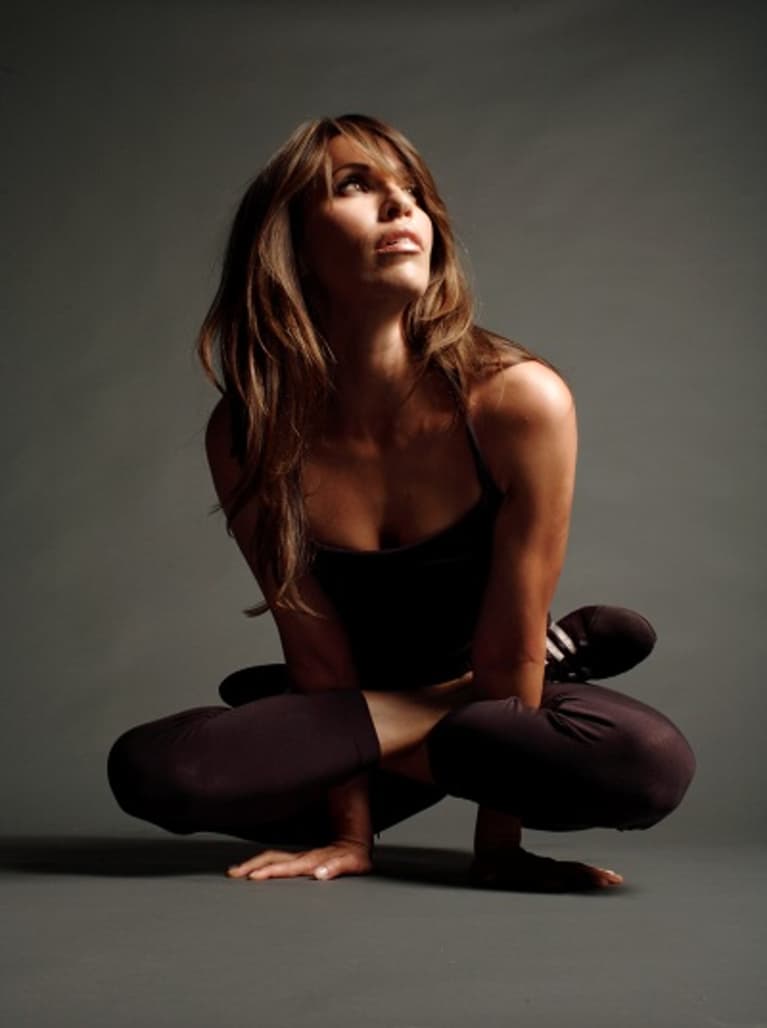 Do you have any challenges in your own practice? 
My challenge is simply doing it... making sure that with my busy schedule I find time for myself. I usually meditate no matter what but have found it harder to keep up with the very physical practice with my career and child. I am constantly expanding creatively and find a way to make sure I do it. I pray to be able to embody the practice at optimal frequency and hope there is a day that I will get to practice for three hours a day again. :)
Men and yoga... Are you seeing more men in your classes? What's the biggest misconception you think men have about yoga? 
When I taught at public studios I would find about 50 percent of my students would be men. Now, a big portion of my private classes are men and in my trainings about ten percent of them are men. Men usually think they are not flexible enough or good at yoga. But I actually find it harder to teach an ex-ballerina who has no limitation or boundaries than it is to teach men with less flexibility. With yoga, we are looking for that "yoking/union" experience where we find and breathe into our edge. For a stiffer guy this is easier to come by... so I say... GOOD YOGA. Most importantly to me an advanced practitioner can be present, listen and follow instruction far more then someone who can contort their body. Yoga benefits everyone -- so men -- get on the mat.
What does the mind/body/green connection mean to you? 
When we connect our minds and bodies we also care about sustainability for our planet which has everything to do with the foods that we eat and our responsibility to Mother Earth in our daily lives. It's really all one. Green is a key word for caring about the environment. First we must care for our internal environment and then we can watch this connection affect the rest of our lives and the planets.
How do you see yoga evolving? 
Six billion people have the tools right at their finger tips to connect inside -- go down to go up, in to go out and back to go forward. We can realize that we were all given this very sacred present at birth and all we have to do is get on our mats and discover a universe of God given gifts that can change your mind and self and therefore change the world.
What's next for you? What are you working on? 
Rainbeau Mars Lifestyles is a company dedicated to serving the planet one home at a time. We know that what you do in your life and sport is affected by what you do in your kitchen and what you do in your kitchen affects what you do in your bedroom (from the way you make love or don't) and bathroom (to the way you care for yourself or don't) to your garden and home (and how you care for these reflections of yourself and how that expands to your life and sport). It's all one. If Martha was good at teaching people how to entertain – well, I am here to teach people how to activate health and the home.
If you live in NYC, Rainbeau is coming to Strala Yoga on Saturday May 7th. You can register for her workshop here.
For more on Rainbeau: