We Met The Man Who Lives In New York's Tiniest Apartment (Amazing Photos)
mbg Sustainability Editor
By Emma Loewe
mbg Sustainability Editor
Emma is the Sustainability Editor at mindbodygreen and the author of "The Spirit Almanac: A Modern Guide To Ancient Self Care."
Grayson Altenberg's studio apartment in New York City measures in at less than 100 square feet — roughly the size of the average American bathroom.
When the Wisconsin native first relocated to the Big Apple last year, he moved into a standard-sized apartment that was affordable but far from his job as a restaurant chef. The daily commute left him with little time to explore the city, meet people, or pursue hobbies.
Once he saw an online listing for what's been dubbed "New York's smallest apartment," he was intrigued by the absurdly small space. The listing read:
"This apartment is so small, you can't have three friends over at the same time; one of you will have to wait outside in the hall. It's so small you have to move the bed just to open and close the front door. It's so small you can't gain weight once you move in."
Not one to shy away from a challenge, Altenberg decided he was willing to forgo comfort for location (the apartment is two blocks from his job on the Upper West Side of Manhattan). He signed on the dotted line and moved in three months ago.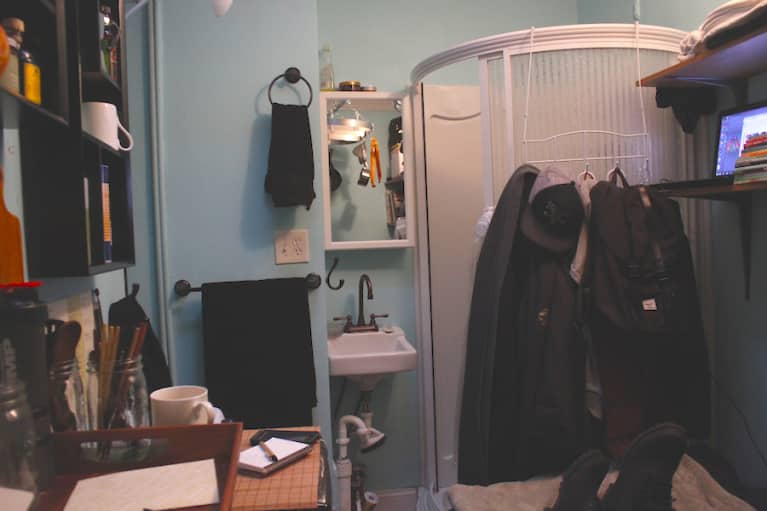 "I treat it like a hotel," Altenberg told me when I visited the 7-by-11-foot pad. "I'm only in here eight hours a day, and I mostly just use it to sleep and eat."
He went on to describe his daily routine — one that begins with a 1,500-calorie breakfast, complete with six eggs and some sweet potatoes. As I skeptically looked over at the small portable cooktop in the corner, he assured me that he managed to make it work, though washing dishes in the apartment's vanity sink proved tricky.
"I have a whole bird in the fridge. I gotta butcher this guy soon," he continued, pointing to a chicken that took up an entire shelf of his ultra-mini refrigerator.
Clearly a chef through and through, he showed no signs that he was letting the small space get in the way of his love of cooking. An expansive spice rack and hanging display of pots and pans were two of the apartment's focal points.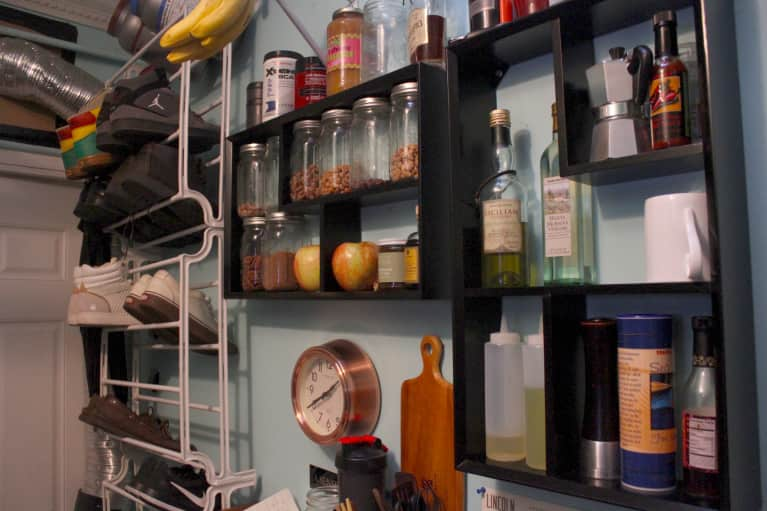 Once breakfast is done, Altenberg usually heads to the gym (hence the 1,500-calorie breakfast) then spends the rest of his time working and hanging out with friends around the city.
"When I first moved into this place, I had to create a new definition of home," he told me.
A self-identified homebody who loved organizing social gatherings and entertaining friends and family in Wisconsin, Altenberg obviously doesn't play the role of host much anymore. Instead, living in a small space has encouraged him to constantly explore new places and he's learned to call the entire city his home.
Though New York's tiniest apartment has come with its fair share of challenges — it's nearly impossible to maneuver through the space without knocking into something, and Altenberg has inadvertently made entire shelves collapse just by reaching for his coat rack — it's had its perks, too. Ultimately, Altenberg feels like he's upgraded his life by downgrading his square footage.
He edited down his material belongings to fit in two boxes before move-in, and he's embraced the freedom that comes with such minimalism.
"I have hardly anything to take care of — I'm responsible for so little and I love that," he explained. In a city so consumed with material wealth, it was refreshing to see someone completely unencumbered with "stuff."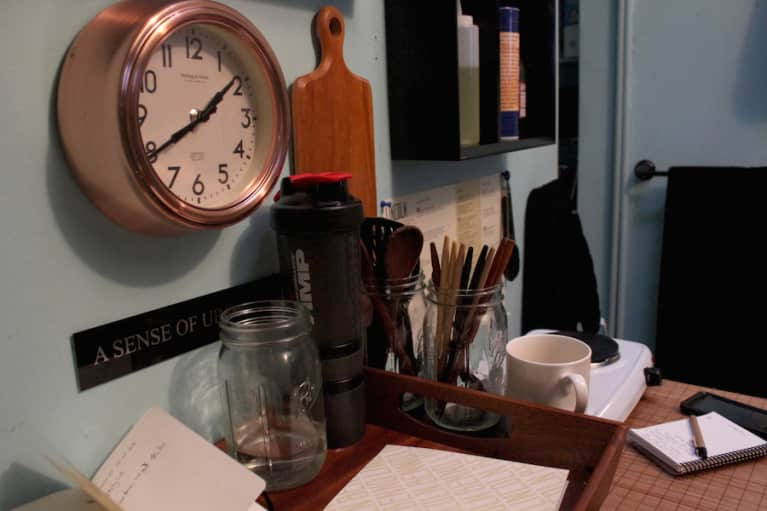 Not to mention, his smaller space means a smaller rent. He pays about half of the $2,108 that a typical Manhattan studio goes for these days but still enjoys the benefit of living right in the middle of the city. He knows he'll eventually move on to something bigger, but for now he's content where he is and isn't wanting more.
Though, he admits, it would be nice to be able to have people over every once in a while.
As I left, Grayson told me that his dad was coming into town for a visit that weekend — he got him a hotel room.
Related reads:
Photos courtesy of the author