Pumpkin Spice Snack Bars That Will Put Those Lattés To Shame
October 27, 2015 — 8:05 AM
For pumpkin season, I wanted to experiment with a healthy and delicious pumpkin recipe to share with mindbodygreen readers.
When I test a new recipe, I tend to go crazy with trying different variations to perfect it. After many attempts, I have to say this recipe is a winner! The flavors, sweetness, and texture are on point and I think you guys will really love it.
You can use canned pumpkin puree or you can make your own — which is easier than you think; just follow the steps below.
If you choose to make your own puree, don't use the large Halloween carving pumpkins, I would recommend you go for Hokkaido pumpkin or sugar pumpkin as the flesh of these tends to be sweeter, creamier, and more suitable for cooking.
You can always substitute sweet potatoes for the pumpkin too!
Pumpkin Spice Snack Bars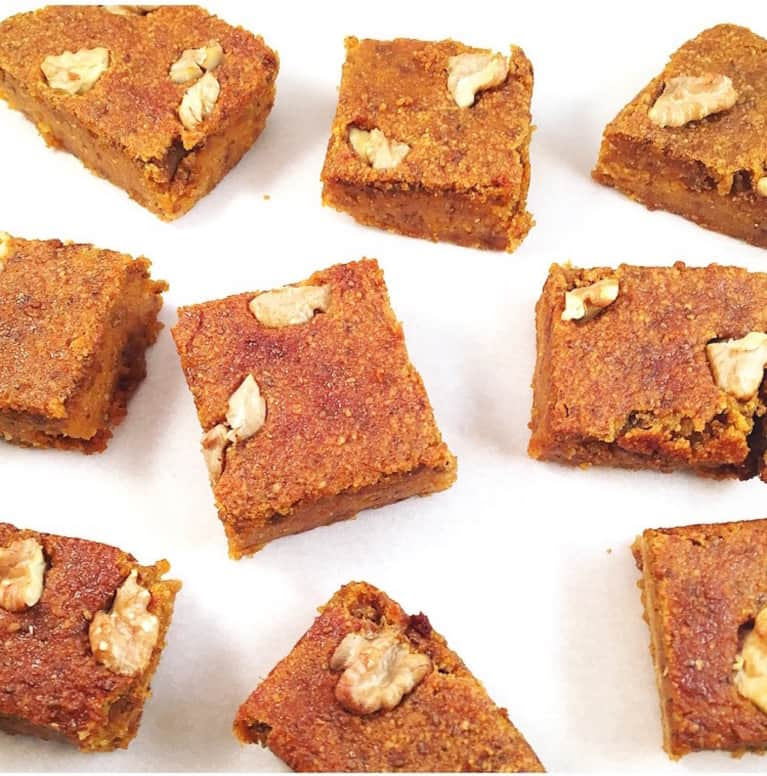 1 cup canned pumpkin puree or 1 sugar pumpkin for roasting (see instructions below)
½ cup pure maple syrup
juice from half an orange
zest of 1 orange
4 chia eggs*
2 cups ground almonds
½ teaspoon nutmeg, or 1 teaspoon for a spicier version
1 teaspoon ginger
2 teaspoons cinnamon
pinch of sea salt
Chopped walnuts (or pumpkin seeds)
* Add 4 tablespoons of chia seeds to a cup with 12 tablespoons of water and let it sit in the fridge for 15 minutes until the chia seeds have absorbed the water and formed a gel-like consistency.
Preparation
1. Preheat oven to 350°F (180°C). Measure 1 cup of pumpkin puree and place it in the food processor. Add the remaining wet ingredients and blend until smooth.
2. Add all of the dry ingredients in a large mixing bowl and mix well. Add wet mix to dry mix and stir to combine.
3. Grease an 8-by-8-inch baking pan with coconut oil and pour in the mixture. Sprinkle the walnut pieces on top and bake for 30 minutes.
4. Let cool for 15 minutes before you cut the bars. (This step is important; otherwise the cake will fall apart.) Store in an airtight container in the fridge for up to a week.
Pumpkin Puree
Ingredients
1 sugar pumpkin (approximately 2 pounds)
Preparation
1. Preheat your oven to 400°F (200°C).
2. Slice the stems off the pumpkin, then cut it in half. Use a spoon to scoop out the seeds and stringy bits, place facedown on a parchment-lined baking sheet, and roast until soft (about 45 to 60 minutes). The exact time will depend on the size of the pumpkin.
3. Once cooked, let cool for 10 minutes, then scoop out the pumpkin flesh and place into a food processor and blend until super smooth.
Tag me in your creations on Instagram using #beyondthebowlbyriri.
Photo courtesy of the author