The Simple Spa Ritual You Can (And Should) Do At Home For Gorgeous Skin
Welcome to "Product Of The Week." Just like the name suggests, we'll spotlight one product every week that not only does what it promises to do, but that also upholds the green, natural approach to beauty and skin care we value so much. Trust us when we say you can trust our beauty editor, Allie White — in her time here, she's sampled upward of 300 different products. These are her favorites.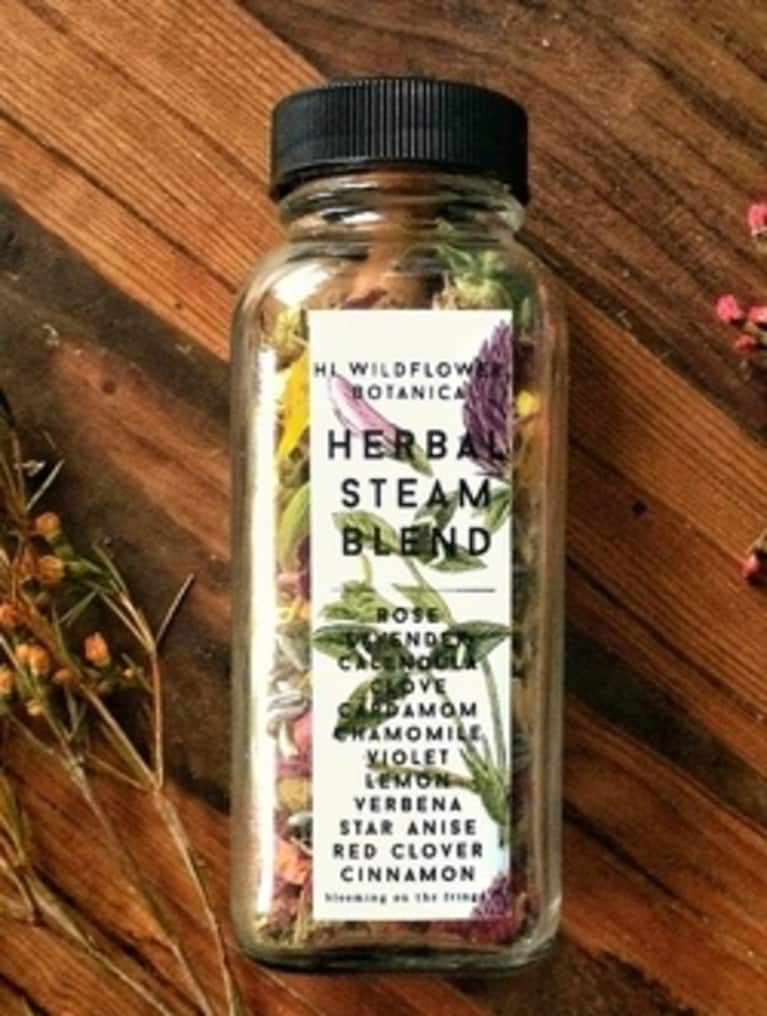 As someone who's struggled with skin issues for about as long as I've had to wear a bra (hellooo awkward middle school years), I've had my fair share of facials. My face has been poked and prodded, squeezed and swaddled, moisturized and masked by professionals for a decade.
And while my inner masochist loves when the aesthetician uses a Medieval-looking tool to extract all the gunk that's built up in my pores, my favorite part of the experience is the pre-extraction steam.
I know, I know. How could I possibly favor having warm water blasted at my face in cloud form when there's also a shoulder massage to consider?
I don't have a good answer for you there, but I will say there's something about the steam that makes me feel like I'm getting ready for a big event. My skin has been cleansed, and now it must be steamed for optimal pore excavating. It's softening and priming my face for the expert hands of the aesthetician, and lord knows if I'm going to subject myself to the torture that is extractions, I want my skin to be as ready as possible.
So yes, I'm a weirdo who likes nearly choking in a cloud of steam, but it turns out I'm not the only one.
On the contrary, using steam in a self-care routine has been around for quite some time and — if you want to take it a step further — is the perfect vehicle for getting good-for-you ingredients to your skin. Which is why I am so head-over-heels in love with Hi Wildflower Botanica's Herbal Steam blend.
Not only is this little jar gorgeous to look at, it contains some powerful, natural dried botanicals that are skin-saving powerhouses. On their own, ingredients like rose petals, calendula and lavender are great for your complexion, but when they're combined with each other and additional plants and spices, the results are nothing short of amazing.
Though the setup is a bit involved (boil water, add blend to bowl, tent a towel over your head and chill while the steam does it's thing for 5-10 minutes), I promise it's worthwhile. After my first herbal steam, my skin had a rosy, dewy glow, and the oil I applied as a moisturizer after melted onto my skin in a seriously luxurious way.
The second time I whipped it out, my boyfriend asked if he could get in on the steam. He claimed his nose was stuffy, and thought the blend of botanicals and steam would clear up congestion, but I'm pretty sure he was just after the skin benefits. Needless to say, he's a fan now too.
Added bonus? You can drink it as a tea if you feel so inclined.
Hi Wildflower Organica Herbal Steam, $14, hiwildflower.com
EWG Score: 2 — low hazard
Cover illustration by Chloe Bulpin, mbg creative; product photo courtesy of Hi Wildflower Botanica