Zucchini + Basil Soup To Brighten A Cold Day
This soup is a new favorite in my kitchen because it packs a ton of flavor with a few simple ingredients, comes together quickly, and is a lovely shade of green.
I like to think of pureed soup as a tasty base for whatever add-ins I have around, which adds texture and turns soup into a satisfying meal. I topped this version with cooked quinoa and roasted cauliflower, but you can mix in anything you'd like. I'd love to try it with:
Roasted butternut squash cubes
Roasted sweet potato
Steamed broccoli
Raw zucchini noodles
Spiced chickpeas
White beans
Brown rice
Don't be intimidated by the leeks in this soup — they add great flavor and they're really simple to cut and clean once you get the hang of it. (Here's a handy little guide.) If you don't want to tackle leeks, you can use 1 large white or brown onion (finely chopped) in place of the two leeks the recipe calls for.
Zucchini, Spinach, and Basil Soup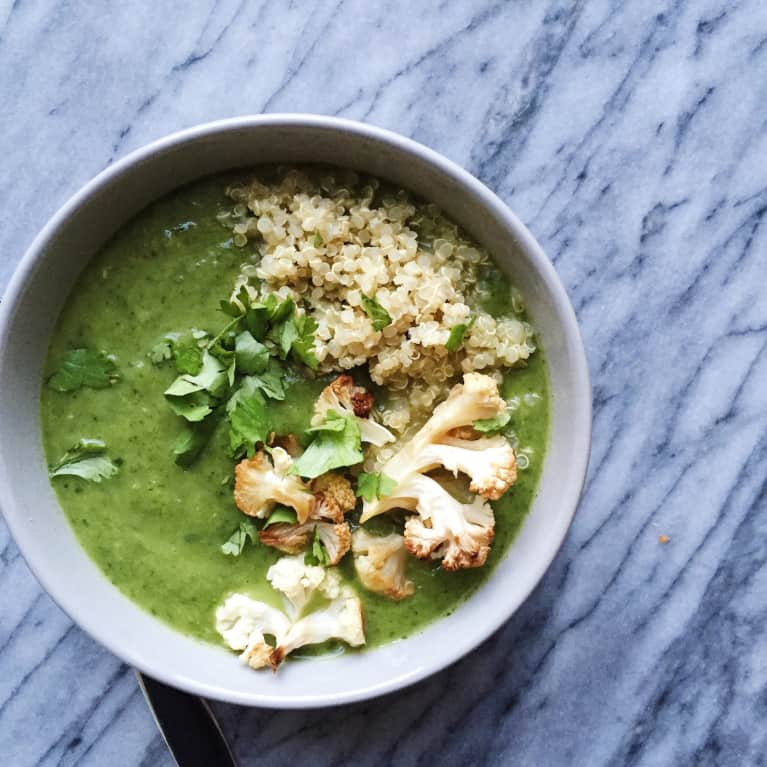 olive oil or butter
2 large leeks, trimmed, washed, and sliced
3 garlic cloves, finely chopped
3 medium zucchini, roughly chopped
4 cups vegetable broth or water
salt and pepper
2-3 big handfuls of baby spinach
1 medium bunch of basil, stems removed
a few spoonfuls of cooked quinoa per bowl
roasted vegetables (I used cauliflower)
fresh herbs, finely chopped
Preparation
1. Coat the bottom of a large pot in olive oil or butter. Add leeks and cook, stirring, for 5 minutes, until softened. Add garlic and cook for 30 seconds.
2. Stir in zucchini. Add broth and season with salt. Bring to a boil and simmer for another 3 to 4 minutes until the zucchini is cooked through. Stir in spinach and basil and remove from heat. Let it cool for about 5 minutes.
3. Using a stick blender, blend until the consistency is smooth. You can also do this in a regular blender in batches. Just be careful with the hot liquid.
4. Serve in a bowl with quinoa, roasted vegetables, and herbs.
Photo courtesy of the author