The Soap That Will Change Your Skin Forever
Our editors have independently chosen the products listed on this page. If you purchase something mentioned in this article, we may
earn a small commission
.
Welcome to the inaugural edition of mbg's new beauty feature, "Product Of The Week." Just like the name suggests, we'll spotlight one product every week that not only does what it promises to do, but that also upholds the green, natural approach to beauty and skin care we value so much. Trust us when we say you can trust our beauty editor, Allie White — in her time here, she's sampled upward of 300 different products. These are her favorites.
I can vividly remember when I stopped using bar soap. It was freshman year of college and I was in the shower area of the communal bathroom making triple-sure my flip-flops were secure so as not to contract anything scary from the tile floor. I ran into a friend washing her hands and she peered into my shower caddy.
My hot pink soap box (here's a visual for those of you who have no idea what I'm talking about) caught her eye, she asked what it was and I told her it contained the Dove soap bar I'd used since I was a kid. She smirked and said, "Wow, you're the only person I know who still uses a bar." The next day, I bought a bottle of body wash.
Fast forward nine years and I'm still a product-in-pump-or-squeeze-bottles kind of girl. Face cleanser, body wash, shampoo ... you name it, I want it in liquid form. But then I tried a small-but-mighty bar of soap that rocked my world and had me nostalgic for the slippery soaps of my youth.
I suffer from the occasional breakout and after only a couple of days with Osmia Organics' Black Clay Facial Soap in my rotation, I saw a noticeably improvement. Small bumps that had taken up residency on my forehead magically disappeared. Enlarged pores I'd learned to live with seemed to be shrink. The oily shine that shows up on my T-zone every day around 3 pm was MIA.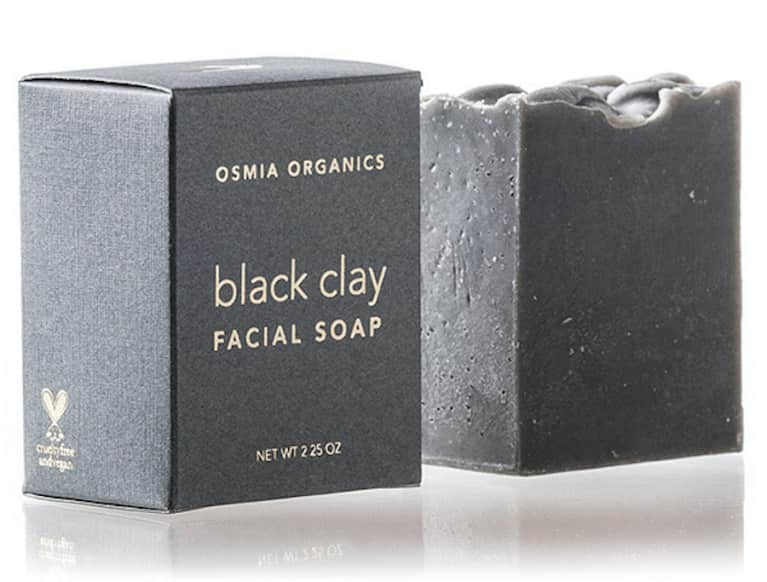 Just a few passes across my damp palm creates an uber-rich, deliciously-scented lather that covers my face and neck every night. I massage it in for about a minute, rinse and pat dry. Unlike a lot of other bar cleansers, this one absolutely does not leave my skin with that so-squeaky-clean-you-can't-move feeling. On the contrary, the combination of organic oils leave my face feeling soft and nourished.
When I wake up in the morning, I look far less haggard than normal. In fact, it's practically balanced and, dare I say, bright, despite how many hours of sleep I may not have gotten the night before.
Looking at the ingredient list, I can thank the Australian black clay and Dead Sea mud for this transformation. The mud is incredibly mineral-rich, and both draw water to the skin, meaning I'm nicely plumped and mineral-y. Additionally, there's a healthy dose of organic almond, avocado and castor bean oils in the soap, all of which condition, soften and nourish skin.
An added bonus? It's formulated with coconut oil, that picks up and binds to dirt and makeup so your skin is really, truly clean after using.
I love this stuff so much that I carved off about an 1/8 of the bar to take on a two-week trip so I would reap the benefits overseas.
Osmia Organics Black Clay Facial Soap, $24, osmiaorganics.com
EWG Score: 2 — low hazard
Cover illustration by Chloe Bulpin, mbg creative; product photo courtesy of Osmia Organics