Spinach + Garlic Spaghetti Squash Pasta (Health Coach Approved!)
I was raised on Italian food: Pasta, pizza, lasagna, you name it, I loved it.
As I began to step into healthier ways of eating and living, it was imperative that I find delicious replacements for the foods that I grew up on. That meant a lot of experimenting with things like cauliflower-crust pizza, zucchini pasta lasagna, and baked ziti with quinoa noodles.
But it was when I found out about spaghetti squash that my culinary world changed forever. If you're not familiar with spaghetti squash, it's the pasta of the vegetable world (as the name implies).
After it's baked, the flesh of the squash comes out as long, thin, spaghetti strands, no spiralizer or fancy tools necessary. Thank you, Mother Nature!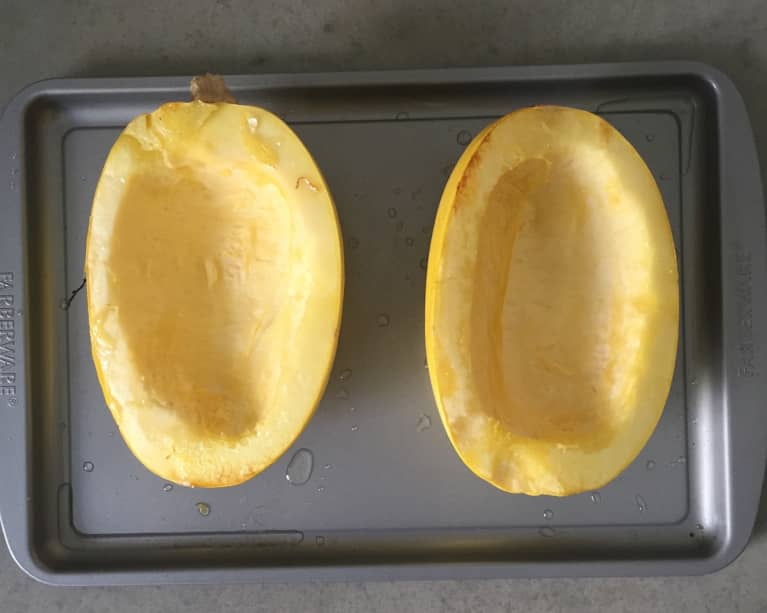 You can put it in a bowl, top with a sauce of your liking, and twirl it around a fork, indulging without the belly ache or bloated feeling that might come when you have wheat-based products.
Squash also has a very grounding energy, so it's the perfect food to warm and ground the body in the cooler fall and winter months.
My Montana-raised, meat-eating and carb-loving boyfriend went crazy for this dish. And so did I!
Spinach and Garlic Spaghetti Squash Pasta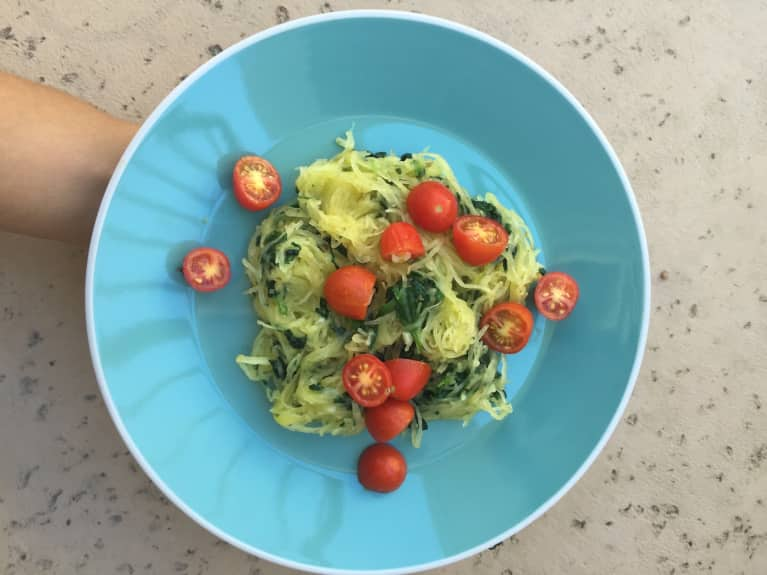 1 medium spaghetti squash
1 tablespoon coconut oil
3 tablespoons grass-fed butter
5 cloves garlic, chopped
2 teaspoons dried oregano
¼ teaspoon sea salt
1 cup spinach (fresh or frozen)
½ cup sliced baby tomatoes
Preparation
1. Preheat your oven to 400°F while you prep the squash. Use a chef's knife to cut the squash in half lengthwise. Use a spoon to scoop out the seeds until both halves look like the photo above.
2. Line your baking sheet with a thin layer of coconut oil to add moisture to your squash while it bakes in the oven. Place both halves face down and bake for 30-45 minutes (depending on the size of your squash). You will know it's ready when it's tender and you're able to pierce it easily with a fork.
3. While the squash cools, melt 3 tablespoons of butter in a small pan on low heat with 5 cloves of chopped garlic, 2 teaspoons of dried oregano, and ¼ teaspoon sea salt in a stovetop pan. Remove from the heat as soon as the butter is completely melted and stir in spinach (if you're using frozen spinach, let it defrost before adding to the pan).
4. Use a fork to remove the flesh of the spaghetti squash and place in a large bowl. Mix gently with your butter sauce. Top with ½ cup of sliced baby tomatoes.
Photo courtesy of the author