What A Day Of Clean Eating Looks Like (Recipes)
Eating clean should be simple and delicious. Below are three recipes to keep you energized and nourished throughout the day.
Breakfast: Paleo Porridge With Apple and Cinnamon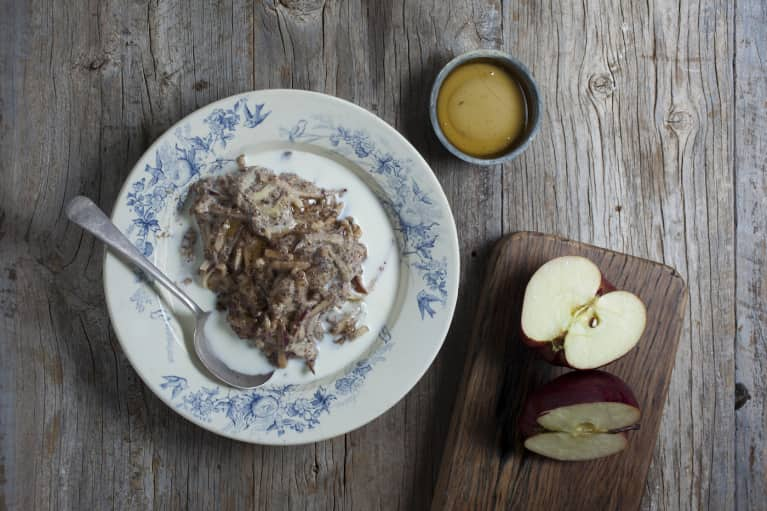 This is a wonderful gluten-free porridge that takes only three minutes to make. It's especially designed for busy people on the move and it will keep you energized all morning.
Serves 1
Ingredients
1 cup almond milk
1 apple, grated
2 heaped tablespoons LSA*
½ teaspoon vanilla paste or extract
pinch of cinnamon
Preparation
1. Combine the almond milk, apple, and LSA in a small pot.
2. Add vanilla and cinnamon.
3. Cook porridge over a low heat for a few minutes until heated through and thickened.
4. Serve in a large bowl and top with extra hot milk — I also like to top this porridge with sliced banana or figs.
Notes and Inspiration:
*LSA is a mixture of linseeds, sunflower seeds, and almonds. You can buy it from most health food stores or make it yourself by blending 1 cup linseeds, ½ cup raw sunflower seeds, and ½ cup raw almonds.
Lunch: Kale, Spinach, and Feta Pie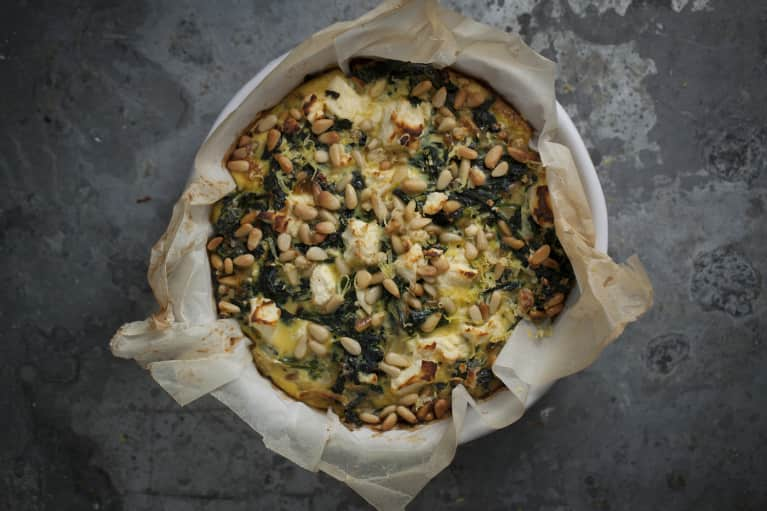 This is a delicious meal that I often make for my weekday dinner or as a portable healthy lunch. Preparation is effortless and the final result is beautiful — the fresh subtle flavors of green dance in your mouth.
I like to serve mine with a large garden salad made simply of leaves from a variety of lettuce types, tossed by hand ever so lightly and drizzled with French-style dressing just before serving.
Serves 2
Ingredients
2 leeks, washed and finely sliced
1 tablespoon olive oil
1 bunch kale, washed, trimmed, and finely shredded
7 oz (200 g) baby spinach leaves
Generous pinch of black pepper
Zest of 1 lemon
1 parsley bunch, chopped
6 free-range eggs
2¾ oz (80 g) quality feta
Small handful of pine nuts
Preparation
1. Preheat oven to 360°F (180°C).
2. Sauté leeks in oil in a large heavy-based pot until softened.
3. Add shredded kale and cook through for 5 minutes until soft and wilted. Add baby spinach leaves. You may need to add this in two lots and cook through until just wilted. Season with black pepper and add lemon zest and parsley.
4. Spoon the kale and spinach mixture into a 22-cm (9-inch) pie dish.
5. Break eggs into a bowl and whisk lightly until combined. Pour the eggs over the greens and gently incorporate through the mix of green goodness.
6. Crumble the feta and sprinkle pine nuts over the top.
7. Bake for 40–45 minutes or until firm to the touch and golden.
8. Remove from the oven and rest for 5 minutes before serving.
Notes and Inspiration:
Use ricotta in place of feta.
Dinner: Steamed White Fish With Ginger and Turmeric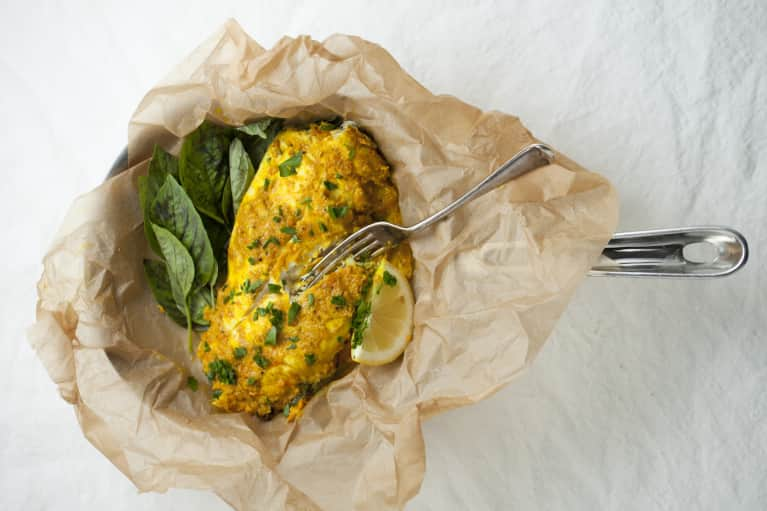 The omega-3s DHA and EPA are absolutely essential in your diet and must be obtained from the foods we eat. Fish is high in the omega-3s that help support the health of every cell in the body.
Omega-3s play a role in immune function by regulating inflammation and encouraging the body to fight infection.
Serves 4
Ingredients
1 tablespoon fresh ginger or galangal, grated
1 tablespoon turmeric, grated
2 garlic cloves, smashed
1 tablespoon tamari soy sauce
1 lime, juiced
2 tablespoons olive oil
1 coriander (cilantro) bunch, leaves and stalk finely chopped
2 7-oz (200 g) white fish fillets (wild snapper or other fish of your choice)
¼ cup coconut water
1 tablespoon butter
Preparation
1. Combine ginger, turmeric, garlic, tamari, lime juice, and olive oil in a mortar and smash ingredients well.
2. Add the coriander and fold it through.
3. Place fish into a bowl and coat with the turmeric mix.
4. Leave fish fillets to marinate in the fridge for 15 minutes.
5. Heat a pan over medium heat.
6. Lay the fish fillets in the pan and pour in the coconut water.
7. Reduce the heat and pan-steam for 8 minutes, occasionally coating the fish with the marinade.
8. Stir through the butter at the end, to lightly emulsify and make the loveliest sauce.
Note: Try serving the dish with a little kimchi.
These recipes are excerpted from The Healthy Chef — Purely Delicious.