Nearly Everything In This Office Is Made Out Of Trash (And The Photos Are Amazing)
Our editors have independently chosen the products listed on this page. If you purchase something mentioned in this article, we may
earn a small commission
.
As Albe Zakes — the VP of TerraCycle, a global recycling network — led me through the company's headquarters, he stopped in his tracks once we reached a piece of scrap metal inscribed with the company's logo.
"Oh, that must be new. Definitely wasn't here yesterday," he said, and we continued our tour. That brief moment perfectly exemplified the innovative, ever-changing company.
The brainchild of environmentally minded entrepreneur Tom Szaky, TerraCycle has a mission almost as creative as its office space — a New Jersey warehouse entirely furnished with material that's been reused and recycled.
That mission is to "eliminate the idea of waste," through trash collection programs that turn non-recyclable material into new products.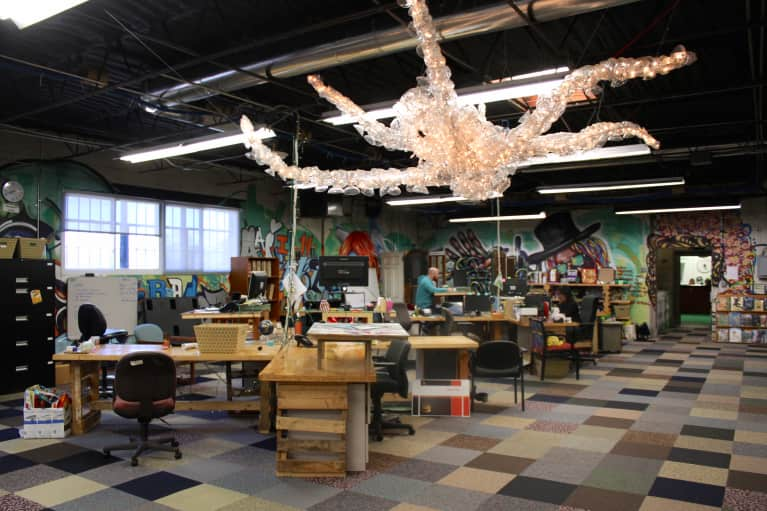 Szaky founded the unorthodox recycling empire in 2004. At the time, it focused on sustainable fertilizer (made from worm poop) that was packaged in recycled bottles and marketed to the eco-conscious gardener. It was a surprisingly successful product, but Szaky soon realized that there were other opportunities to repurpose waste into new and efficient goods.
Unfortunately, so much of what's out there isn't recyclable, Zakes told me on my tour of the facility. Soft plastics or plastics mixed with aluminum can interfere with the recycling stream.
The TerraCycle of today has 40 recycling programs, each one focusing on different previously non-recyclable materials ranging from single-use juice boxes and snack packaging to cigarettes and old electronics.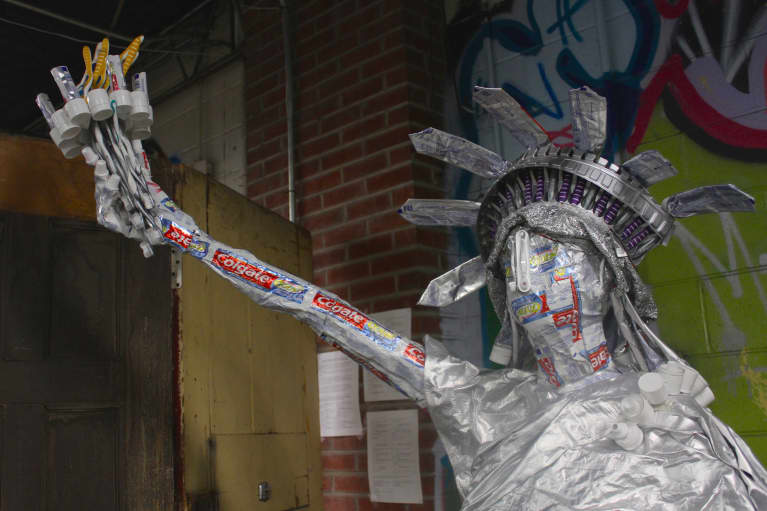 Trashmakers worldwide are invited to join a brigade, download a free shipping label, and send their trash to a TerraCycle collection facility. For each piece of waste they send in, they're given one "point," and accrued points can be redeemed as charitable gifts or donations.
To date, TerraCycle has brought in nearly 3 billion units of waste this way. Once collected, it's recycled (reused in another product, often one that's similar to its original form) or upcycled (turned into a totally new, higher-quality item).
Different trash brigades take on different second lives. CapriSun pouches are transformed into colorful wallets and messenger bags. Cigarette butts are broken down and their plastics are used to make industrial materials. Dried-out pens are reimagined as white board accessories.
According to their website, the TerraCycle team has "yet to find a waste stream we cannot solve." Next up on their repurposing renegade? Turning used chewing gum and dirty diapers into functional products.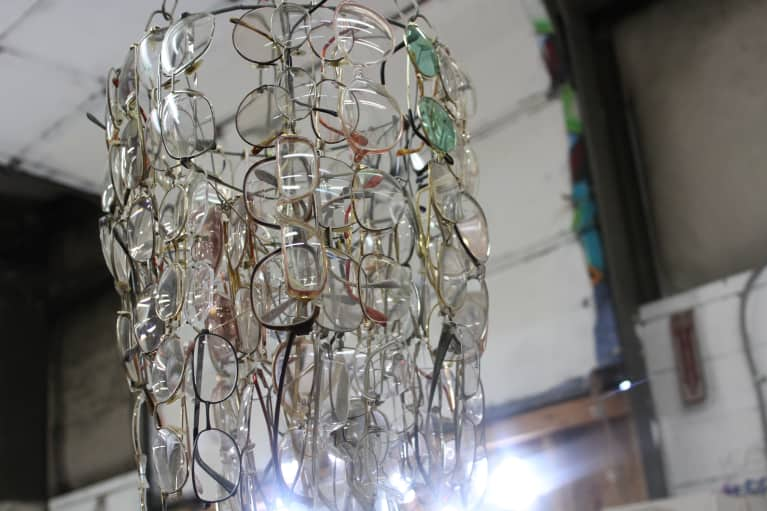 Under this reuse system, everyone benefits: the consumers who send in their trash and the company that turns it into profitable material. Win-win. Not to mention, recycling is easier on the environment, and TerraCycle's philanthropic component helps nonprofits and community organizations. So more like win-win-win-win.
Making products from garbage is more affordable and it benefits the planet.
The company's focus on "making garbage great" comes to life in its unbelievable headquarters. As Zakes put it, "If you're going to talk the talk, you need to walk the walk."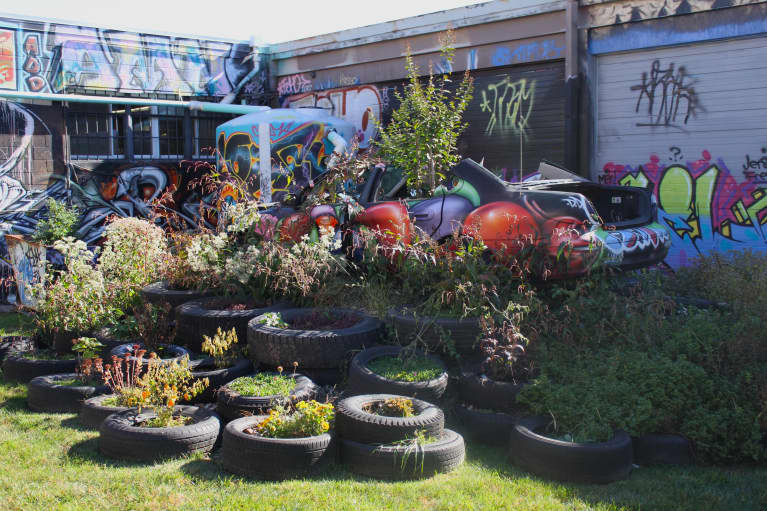 During my brief visit to the space, I saw conference tables styled from old bowling alley lanes, stood inside a break room lined with vintage board games, and picked through a vegetable garden blooming in the hood of a vintage car. Graffiti by local artists blanketed every inch of wall space.
Electricity is harvested from rooftop solar panels, and the office's 65 employees are urged to compost food scraps, use reusable containers, and avoid the trash can at all costs.
TerraCycle's artist-in-residence program gives local creatives an apartment and fully stocked studio space free of charge in exchange for some design contract work. They often leave some of their art behind and it's used to decorate the office, giving the place the feeling of a uniquely curated gallery space.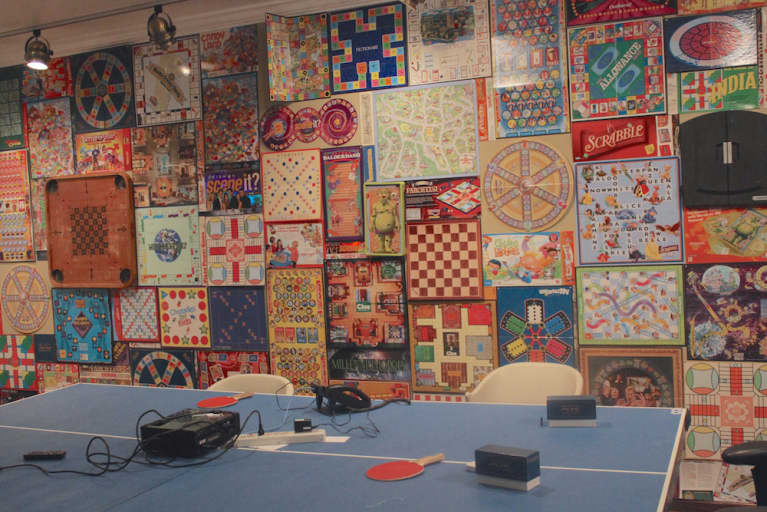 The benefits of an office craftily designed from used material are twofold: "It's not just better for the environment — it's also good for us as a business," Zakes told me.
By highlighting the monetary benefits of environmentalism, Szaky has branded a new "eco-capitalism" business model — one that he's eager to share with the masses.
So far, 12 million schools and nonprofits have participated in TerraCycle recycling programs. At one point, 30 percent of U.S. public schools were involved — the top collectors granted recognition and prizes.
By getting children excited about recycling and resource preservation, Zakes hopes that the company is "helping raise the next generation of eco-aware consumers."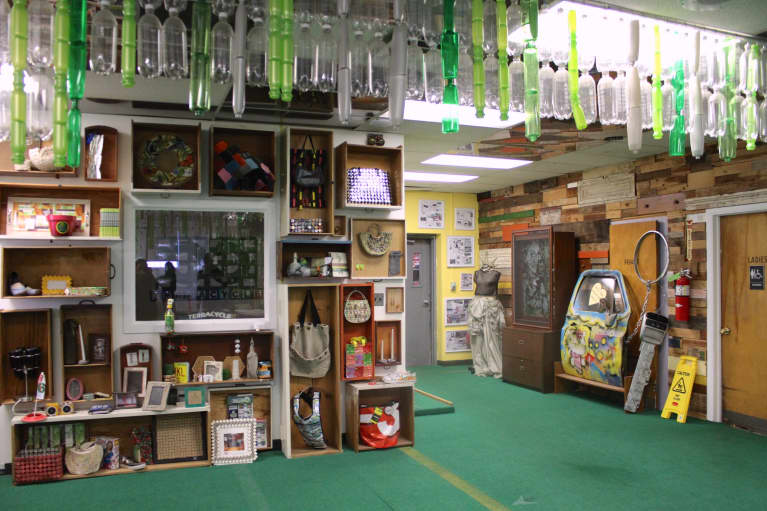 Using a dash of imagination, TerraCycle is adding some glamour to a previously unfashionable topic and proving that everyone can reclaim their trash into something far less, well, trashy.
Related reads:
Photos courtesy of the author