12 Things Nutritionists Eat When They're Out For Drinks
Hooray! The work week is finally over, but before you head out to happy hour to load up on discounted drinks and nachos — check out these tips from our favorite nutritionists. They'll help you make smarter decisions so you leave the bar feeling full and satiated instead of hangry.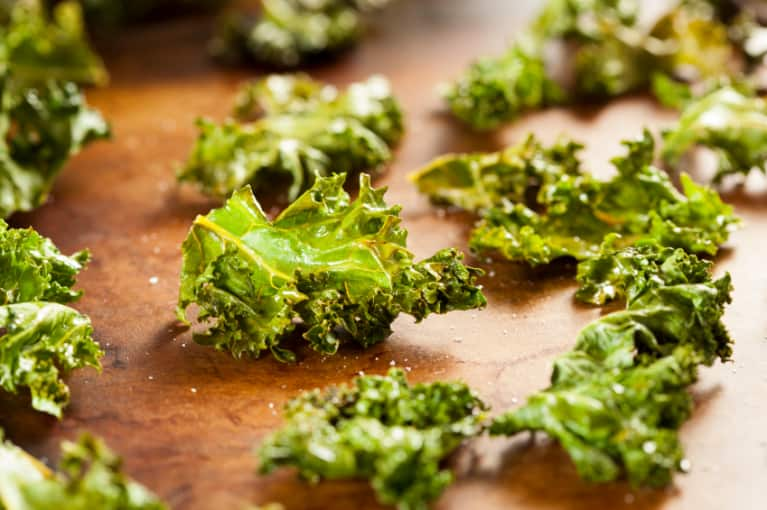 "I'll have baked beet or kale chips. Other options include assorted olives. They contain monounsaturated fats, vitamin E, and antioxidants, plus very few are needed to have your fill, so you don't end up overindulging," says Elissa Goodman, a holistic health coach. "Or I'll have fresh baked tortilla chips with slices of avocado and sea salt."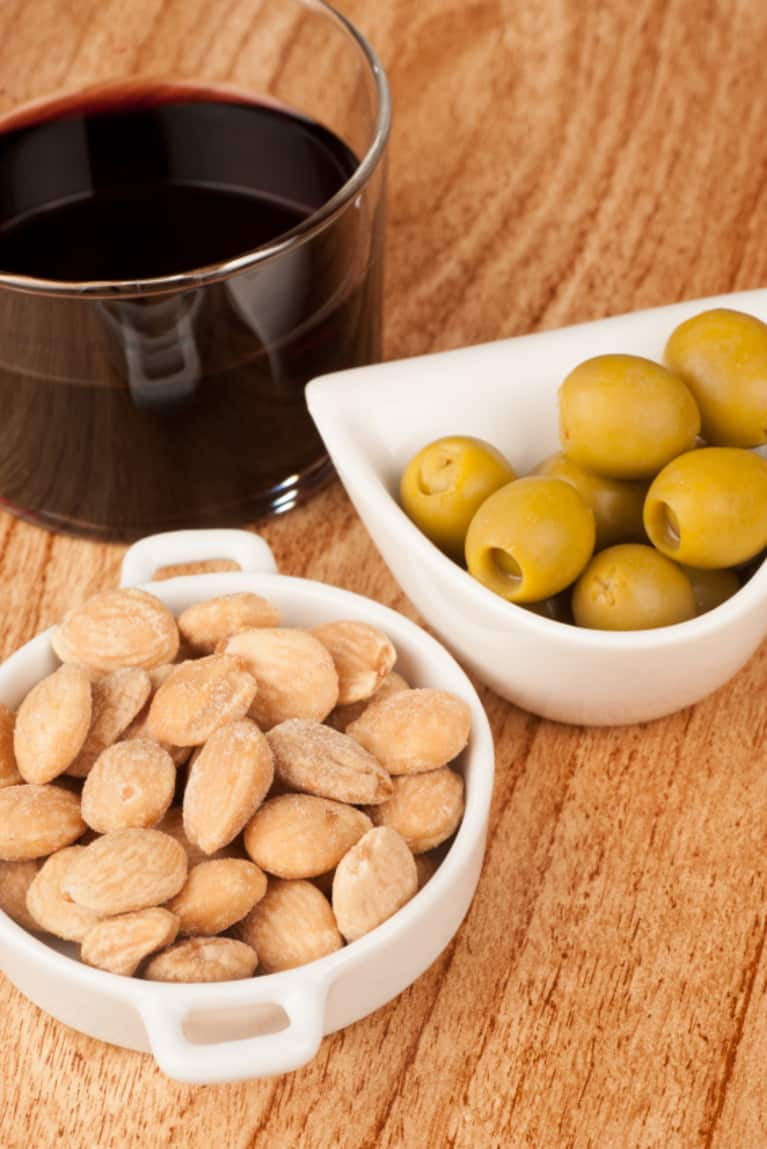 "I generally stick to vegetables with hummus or guacamole, olives, and almonds — all are loaded with healthy fats and are anti-inflammatory unlike many of their fried friends. When I'm having a cocktail, I opt for mezcal on the rocks with lime (a great low-sugar option)," says Robin Berzin, a physician and health coach who specializes in women's nutrition and health.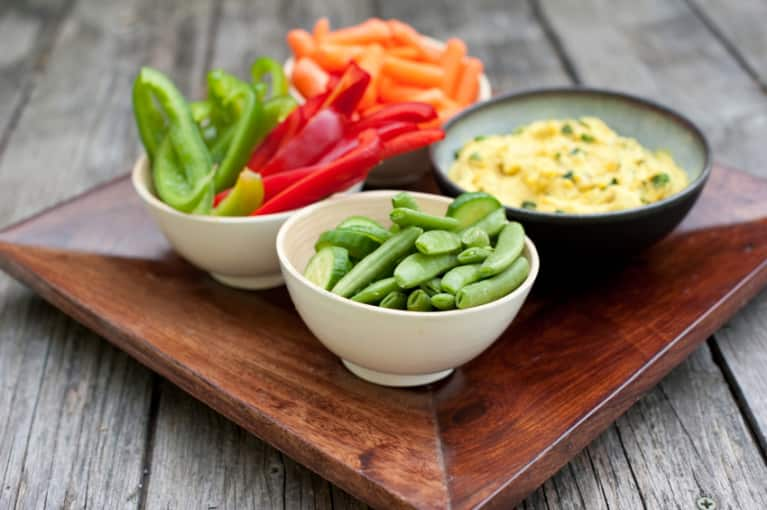 "I dunk crunchy veggies (jicama, sugar snap peas, carrots, fresh beets) into a thick, chunky hummus (preferably homemade) with a glass of rich red wine — Belle Glos Dairyman," says Bonnie Taub-Dix, owner of BetterThanDieting.com and author of Read It Before You Eat It.
Guacamole + Baked Corn Tortillas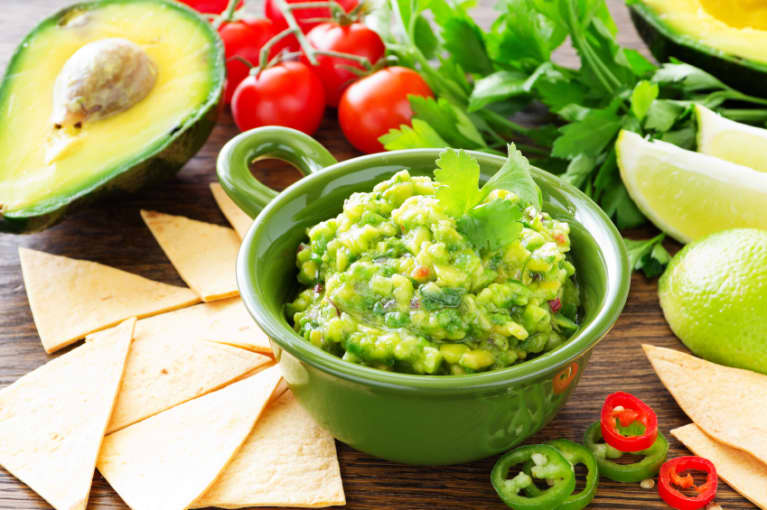 "When I order a drink, I scan the menu for the LEAST sweet cocktail (made with a clear spirit, which is the lowest in sugar — like vodka, tequila, or gin). I'll order that but request no simple syrup or agave. When it arrives, I grab a packet of stevia (which I keep in my wallet) and spike my drink with it to sweeten naturally," says Talia Pollock, holistic health coach and author of the blog Party In My Plants. "Next, I've gotta have a healthy snack, so I order the classic happy-hour staple: guac! Instead of the bucket of deep-fried chips, I always order a side of baked corn tortillas, so I have a healthy guacamole dipper."
Organic Edamame + Dash Of Sea Salt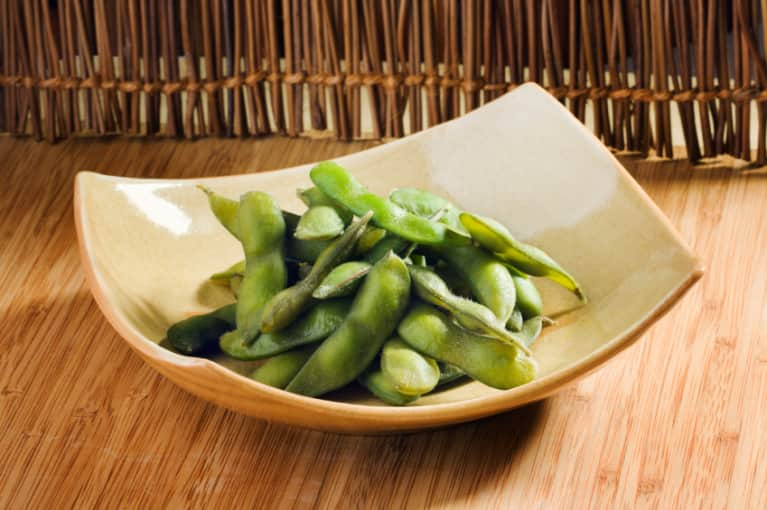 "They're munchy and snacky, and the combo of protein and fiber help to stabilize my blood sugar so a glass of wine doesn't go straight to my head," says Rachel Meltzer Warren, MS, RDN, and author of The Smart Girl's Guide To Going Vegetarian book and blog.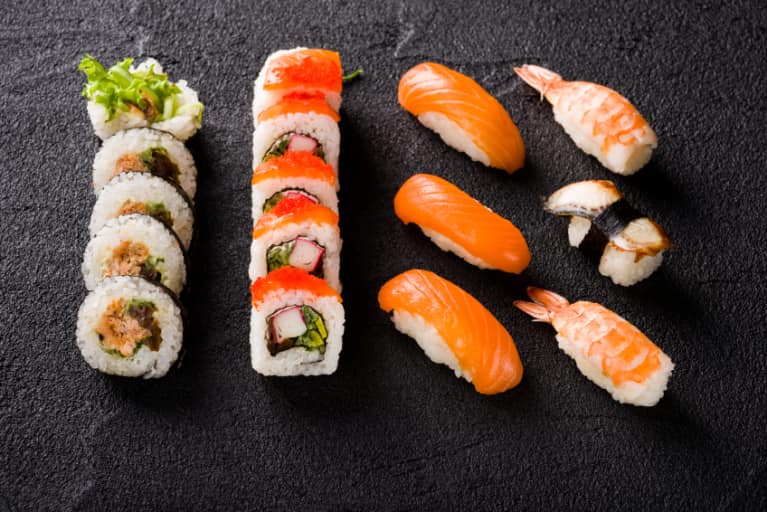 "I like to order a couple of rolls of sushi or sashimi to split with friends, along with a beer! The protein in the sushi helps us feel more full than if we had ordered chips or bread," says Emily Hein, RDN and author of the blog Zen & Spice Nutrition.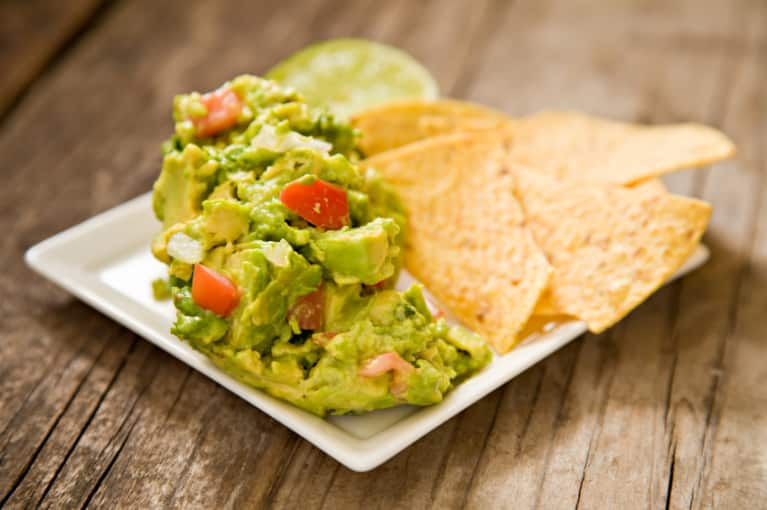 "Chips and guacamole because it's salty, satisfying, and almost every restaurant has it. Or I'll get hummus and pita — really anything carby because that goes perfect with anything boozy," says Robyn Coale, RD and author of the blog The Real Life RD.
Nuts, Olives + Marinated Mushrooms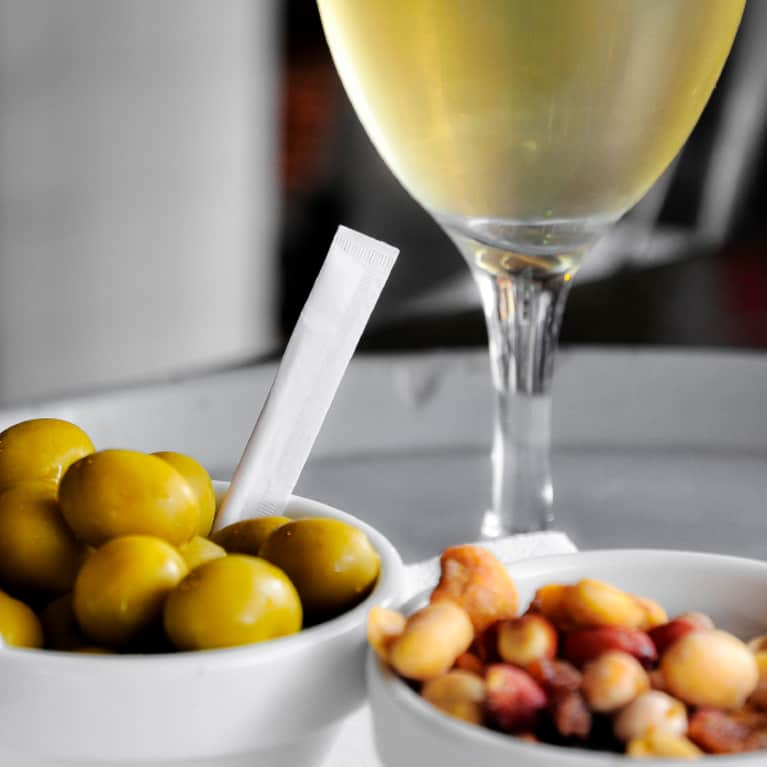 "If it's a happy hour at home, the choices are endless. I love to nosh on simple snacks like nuts, olives, marinated mushrooms, berries, and homemade sweet potato or kale chips," says Dr. Kellyann Petrucci, a naturopathic physician and certified nutrition consultant. "If I'm entertaining company, I fancy things up a little by adding hors d'oeuvres like roasted rosemary almonds, mini-kabobs of chicken satay, or buffalo chicken meatballs."
"At restaurants, eating healthy at happy hour can be a bit of a challenge. I typically eat a snack before I go, so I won't be tempted to reach for something greasy or carby. Luckily, lots of restaurants now include salads on their happy-hour menus. Seafood restaurants frequently offer shrimp, oyster, or mussel appetizers that aren't breaded or fried. And Japanese restaurants are fun because I can generally order something like seaweed salad or sushi."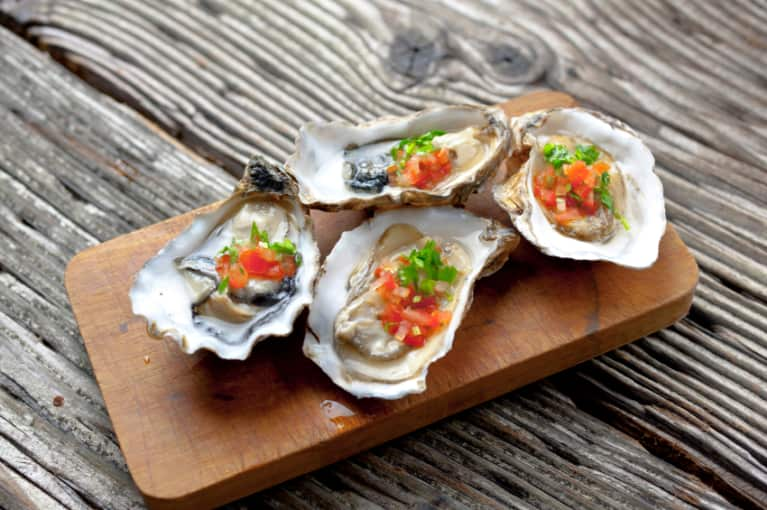 "Oysters! Oysters! Oysters! They are naturally low in calories and high in protein, so they keep me satiated without compromising my waistline," says Alicia Anskis, MS, RD, LDN, and registered dietitian at Massachusetts General Hospital. "Plus, they are an abundant source of B12, an essential vitamin for blood and nerve function, which can be poorly absorbed when drinking too much alcohol. Just a 3-ounce serving of oysters contains more than two times the daily amount of B12 needed by the body, so the extra dose can be helpful at happy hour."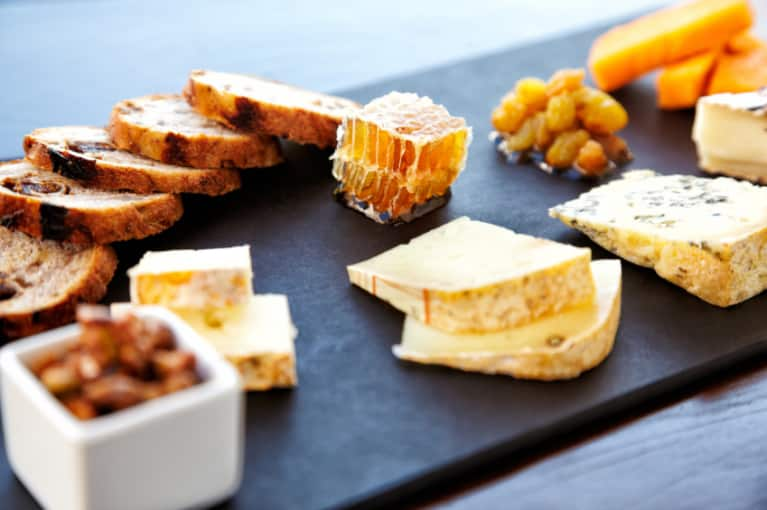 "At happy hour, I always order a cheese plate. With satiating fat and protein, cheese is great for holding me over until dinner, and aged cheese is an excellent source of vitamin K2. Plus, cheese is my favorite food, and it pairs great with wine," says Rachael Hartley, RD and author of the blog Avocado A Day Nutrition.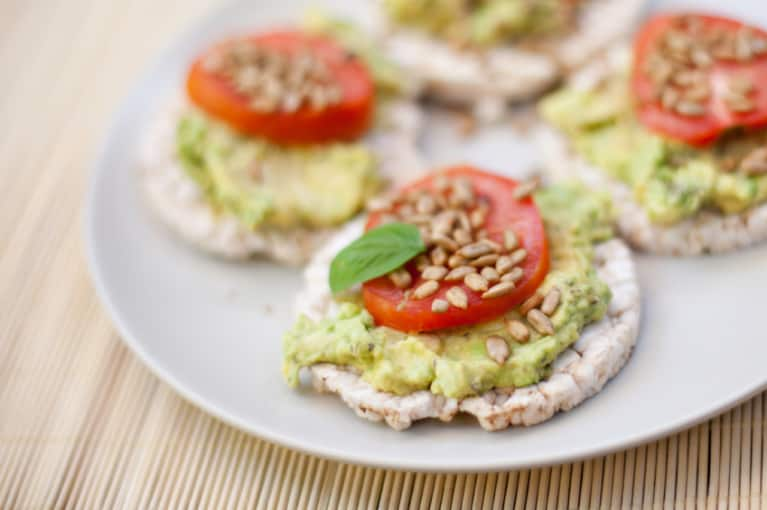 "Vegetable chips and rice crackers are a good option if they're available," says Mikaela Reuben, a culinary nutritionist and health consultant. "Or I suggest ordering a small appetizer if you want to keep snacking. You'll feel more satisfied."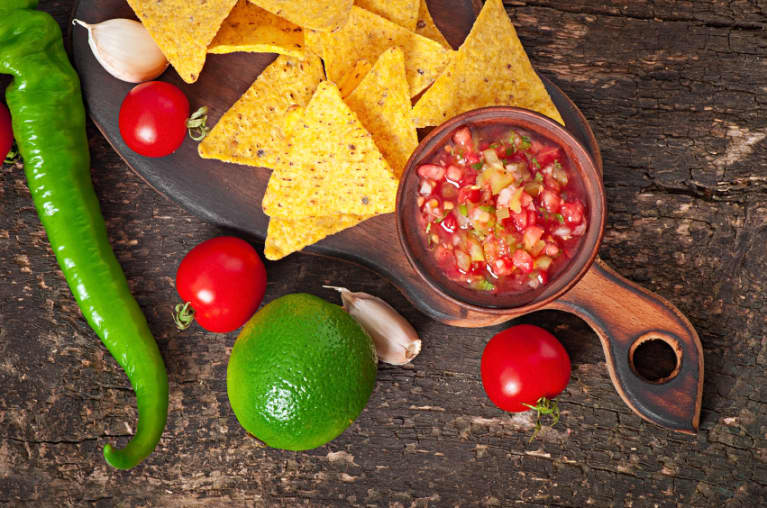 "I have to be honest that at this stage in my life with two small children, I do not do a lot of happy hours," shares Jenna Braddock, RDN and author of the blog Make Healthy Easy. "But my hubby and I will enjoy a drink sometimes together before dinner. If we munch on something, we like an all-natural tortilla chip served with guacamole or salsa. Both dips are ways to get in more veggies, and salsa is low in calories. I have also learned to pour some chips in a bowl so we have a set amount as opposed to just eating them out the bag."
Photos courtesy of iStock

For more advice, check out these stories: