Breakfast For Dinner: 15-Minute Tomato Shakshuka
mbg Contributor
By Leah Vanderveldt
mbg Contributor
Leah Vanderveldt is an author living in Brooklyn, New York. She received her bachelor's in communications and media from Fordham University, and is certified in culinary nutrition from the Natural Gourmet Institute. She is the author of two cookbooks: The New Nourishing and The New Porridge.
Shakshuka is a Tunisian breakfast dish of stewed tomatoes, peppers, and eggs. It's also the perfect breakfast-for-dinner meal — quick-cooking, warm, and comforting.
This version uses stewed canned tomatoes, fire-roasted red peppers, and smoked paprika to get rich flavor fast. I also added a big handful of baby kale for extra green.
This recipe can feed one or two people depending on hunger levels, accompaniments (like bread or quinoa), and number of eggs used. You can easily double the amount of tomatoes and eggs to adjust for four to six people.
And of course, you can serve this for breakfast, brunch, or lunch instead.
Tomato and Roasted Red Pepper Shakshuka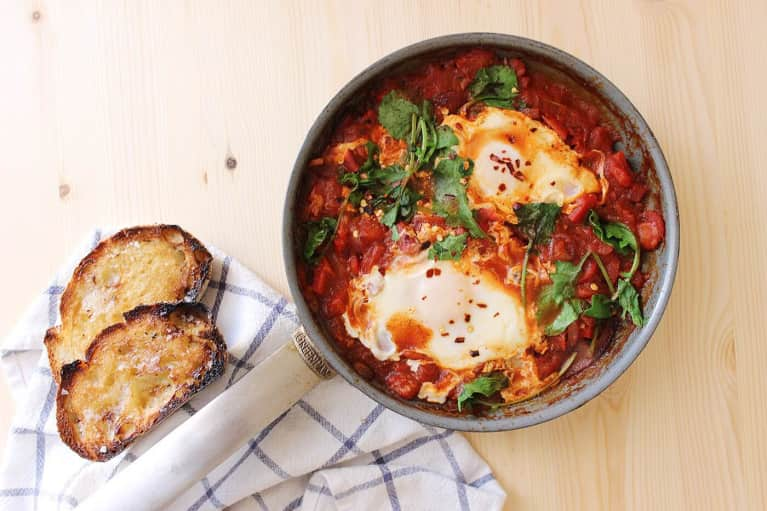 olive oil
1 shallot or ½ small onion, finely chopped
1 garlic clove, finely chopped or grated on a microplane
½ teaspoon smoked paprika
1 14-oz. can chopped tomatoes
1 roasted red pepper from a jar, chopped
½ teaspoon salt
a big handful of baby kale or spinach
2-3 eggs (depending on how many people are eating it)
pinch of red pepper flakes (optional)
Preparation
1. Finely chop shallot (or onion), garlic, and roasted red pepper. Coat a small pan in oil and heat over medium-high heat. Add shallot and cook for 2 minutes, until beginning to soften.
2. Add garlic and paprika and cook, stirring, for 30 seconds. Add tomatoes, red pepper, and salt. Cook, stirring, for 2 minutes. Stir in baby kale.
3. Make little divots with a spoon and crack eggs into them (so eggs stay relatively contained). Cover the pan and reduce heat to medium-low. Cook for 5-7 minutes until egg whites have set but yolk is still runny.
Sprinkle with chili flakes and serve with toast, pita, or quinoa.
Photo courtesy of the author