How To Make "Yogurt" With Chia Seeds
Growing up, my partner Natalie struggled with skin issues. After trying numerous treatments, she started exploring changing her diet.
Almost immediately after giving up dairy, her skin cleared up. The unknown allergy was causing her skin problems all along.
I've never noticed allergic affects, but Nat's experience made me want to try ditching dairy, too.
But, what if we're part of the 99.9 percent of people who would miss dairy if we couldn't have it?
The salty punch of pecorino, the pungent jam of brie, the thickness of cream in coffee or oatmeal — dairy, for better or worse, is part of most cuisines. Even some people with an allergy still find it hard to give up dairy.
This recipe is here to help.
After a few attempts with this chia concoction, Nat started adding lemon juice for some tartness, and WHAM! A delicious dairy-free yogurt.
It's tasty on its own, but I've been adding granola and fruit as a topping.
Strawberry Chia "Yogurt"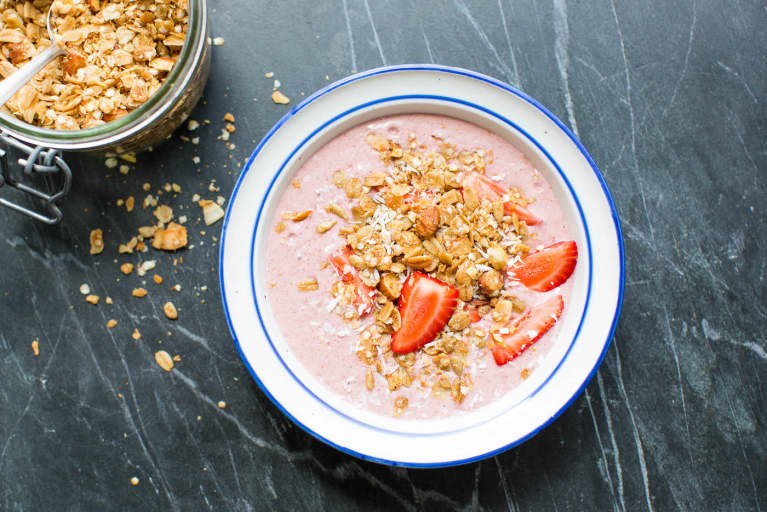 1 13.5-oz. can full-fat coconut milk
3 tablespoons chia seeds
½ teaspoon ground vanilla
1 tablespoon lemon juice
2 cups fresh or frozen strawberries (about 20-22 berries)
2 dates, pits removed
pinch of sea salt
Preparation
1. Combine all ingredients in a blender, and blend. Scrape the sides a few times, and continue blending until smooth and creamy. If using frozen berries, you may have to wait for them to thaw a little to fully blend.
2. Let sit in the fridge for at least an hour, or overnight.
3. Top with your favorite toppings. We like fresh fruit, granola, and shredded coconut.
Photo courtesy of the author