What It ACTUALLY Looks Like To Eat On $4 A Day
From the editor: While Leanne Brown was working on her master's degree in food studies at NYU, she decided to create a cookbook as her final project. The goal was to show others how to cook on a Supplemental Nutrition Assistance Program (SNAP) budget of $4 a day.
After the free downloadable PDF of her book, Good and Cheap went viral, Leanne decided to create a Kickstarter campaign to fund a print version. She raised $144,681 (well beyond her initial $10,000 goal) from 5,636 supporters, making it the #1 cookbook ever on Kickstarter. (And the 2nd print edition is a New York Times best-seller.)
Below are 5 recipes that total to $4 (actually, $3.95) per serving, to show you that eating well can be simple and affordable.
Breakfast: Pumpkin Oatmeal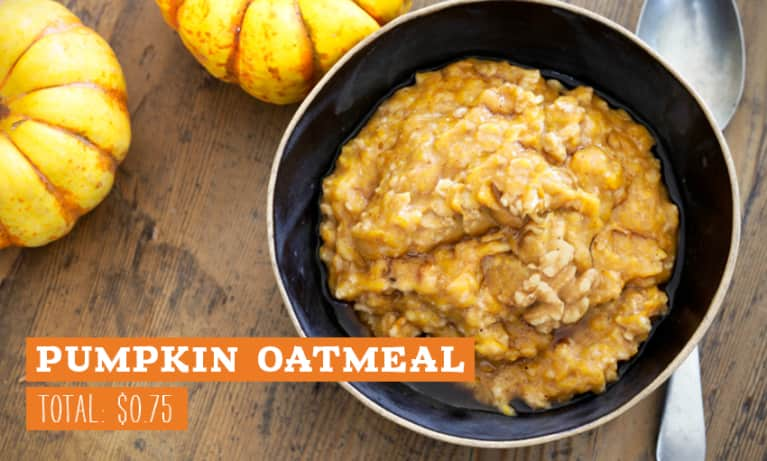 Cost: $0.75 serving/$1.50 total
Oatmeal is a hot and comforting breakfast that will give you energy for a great morning. It's also extremely inexpensive, so it will allow you to spend a bit more on lunch and dinner.
Basic oatmeal has a reputation for being dull, but this recipe can be dressed up in so many ways, you'll never get bored.
Serves 2
Ingredients
1/2 cup canned pumpkin
3/4 cup milk (or almond milk or soy milk)
1¼ cups water
1 cup rolled oats
1/4 teaspoon salt
2 tablespoons brown sugar, plus more to taste
1 teaspoon ground cinnamon
1/4 teaspoon ground ginger
1/4 teaspoon ground cloves
drizzling of maple syrup
1. Whisk the pumpkin, milk, and water in a medium-sized pot.
2. Add the oats, salt, brown sugar, and spices. Cook over medium-low heat until the mixture just comes to a boil, 2 to 5 minutes. Turn to low for 5 more minutes. Add maple syrup or other toppings to taste.
Lunch: Dal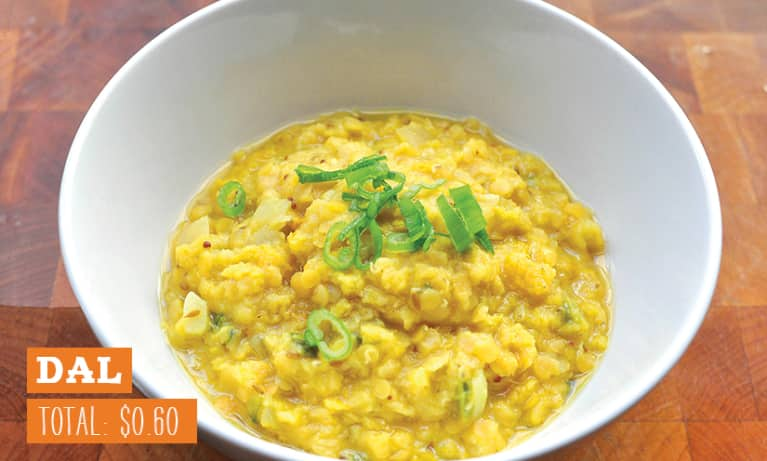 Cost: $0.60 per serving/$2.40 total
This thick lentil soup is a flavor-packed staple of the Indian table. There are a ton of ways to prepare dal, but the core — beyond the lentils themselves — is usually fresh ginger, garlic, and chile, along with some dry spices.
You can use any type of lentil you like. If you're using larger lentils (like chana dal, French lentils, or split mung beans), soak them for 30 minutes. If you're using the small orange lentils, then don't bother soaking them — they cook very quickly.
Serves 4
Ingredients
1 tablespoon butter
1 medium onion, finely chopped
1 teaspoon cumin seeds
1 teaspoon black mustard seeds
1 teaspoon turmeric
2 cloves garlic, finely chopped
1 jalapeño or serrano pepper, finely chopped*
1/2-inch piece of ginger, grated
2 cups lentils
salt and pepper, to taste
heavy cream
sprinkling of chopped fresh cilantro
sprinkling of chopped scallions
1. Melt the butter in a medium-size pot over medium heat. Add the onion and cook for 1 minute, then add the cumin seeds and mustard seeds and stir them until they sizzle. Toss in the turmeric, garlic, and jalapeño and cook until the vegetables soften, 3 to 4 more minutes. Add the ginger and stir-fry for about 30 seconds.
2. Add the lentils along with enough water to cover them, then cook, covered, until the lentils are tender, about 20 minutes for split red lentils, 30 for green or brown, or 45 for other whole varieties. Plan according to what lentil you are using (package directions can be helpful).
3. Sample the dal and add salt and pepper to taste. You'll probably need a fair bit of salt to bring out all the flavors — a teaspoon or so.
4. Top the dish with a splash of cream, some chopped fresh cilantro or scallions, and serve.
*If you prefer mild dishes, use a quarter of the jalapeño to start and add more if you decide you like it. Serrano peppers are hotter than jalapeños, so only use those if you like your food very spicy. Like salt, the amount of chile pepper should be to your taste. And you can always seed and devein your peppers to reduce their heat.
Lunch:Broccoli Apple Salad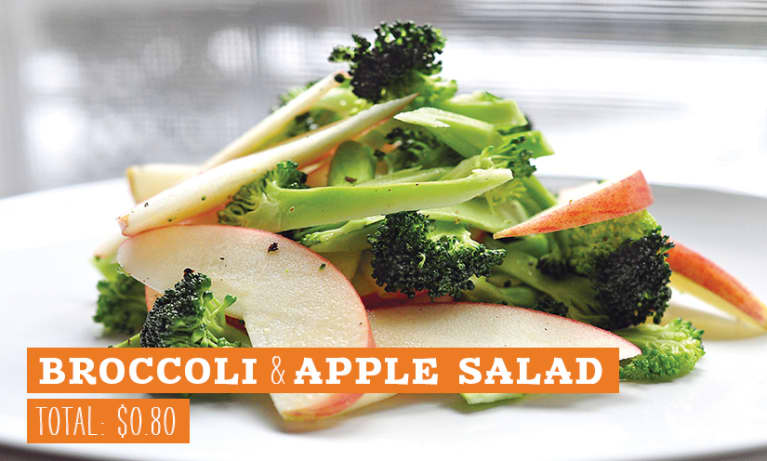 Cost: $0.80 per serving/$3.20 total
The bitterness of broccoli is delicious paired with the sweet tartness of apples. Plenty of crunch, too! For a slightly richer and creamier dish, try the yogurt dressing.
Serves 4 as a side
Ingredients
1 large crown and stem of broccoli
2 apples
juice of 1 lemon
1 tablespoon olive oil
salt and pepper, to taste
Alternative yogurt dressing
1 tablespoon yogurt
1 teaspoon olive oil
1 teaspoon lemon juice
1 teaspoon chopped fresh dill
salt and pepper, to taste
1. Slice the stem of the broccoli into ⅛-inch disks. If you can't get them that thin, don't worry, but if you have the patience, thinner is better! Once you reach the crown of the broccoli, cut the florets off and slice them as thin as you can. Set the broccoli in a bowl.
2. Halve and core the apples, then place the apples flat side down on your cutting board to make them easier to slice. Slice the apples into ⅛-inch pieces, and dump them into the bowl with the broccoli.
3. Mix the lemon juice, olive oil, salt, and pepper in a small bowl. Taste it and season with more salt and pepper as you see fit.
4. Pour the dressing over the broccoli and apples and mix it all together.
Tips: If you put your plates in the fridge or 10 minutes before serving, the salad will stay crisp slightly longer. For the best presentation, pile the salad as high and tight as you can manage.
Snack: PB&J Granola Bars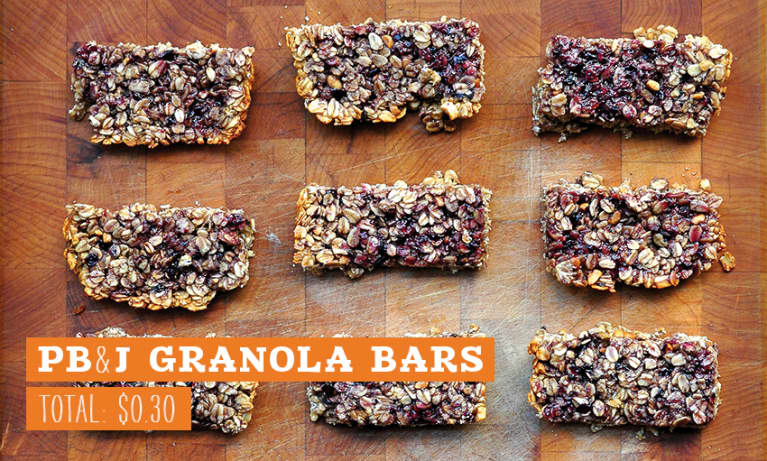 Cost: $0.30 per serving/$3.60 total
Tired of endless PB+J sandwiches? Give these bars a try instead! They are a little more crumbly than a store-bought granola bar, so be careful when eating these on the go — you'll probably leave a trail of crumbs on the sidewalk and down your shirt.
For a little more crunch along with your chew, you can also substitute a cup of Rice Krispies for a cup of the oats.
Makes 12 bars
Ingredients
butter or vegetable oil, for the pan
3 cups rolled oats, or 2 cups rolled oats and 1 cup Rice Krispies
1/2 cup peanut butter
1/2 cup jelly or jam
1/4 cup hot water
1/4 teaspoon salt
1/2 cup chopped nuts
1/2 cup shredded coconut
1/2 cup chopped dried fruit
1/2 cup honey (instead of the jelly)
1. Preheat the oven to 350°F.
2. Grease an 8- by 11-inch baking pan. If you have a different size pan, that's fine — it'll just change how thick the bars are, so you'll want to adjust the cooking time a little. A larger pan may take less time to cook through and get crunchy, while a smaller pan will take a few more minutes — just keep an eye on it in the oven.
3. Pour the oats into a large bowl.
4. Place a small saucepan over low heat and add the peanut butter, half of the jelly, the water, the salt, and any other additions. Stir until smooth, about 2 minutes.
5. Pour the peanut butter and jelly concoction into the oats and mix until all the oats are coated and you have a sticky mass. Dump the mixture into the buttered baking pan and press it into an even layer. Spread the remaining jelly over the top.
6. Pop the baking dish into the oven for 25 minutes. The bars are done when the edges are toasty and brown. Mmm. Crunchy.
7. Leave the bars in the pan until they cool completely, about an hour, then slice them into 12 bars.
Dinner: Crustless Vegetable Quiche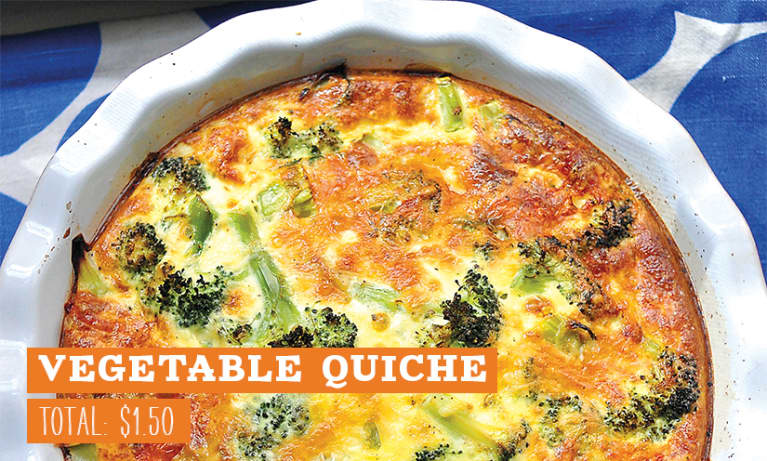 Cost: $1.50 per serving/$6 total
As much as I love this quiche hot, I like it even better cold out of the fridge the next day.
The quiche in the picture uses broccoli, but you can make it with pretty much any kind of vegetable. Some of my favorites are roasted green chiles and Cheddar, winter squash with goat cheese, zucchini and tomato, or spinach and olive. Spreading out onions on the bottom of the quiche adds a crust-like layer and a bit of crunch.
Serves 4
Ingredients
1 tablespoon butter
1 large onion, sliced into half-moons
1 teaspoon salt, plus more to taste
1/2 teaspoon pepper, plus more to taste
3 to 4 cups chopped vegetables (see above for ideas)
8 eggs
1 cup milk
1 cup grated cheddar or other cheese
1. Preheat the oven to 400°F.
2. Melt the butter in a cast-iron or ovenproof skillet over medium heat. (If your skillet isn't ovenproof, transfer everything to a pie plate in Step 3 to bake it.) Add the onion slices and sprinkle a bit of salt and pepper over them. Cook the onions until they are golden brown and starting to caramelize, about 10 minutes.
3. Remove the pan from the heat and spread the onions evenly across the bottom. Spread the vegetables evenly over the onions. The dish or pan should look fairly full.
4. In a bowl, use a fork to beat the eggs lightly with the milk, cheese, 1 teaspoon of salt, and ½ teaspoon of pepper, just enough to break up the yolks and whites. This is a savory custard mixture. Pour the custard over the vegetables and onions and enjoy watching it fill in all the open spaces.
5. Transfer the quiche to the oven and bake for 1 hour. Once the surface is lightly brown all the way across, it's fully cooked.
6. Let the quiche cool for about 20 minutes, then slice into wedges.
This is excerpted from Good and Cheap: Eat Well on $4/day, which demonstrates how to cook on a Supplemental Nutrition Assistance Program (SNAP) budget of $4 a day.
Cover Photo Credit: Getty Images