Q & A with Nikki Vilella of Kula Yoga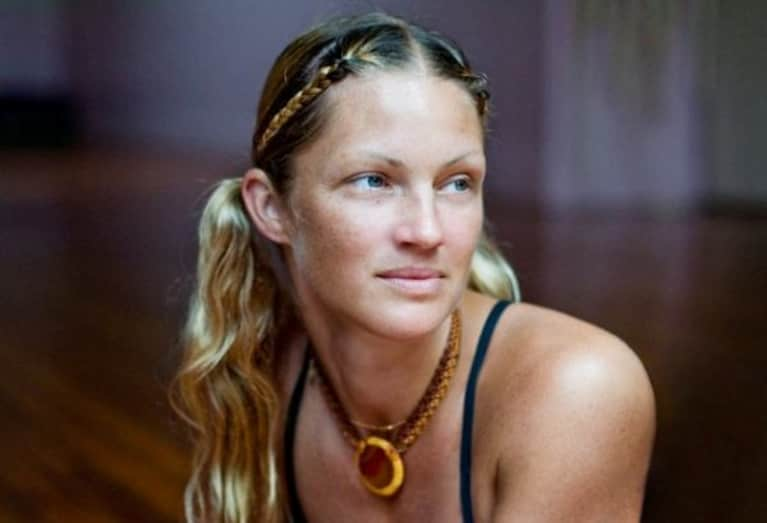 When Nikki Vilella stumbled into Tribeca's Kula Yoga back in 2002 (her first class at an actual yoga studio), little did she know that her first hip opener would have her hooked! The same teacher who taught that very class, Schuyler Grant, would soon be her partner in Kula Williamsburg, and Nikki would go on to be one of the best yoga instructors around.
Nikki talks to us about her athletic background and how it's shaped her practice and teaching, which definitely makes for one of the most interesting perspectives on both subjects. We also cover her best-in-the-biz adjustments, her influences, and more.
MBG: When did you first come to yoga?
NV: I grew up a sports junkie. From the time I was enrolled in kindergarten I was a gymnast, and then as I grew older (and taller!) I shifted my focus to playing basketball year round. This meant I spent a lot of my formative years in weight rooms, in gymnasiums, and on basketball courts. When I got out of school and no longer had organized sports in my life, I took up running because I didn't really know where to channel my desire to be physically active and how to continue to cultivate this mind/body connection I had relied upon as a cornerstone of my life for so many years. I would run up in Central Park and then go to the gym nearby where I would do some stretching among other things. They had yoga classes there and I just dropped in one day. This was in 2000. I cannot honestly say I loved it at first! But then the first time I went on a trip to Michigan to visit my family and didn't have any yoga classes to attend, I realized how much I loved the practice and how substantial a part of my life yoga had become. When I moved to Tribeca around 2002, I lived around the corner from where Kula Yoga first opened, and on the way to the train I passed a board outside with schedules and thought I would give it a shot. Why not? This is when I really connected with the practice as I do now. My first class in an actual yoga studio was Schuyler's, and needless to say I was hands down hooked by the first hip opener.
Do you think being an athlete has helped your practice?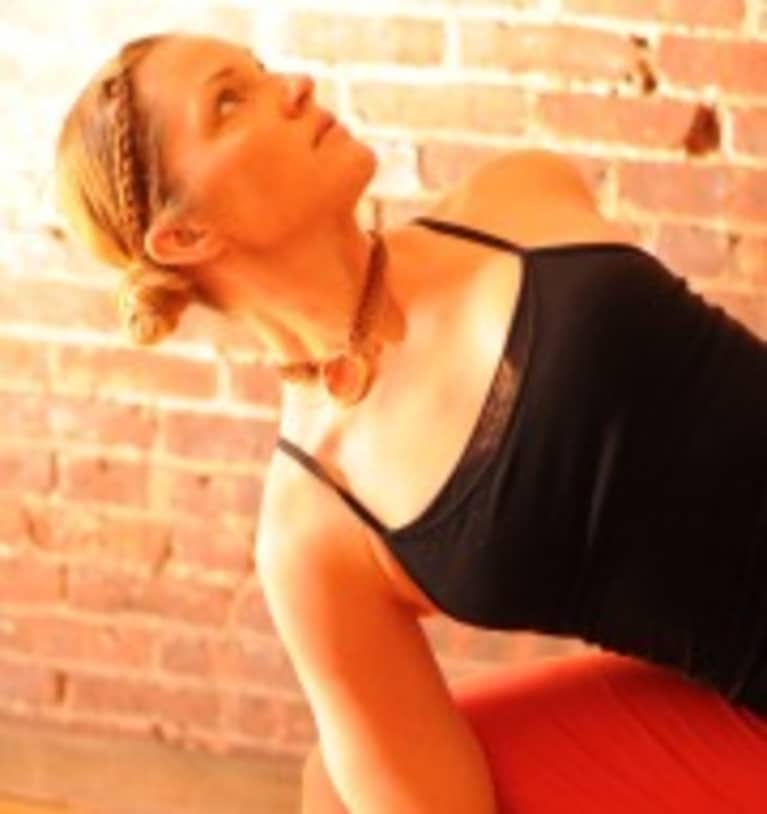 I definitely think being a former athlete has helped my practice. I have long been comfortable with my own body and interested in manipulating it as a way to enter a steady state of mind. I don't have a fear of challenging my body in a physical sense; I know when I can push it and I know its limitations. I also know from my experience as an athlete how much of the game relies on your focus, your attention, and your commitment to your craft. I often hated practicing when I played sports. But it is the only way to improve, and I knew the benefits of it, so I would do it. That mindset in itself has helped my yoga practice: to know that it is a "practice", it isn't a performance where you show up and do what you already know how to do and are good at. As an athlete, if you only came and did what you were good at, your opponent would just attack your weaknesses and you may end up on the losing end, regardless of how good you are at what you are already proficient at. To me, my yoga practice is a place where you come to work on your weaknesses and build yourself into a more balanced and well-rounded person.
Do you think having coaches has shaped the way you teach?
I have never thought about it that way, but yes, I do think having coaches has shaped the way that I teach. I have the fondest memories of some of my coaches, and they were very instrumental in my life. I would say what I have taken most from them is that there isn't a right way to teach every student, or a right way to coach every member on a team. Some require tough love, but many do not. A screaming coach does work for some, but certainly not for everyone. They taught me that every student responds differently, and each person may need a different kind of instruction on any given day. I feel that my job as a teacher is to find different approaches to communicating ideas that we cover day in and day out. If I am telling a student for a month the same thing and it isn't sinking in, my job is to find a new way to express an old idea and shed some light on whatever it is I am trying to express in a way that the student responds to. As a teacher, I have a room full of students, just like coaches have a team full of players, and you have to find a way to deal with each student in the room while communicating to the room as a whole, all while maintaining a cohesive, stable, supportive energy.
How do you describe your style of teaching?
Hmmmmm... tough one. Intelligent, ordered chaos is what first jumps to mind. (I am laughing!)
I have to borrow this analogy from someone who just described my class to me as the following: a language class that is not taught word by word, but language taught as a conversation class. I love to break it down and pick it apart, I like to include a lot of alignment... but I don't slow it down SO much that the flow of conversation is lost and the experience is stalled. This is mainly because if I myself am in a class and there is too much talking and not a lot of movement, I find myself mentally off my mat unless I really reign myself in. I understand the practice through movement of my body, and although I love cerebral, I don't want one or the other, I want both, so that is what I try to teach. I think of my style of teaching as storytelling. I love sequencing and I try to give my class the components of a good story. Meaning, I give you the background of the characters, I try to introduce the language for the day, I thicken the plot, and I try to take students somewhere by the end of class where it makes sense to their bodies because they read and participated in the discussion surrounding the beginning and the middle of the book. The movement part of my teaching is to encourage student participation via an experience through their own body. Changing the focus every day is my attempt to keep students engaged and make it a page turner if you will. I don't want to just give you the cliff notes and talk about the highlights of how you get into a pose, I want students to read the book and have an experience. And sometimes in a conversation class you don't pick up every nuance or the understanding of every single detail, and that to me is OK. There is always another class and another chance to talk again, and before you know it you are fluent.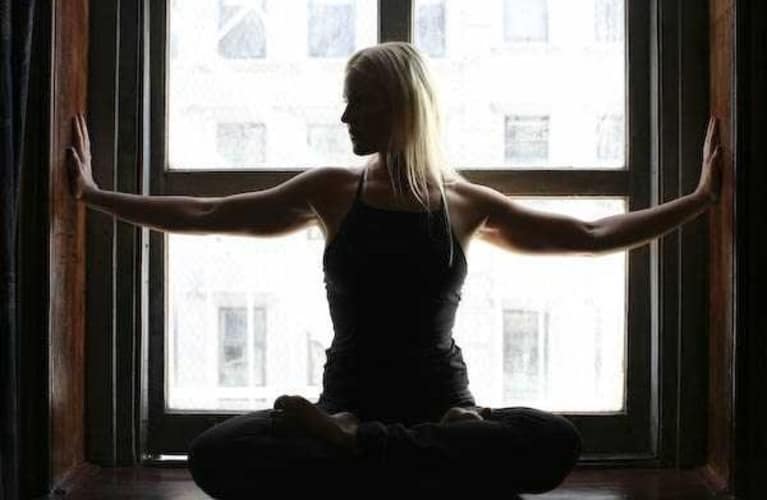 Why do you think you are one of the best when it comes to adjustments?
I am Italian. I am a big "touch" person. When someone sticks out their hand to shake mine, my initial reaction is to always say "I'm a hugger" because that is the way I grew up. I find the sensation of touch so interesting and I have no qualms about getting my hands on complete sweaty strangers. I think listening is an art, and a hard skill to learn at that. It is why I do not like to demonstrate in class unless its absolutely necessary. Our culture is visual enough, and relies so heavily on what we see and how we can emulate that. I see touch, the hands, adjustments, as another way of communicating the same information that I am probably rattling on about in class. You can only say so much and students will start to tune you out. But they can be completely receptive to hands on adjustments in a way that maybe they aren't grasping through my use of speech on any given day. Its similar to what I was saying about teachers and coaches needing to find new ways to convey an idea. It also doesn't hurt that I have enormous hands :)
Why are adjustments so important?
I think adjustments are so important because its an assist in the truest sense of the word. It helps students know I am there, know I am supportive, it allows me to literally breathe with them on their breath cycle, and it helps me transport them to a place that they could not get on their own.There is also so much energy transferred through touch. Think of when a loved one places their hand on you or a child reaches up to grab your hand... it conveys something that words sometimes have a hard time doing.
Who has influenced your practice?
The two teachers that have most influenced my practice are Schuyler Grant and Alison Novie (now Alison Sinatra). The only yoga I have ever known in a studio is Kula Yoga, and they were there from the beginning. I have been on a lot of retreats with them and they have completely helped mold my practice. Most important to note, that they both did it in completely different ways. They bring the fiery edge and the softer energetics of the practice into harmony, and showed me that each is equally important. Both of them encouraged me to not be afraid to express either one, especially the side that is more challenging for me. They also taught me to not take myself too seriously and to laugh often.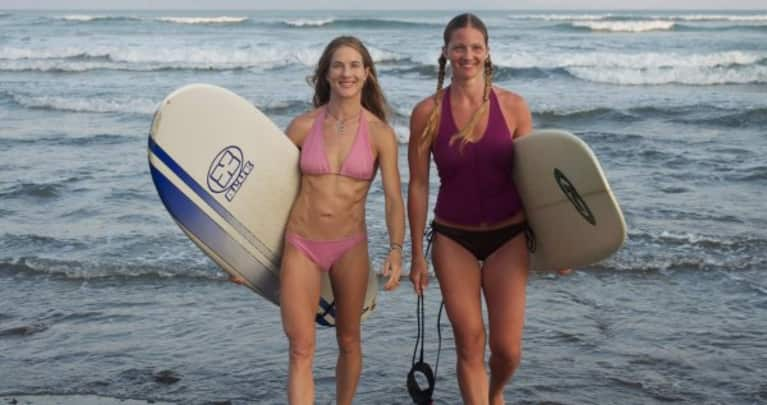 What about yoga books?
I don't read that many yoga books to be honest. There are definitely some good ones out there that I have touched upon, but I have trouble "feeling" the practice through books. The first time I read Light on Yoga I was so disappointed. It wasn't "yoga" to me. Of course, it's exactly what yoga is, but when it's in a reference type text I have more trouble grasping it. I do look at Light on Yoga every now and then, mostly as a tool to keep me humble. Every time you think you did something new, just check Light on Yoga, you can bet its already in there!
What's come easy for you in your practice? What's been challenging?
The physical part of my practice has come easy for me. This is not to say I can do a bunch of crazy circus tricks, because I cannot, but as my mom likes to tell me, I come from good stock, and when I ask my body to do something, of course I have to train it, but it responds and is good to me. So trying new things, going upside down, all of this has always seemed fun and exciting to me. The challenge has been the sitting and the meditation, which is of course ironic because isn't that supposed to be the whole point? The ability to sit still and reflect? So this has been my challenge, but I am becoming more and more interested in it and can do it on certain days with maaaaybe slight more ease. I have become much more interested in pranayama in recent years, I have come to realize the benefits of doing something restorative at the end of practice, and although challenging I try to sit and be still and quiet and reflect.
What does yoga mean to you?
At the end of the day, for me yoga is about creating more space in my life. This manifests itself in so many different ways and so many different aspects of my life. In my asana practice its about working on what is challenging for me. Yes, I enjoy doing things that come with more ease, but to me the practice is what is happening when I am in a challenging place. How do I respond on my mat? Because that is how I am going to respond in my life. So I try to go to places in my practice where I know there is the most resistance and watch myself -- where can I create some space there where there isn't any? And if I can't get where I want to go, can I let it go and sit back and have a laugh at myself. And on a much bigger scale hopefully yoga is creating space in people's lives as it has for mine: its changed my community, my friends, my relationships, my job, who I will buy groceries from, how I treat the planet... and since I have engaged yoga in this way, I have been truly happy in my life. There is space and harmony and a sense of continuity that I never had before I was a yogi.
When you are not at Kula, what are some of your favorite places to go in NYC?
Wait, when am I not at Kula????? Ha ha. I don't go out that much to be honest. I do have a gem in my neighborhood however (Brooklyn Heights). It is a tiny restaurant called Siggy's on Henry Street. Supremely healthy and fresh and YUM.
What are you currently working on/what's coming up that you're excited about?
My life right now pretty much revolves around the opening of Kula Brooklyn which I co-own with Schuyler Grant. This is my first time as a small business owner and I love every minute of it so I feel like I constantly have my heart, mind, and soul invested in what is going on within Kula BK's walls. There are so many fantastic things that we have started there (think Saturday Night Kula, a music and yoga series) and events that we continue to develop (think Sunday Supper and movie night) in order to truly make it a community space with lots to offer. It is so exciting to develop ideas and watch it organically grow. My mom said this is my first born child, and that really is how I feel about it.
For more on Nikki and Kula Yoga Project:
Kula Williamsburg and Tribeca on Facebook