Plant-Based Puttanesca Sauce + Zoodles
mbg Contributor
By Leah Vanderveldt
mbg Contributor
Leah Vanderveldt is an author living in Brooklyn, New York. She received her bachelor's in communications and media from Fordham University, and is certified in culinary nutrition from the Natural Gourmet Institute. She is the author of two cookbooks: The New Nourishing and The New Porridge.
My ideal weeknight meal is packed with vegetables and whole foods, fills me up, and tastes delicious. And ideally it doesn't cut into my precious couch/bad-TV/sweatpants time.
15-Minute Dinners are all about feeding yourself well with minimal effort.
I love the brininess of olives and capers in my pasta, so a plant-based version of puttanesca sauce always seems like a good option when I want something hearty, healthy, and comforting.
Bonus: This meal is made almost entirely from pantry staples — great for those there's-nothing-in-the-fridge nights.
I tossed in some cannellini beans for plant protein and texture and used zucchini to make the noodle base to add something fresh and green. Quinoa or rice pasta would work equally well.
Plant-Based Puttanesca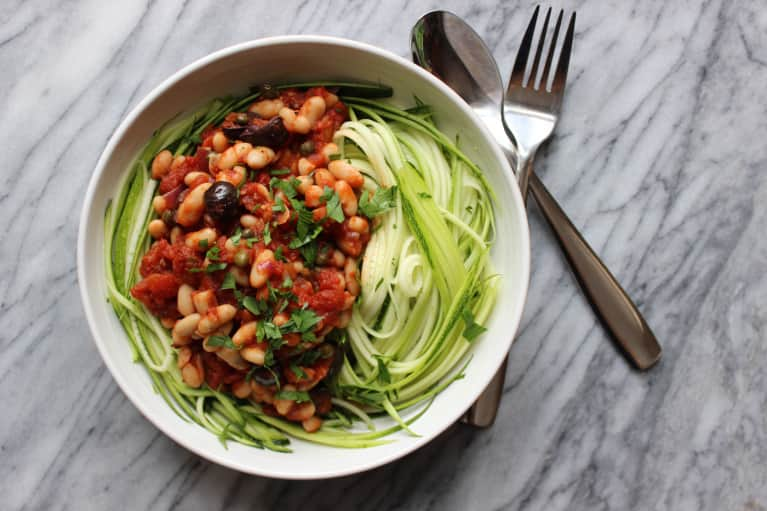 Olive oil
2 garlic cloves, finely chopped
½ small red onion, finely chopped
1 tablespoon capers, drained and rinsed
1 teaspoon oregano (optional)
1 14-ounce can chopped tomatoes
2 or 3 tablespoons Kalamata olives, torn or roughly chopped
1 14-ounce can white beans, drained and rinsed
salt and pepper
1 large zucchini
chili flakes (optional)
parsley, chopped (optional)
Preparation
1. Finely chop garlic and onion. Coat the bottom of a large skillet with olive oil and heat over medium-high heat. Add garlic and onion and cook, stirring, for 2 minutes. Add capers and oregano and cook for 1 minute.
2. Stir in tomatoes, olives, white beans, and a pinch of salt. Turn heat to medium and let it cook for 5 to 7 minutes, stirring occasionally.
3. Meanwhile, make zucchini into noodles either using a spiralizer or julienne peeler. Stir chili flakes (if using) into tomato sauce and remove from heat. Taste and season with more salt and pepper, if desired.
4. You can warm the zucchini noodles quickly in a dry pan or just season with another pinch of salt and pepper and top them with the warm sauce. Sprinkle with parsley, and you're good to go.
Photo courtesy of the author