Anytime Tofu Scramble With Salsa Cruda
This is a good breakfast dish and can also be a clean-out-the-refrigerator meal, since you can add any vegetables you have on hand. Turmeric gives an appealing color and cumin offers a rich flavor. It's fun to scoop the scramble up in warm, soft corn tortillas, but feel free to omit them and just dig in.
Andy's Anytime Tofu Scramble With Salsa Cruda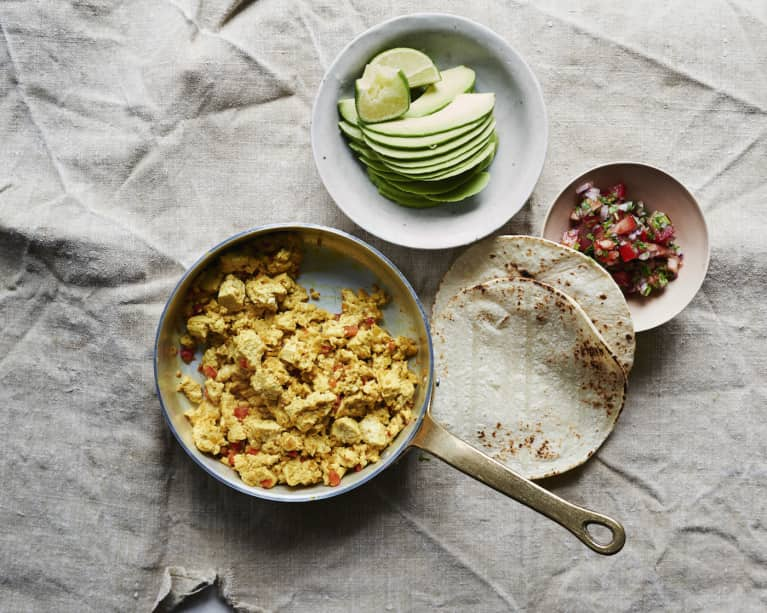 2 tablespoons grapeseed oil
1 small onion, diced
3 tablespoons diced red bell pepper
3 garlic cloves, pressed and allowed to sit for 10 minutes
16 ounces extra-firm tofu, drained and crumbled into small pieces
1 teaspoon turmeric
½ teaspoon ground cumin
1 teaspoon sea salt
⅛ teaspoon cayenne pepper
4 corn tortillas (optional)
1 avocado, thinly sliced (optional)
Fresh Salsa Cruda (optional, see recipe below)
Preparation
1. Preheat the oven to 350°F.
2. In a large skillet, heat the oil over medium-high heat. Add the onion and diced pepper and sauté until the onion is translucent, about 2 minutes. Stir in the garlic, and sauté for 30 seconds more. Add the tofu, then add the turmeric, cumin, salt, and cayenne and cook for 3 more minutes, stirring occasionally.
3. Place the tortillas on a cookie sheet and bake for 5 minutes until warmed through. (Or wrap the tortillas in a tea towel and heat them in the microwave for 45 seconds.)
4. Serve the scramble with the warm tortillas, sliced avocados, and salsa.
Fresh Salsa Cruda
Makes 2 Cups
Ingredients
½ cup tightly packed cilantro leaves, coarsely chopped
1 cup chopped tomatoes
¼ cup diced red bell pepper
¼ cup diced red onion
1 small jalapeño pepper, seeded and minced
2 tablespoons lime juice
Preparation
Mix all the ingredients in a medium bowl until thoroughly blended. Cover and refrigerate until ready to use; may be kept for up to 3 days.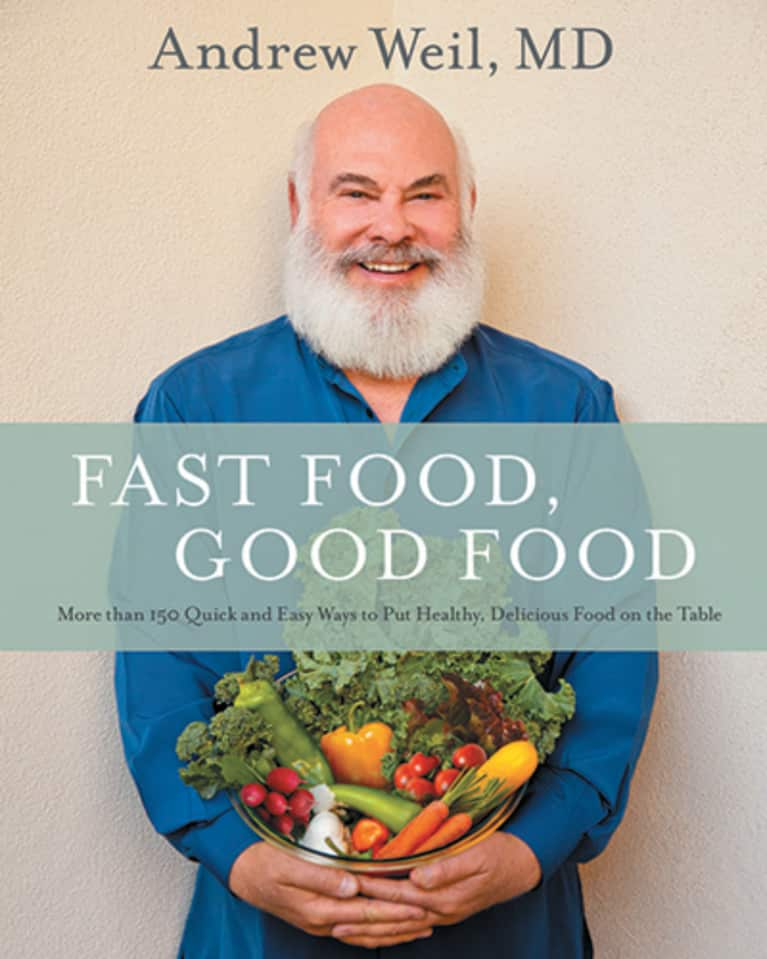 Recipe reprinted courtesy Little, Brown and Company Copyright © 2015 by Andrew Weil, M.D. Excerpted from Fast Food, Good Food.