A Beautiful Fall Salad That Tastes Even Better Than It Looks
Kamut is a grain with a great marketing angle: One common origin story is that this ancient wheat was discovered in the tombs of Egyptian pharaohs.
What we do know is that Kamut is a registered trademark for a selected variety of large, high-protein wheat called Khorasan that has been grown in the fertile crescent for millennia. It's got a nutty flavor and chewy texture that I love — it's one of my favorite grains.
This particular salad is one of those things that came about, as much good food does, when I was staring at my open refrigerator, hoping that the act of staring would somehow produce ready-to-eat food.
I had some leftover Kamut pilaf and roasted squash — so one quick vinaigrette and a few dried cherries from the pantry later, I had dinner. I like delicata squash in this dish because it doesn't require peeling — the skin is thin and quite edible; just give it a good scrub.
Tip: Soak your Kamut overnight for quicker cooking.
Kamut Salad With Roasted Delicata Squash and Dried Cherries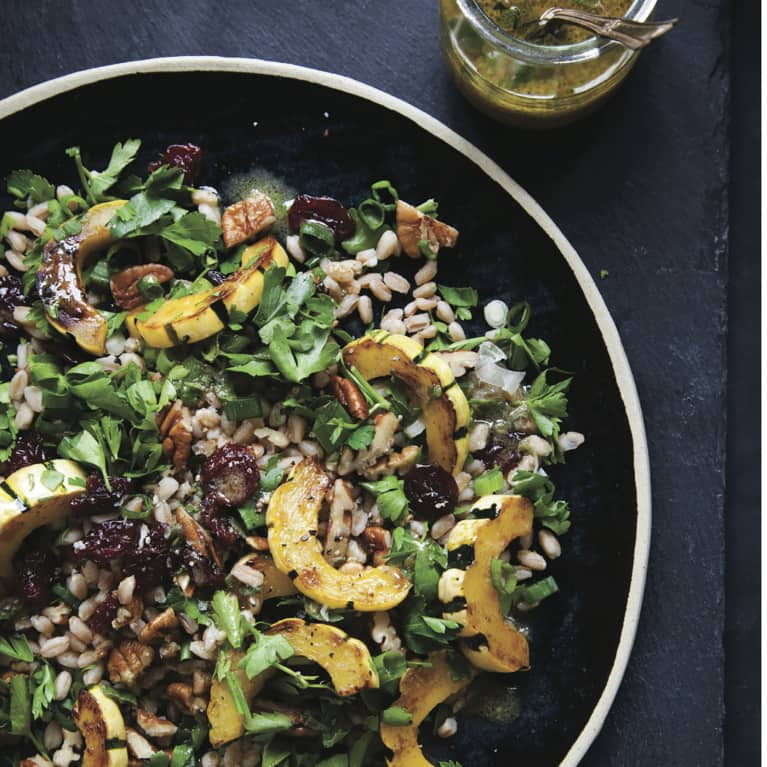 Serves 4 to 6 as a light meal, or 8 to 12 as a side
Ingredients
1½ cups Kamut, farro, or other heirloom whole wheat berry
2 pounds (about 2 medium) delicata squash
2 tablespoons extra-virgin olive oil
Kosher salt and freshly ground black pepper
½ cup dried cherries
½ cup chopped pecans
1 bunch flat-leaf parsley, chopped
1 bunch green onions, chopped
Ingredients for the dressing
¼ cup extra-virgin olive oil
2 cloves garlic, finely minced
1 sprig fresh sage, finely minced
3 tablespoons apple cider vinegar
2 teaspoons Dijon mustard
2 teaspoons maple syrup
Kosher salt and freshly ground pepper
Preparation
1. To make the dressing, in a very small saucepan over medium-low heat, add the oil, garlic, and sage and cook until the sage and garlic begin to gently bubble.
2. Meanwhile, in a small bowl, combine the vinegar, mustard, and maple syrup. When the garlic begins to change color slightly, pour the hot oil into the vinegar mixture. Season with salt and pepper to taste. Whisk to emulsify, then set aside. The dressing can be made up to 3 days ahead.
3. Rinse and soak the Kamut for several hours or overnight. Drain the soaked Kamut, then bring it to a gentle simmer in a large pot full of lightly salted water. Cover and simmer the Kamut until the grain is tender and plump, 30 to 75 minutes. Cooking time will depend on the soaking time, variety, and age of the grain. Drain the Kamut well, spread it out, and allow it to cool to room temperature. You should have about 3½ to 4 cups of cooked Kamut. The Kamut may be prepared up to 3 days ahead and kept tightly covered and refrigerated until the salad is assembled.
4. While the Kamut is simmering, roast the squash. Move an oven rack to the center position and preheat the oven to 450°F. Line a sheet pan with parchment paper.
5. Trim off the stem and blossom end of the squash, then halve it lengthwise. Scoop out the seeds, then slice crosswise into ½-inch-thick C-shaped pieces. Toss the squash with the oil, then sprinkle generously with salt and several grinds of black pepper. Lay the squash slices out on the sheet pan in a single layer. Roast until tender and lightly caramelized, 25 to 30 minutes, giving the squash a stir about halfway through cooking. You should have about 3 to 4 cups of roasted delicata. The squash may be prepared up to 2 days ahead and kept well wrapped and refrigerated.
6. To assemble the salad, in a large bowl, combine the cooked Kamut, roasted squash, cherries, pecans, parsley, green onions, and the dressing. Toss everything together and serve at room temperature.
Recipe excerpted from Hands on Home: A Seasonal Guide to Cooking, Preserving & Natural Homekeeping.