11 Tasty + Plant-Based Ways To Celebrate National Taco Day
mbg Contributor
By Leah Vanderveldt
mbg Contributor
Leah Vanderveldt is an author living in Brooklyn, New York. She received her bachelor's in communications and media from Fordham University, and is certified in culinary nutrition from the Natural Gourmet Institute. She is the author of two cookbooks: The New Nourishing and The New Porridge.
Happy National Taco Day!
We've put together a list of totally tasty, original and vegetable-packed tacos to satisfy all your tortilla and guacamole-filled cravings. Click below each photo to get the recipe.
1. Beer-Battered Tofu Tacos With Chipotle Aioli
Photo courtesy of 40 Aprons
Tofu gets the Baja treatment in these vegan tacos. Get the recipe.
2. Sweet Potato + Black Bean Tacos With Avocado-Pepita Dip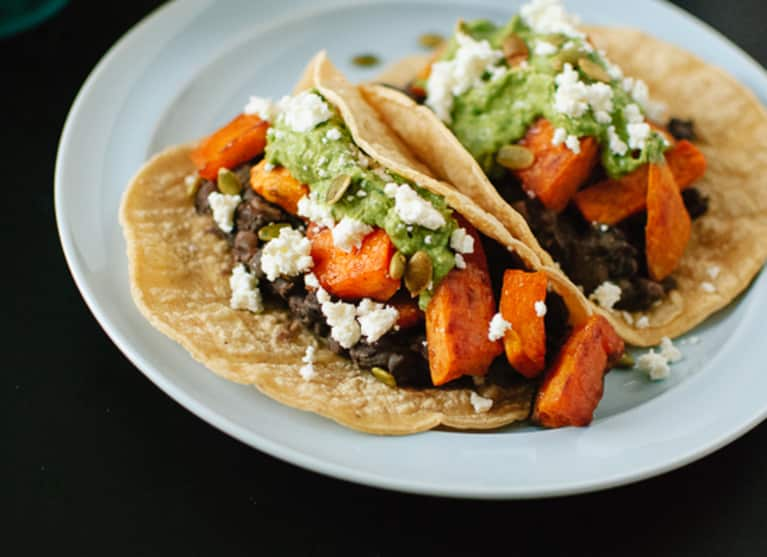 Photo courtesy of Cookie + Katie
Sweet potatoes and black beans just belong together. Get the recipe.
3. Loaded Guacamole Vegetarian Tacos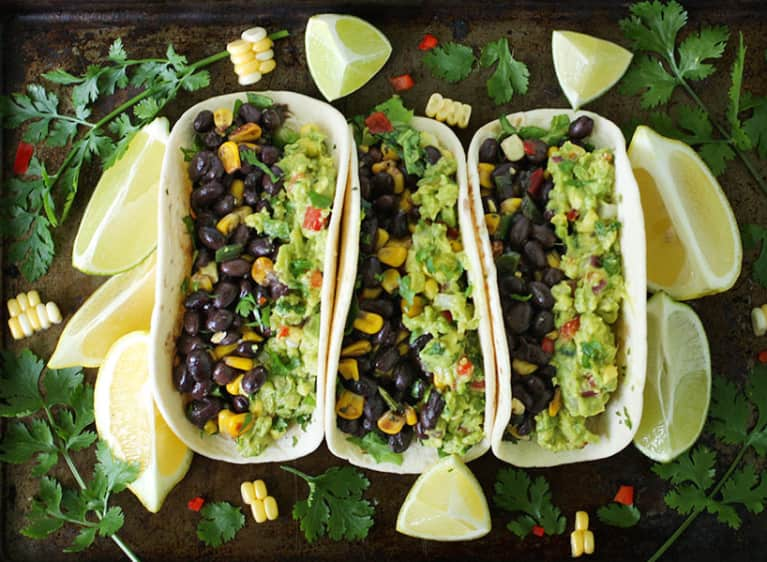 Photo courtesy of Soup Addict
Because all we really want to do is just eat a bunch of guacamole. Get the recipe.
4. Oyster Mushroom + Cauliflower Tacos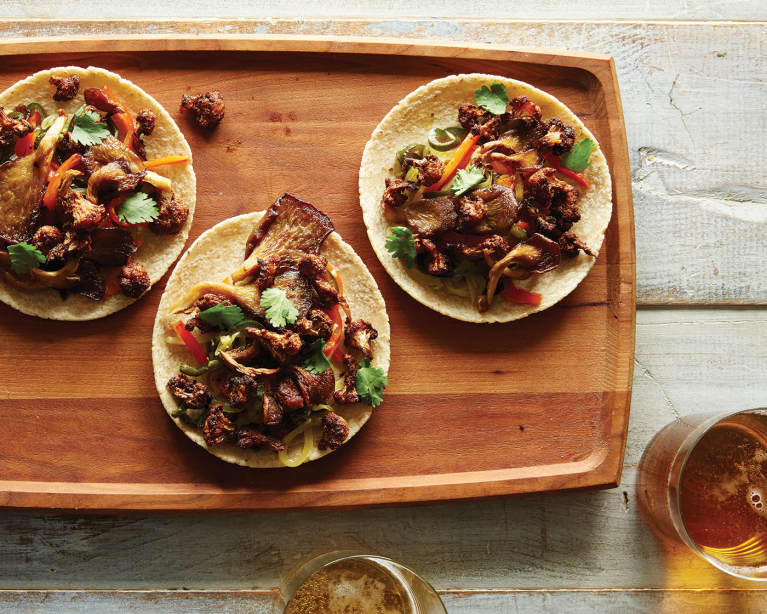 Charred cauliflower and sauteed mushrooms never looked so good.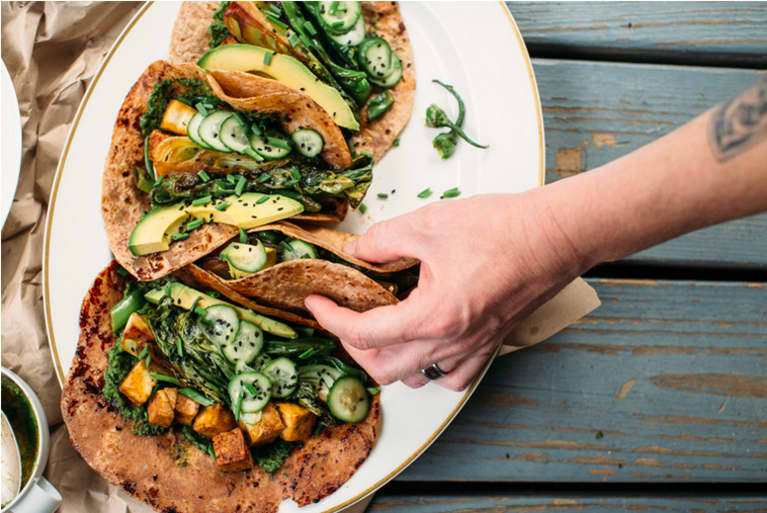 Photo courtesy of Earthy Feast
Fresh herbs and poblano peppers give these tacos their funky (and delicious) green edge. Get the recipe.
6. Roasted Root Vegetable Fajitas
Photo courtesy of With Food + Love
Technically not tacos, but fajitas with hearty roasted root vegetables just make sense. Get the recipe.
7. Crispy Zucchini Tacos With Cherry Pepper Crema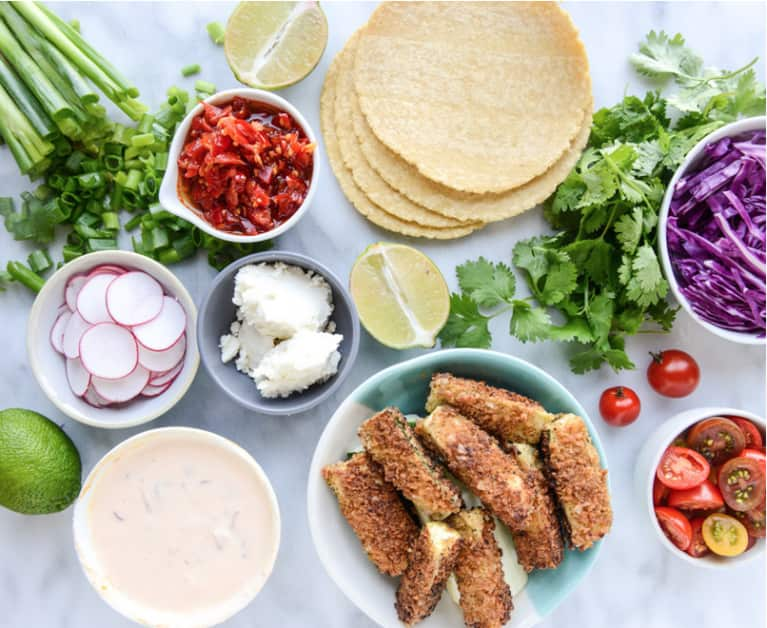 Photo courtesy of How Sweet It Is
Go the extra mile and make these crispy panko-crusted zucchini wedges for your tacos. Get the recipe.
8. BBQ Cauliflower + Chickpea Tacos
Photo courtesy of Oh My Veggies
A BBQ rub gives these tacos a classic smoky flavor. Get the recipe.
9. Crisp Kale + Brussels Sprout Tacos With Avocado + White Bean "Creama"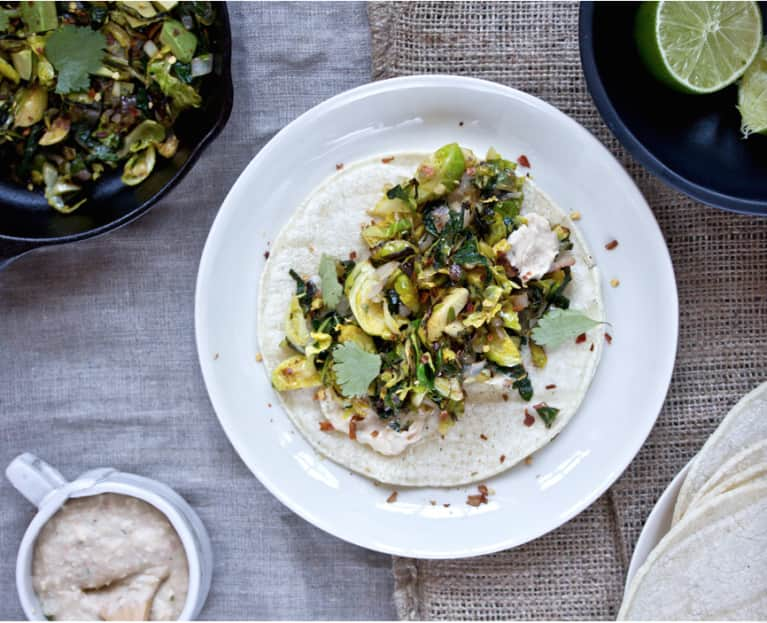 Photo courtesy of What's Cooking Good Looking
Kale and Brussels sprouts shine when topped with a vegan white bean creama sauce. Get the recipe.
10. Sprouted Lentil Tacos With Arugula + Feta (Gluten-Free)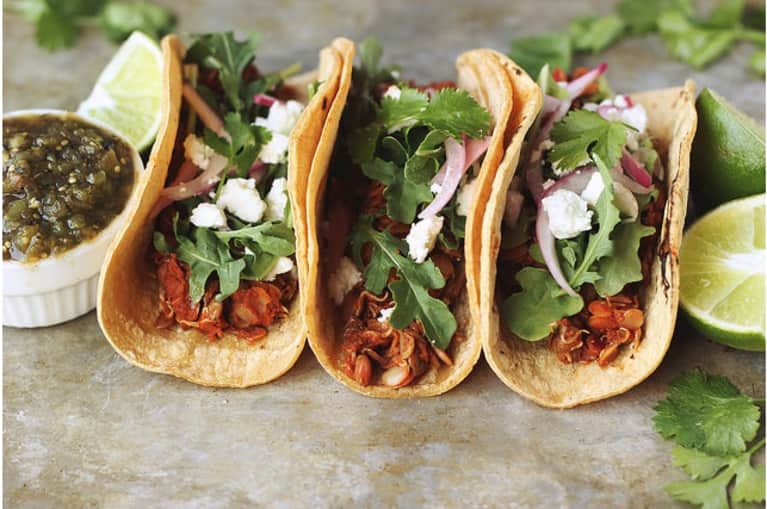 Photo courtesy of Tasty Yummies
Forget sprouted lentils' virtuous reputation, these tacos are made downright badass with the addition of smoky chipotle BBQ flavors. Get the recipe.
11. Kimchi Breakfast Tacos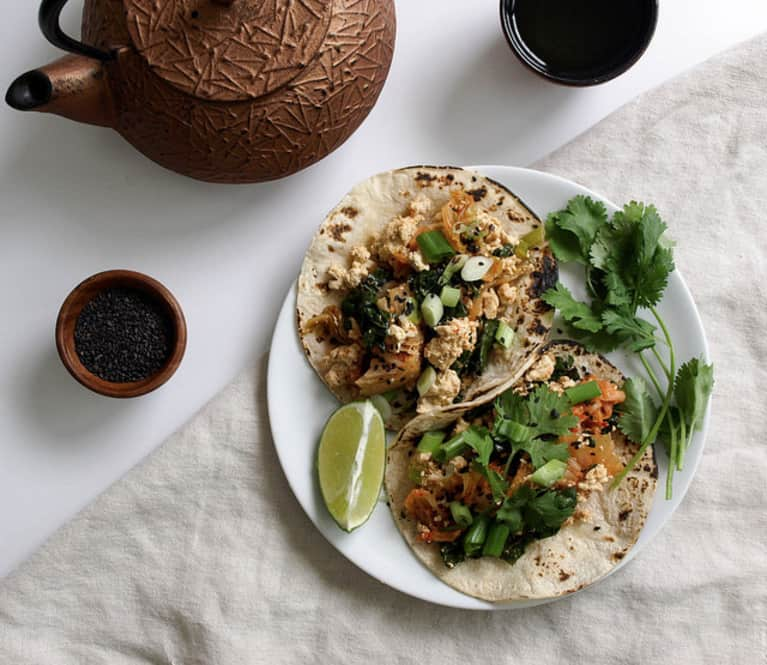 Photo courtesy of The Simple Veganista
Get on board with kimchi in tacos; all the cool kids are doing it. Get the recipe.