Treat Yo Self: DIY Chocolate Nutter Butter Cups
Our editors have independently chosen the products listed on this page. If you purchase something mentioned in this article, we may
earn a small commission
.
A classic favorite — these chocolate nutter butter candies made with real ingredients are a dream too good to be true! Pure chocolate is made from cacao butter, which is rich in omega fatty acids, antioxidants, and minerals.
Cacao is a superfood that boosts your immune system and mood, bringing happiness to your day. So go ahead and enjoy these sweet bites of chocolate confection — making sure to share a few too!
Chocolate Nutter Butter Cups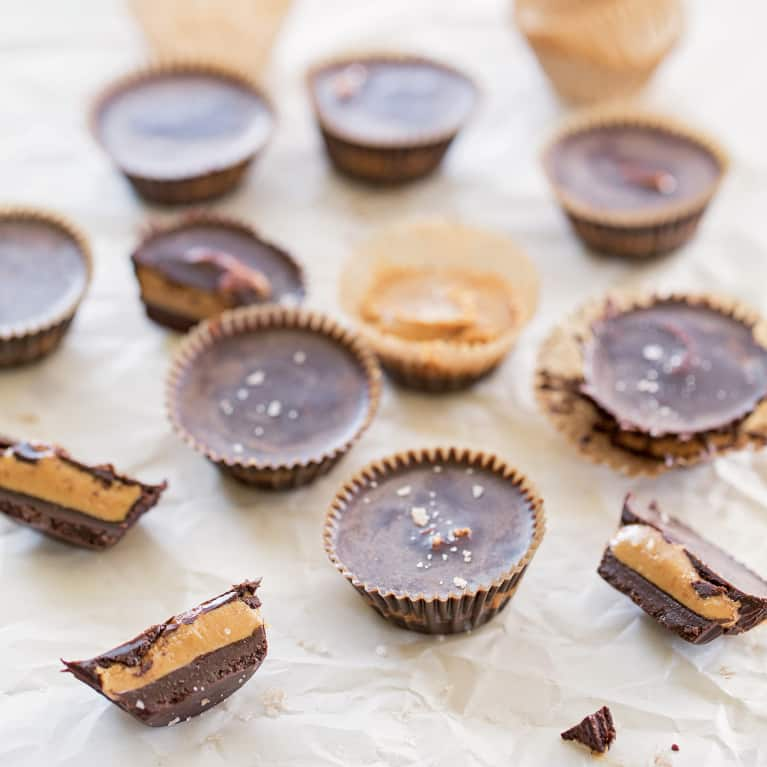 ½ cup (59 g) raw cacao butter, chopped
5 tbsp (25 g) raw cacao powder
2 tbsp (30 ml) raw honey
1 tsp (5 ml) vanilla extract
½ cup (90 g) creamy nut butter of choice (use Sunflower seed butter for nut free)
Fleur de sel (or coarse sea salt), to sprinkle on top
Preparation
1. Place mini muffin liners in a mini muffin pan. If you don't have a mini muffin pan, you can also place them on a baking sheet — just be careful as you fill them up later.
2. Heat a small amount of water in a small saucepan until it begins to lightly simmer. Add the raw cacao butter to a heatproof bowl and place the bowl over the simmering water. Once the cacao butter is melted, remove the bowl from the heat and stir in the cacao powder, raw honey, and vanilla extract until completely smooth. Set the chocolate aside to cool for 10 minutes.
3. Using a small spoon, drizzle a small amount of chocolate into the bottom of the muffin liner, filling it slightly less than half full. Set aside the remaining half of the chocolate. Place the muffin tin in the freezer in a flat location to harden for 10 minutes.
4. Remove the cups from the freezer and add a small spoonful of your nut butter of choice to each cup. Drizzle with the remaining chocolate and sprinkle with sea salt if desired. Place in the freezer for 5 more minutes.
This recipe is excerpted from American Paleo Table: Classic Homestyle Cooking from a Grain-Free Perspective.