Say Hello To Sunday With A Chai-Spiced Breakfast
I love waking up to a mug of hot chai tea, don't you? The only thing better than a cup of chai tea is a plate of chai-spiced pancakes.
The aroma of the chai spices is warming, comforting, yet stimulating — the perfect way to start your day. These pancakes are totally guilt-free: no added sugar, no gluten, no dairy, and no eggs.
Serve drizzled with maple syrup or a date caramel sauce (as pictured).
Vegan Chai-Spiced Buckwheat Pancakes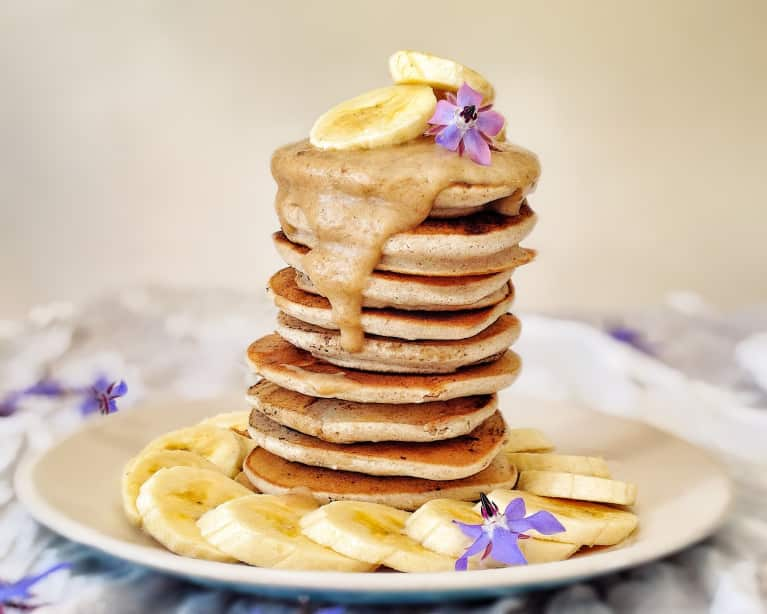 1 cup water
1 ripe banana
1 cup buckwheat flour
¼ teaspoon bicarbonate (baking) soda
2 teaspoons chai spice mix OR ½ teaspoon each cinnamon, ginger, cardamom and ¼ teaspoon each nutmeg and cloves
2 teaspoons chia seeds
Optional: sweetener to taste
Preparation
1. Add all ingredients to a high-speed blender, blend until smooth.
2. Preheat a nonstick (I use cast-iron) frying pan over low-medium heat. Pour 2-3 tablespoons of batter onto the pan for each pancake.
3. Fry for about 3 minutes, or until the top has dried out. Flip the pancakes and fry for another 2 minutes.
4. Remove from heat and serve immediately.
Photo courtesy of the author