Cook For Your Chakras With This Grounding Moroccan Stew
Our editors have independently chosen the products listed on this page. If you purchase something mentioned in this article, we may
earn a small commission
.
Spark your creativity and personal power with this stew perfect for fall — and for the solar plexus and sacral chakras.
I love spices for their fragrance and health benefits, and this North African–influenced dish is a great way to introduce a sweetness that negates the craving for dessert.
You can easily purchase ras el hanout spice blend or make your own (recipe below). The sacral and solar plexus chakras are supported predominantly with balancing pumpkin and protein- and mineral-rich amaranth and chickpeas.
Moroccan Pumpkin Stew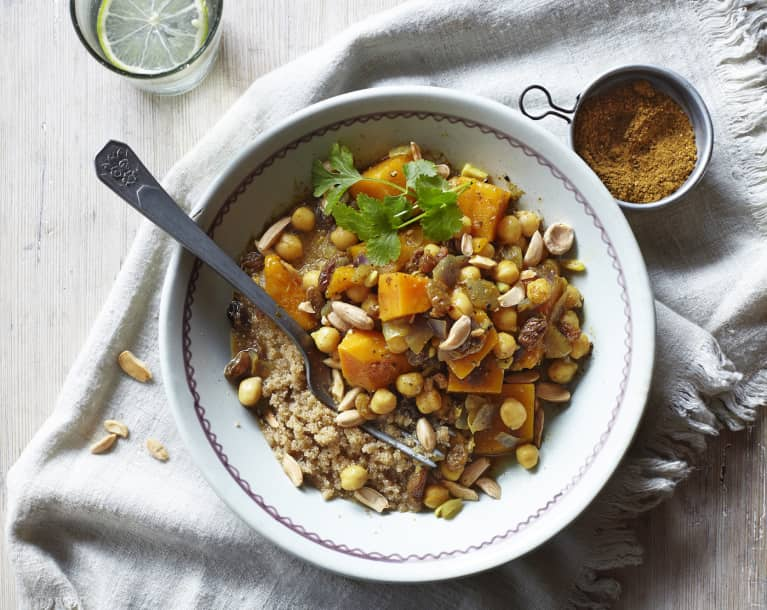 2 tablespoons coconut or canola/rapeseed oil
1 red onion, chopped
2 garlic cloves, chopped
4 teaspoons ras el hanout (see note)
1 cup/225g amaranth
1½ cups/200g dried chickpeas, soaked overnight in cold water
1 large sweet potato, cubed
1 pumpkin — you will need 1 lb., 10 oz./735g cubed flesh
¼ teaspoon sea salt
½ cup/65g raisins
1 cup/90g toasted slivered/flaked almonds
sea salt and freshly ground black pepper
sprigs of cilantro/coriander, to garnish (optional)
Preparation
1. Gently heat the oil in a large pan. Add the onion, garlic, and spice, and sweat over low heat for 5 minutes.
2. Meanwhile, put the amaranth into a pan with 2 cups/500ml water. Bring to a boil, then simmer for 20 minutes. Take off the heat and allow any remaining water to be absorbed (I like it a bit crunchy and couscous-like in texture, hence cooking for a shorter time than some may suggest).
3. Drain the chickpeas and add with the chopped sweet potato and pumpkin to the pan containing the onions. Add 3 cups/750ml water, cover, and simmer for 15 minutes. Stir thoroughly, then add the salt and raisins and simmer for another 5 minutes.
4. Season the amaranth to taste and stir in three-quarters of the almonds. Serve with the pumpkin stew, garnished with the remaining almonds and sprigs of cilantro/coriander.
Ras el Hanout Spice Mix
Ingredients
3 tablespoons cumin seeds
2½ tablespoons coriander seeds
1½ tablespoons ground cinnamon
2½ teaspoons ground ginger
2 teaspoons black peppercorns
1½ teaspoons ground turmeric
1 teaspoon paprika
½ teaspoon cardamom seeds
½ teaspoon ground nutmeg
¼ teaspoon cloves
a pinch of saffron threads
Preparation
In a dry pan, toast spices for a few minutes until fragrant. Grind in a spice grinder or clean coffee grinder with a few dried rose petals. Store any leftover spice mixture in an airtight jar.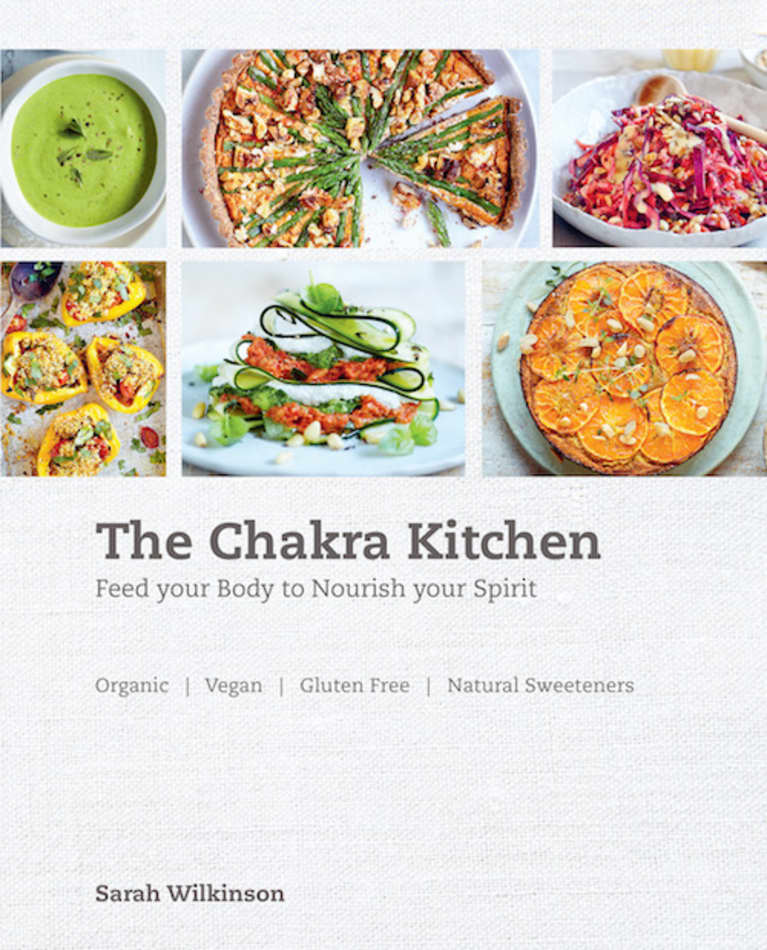 Recipe excerpted from The Chakra Kitchen by Sarah Wilkinson, published by CICO Books ($19.95)
Photography by Adrian Lawrence © CICO Books