Rules I Live By To Eat & Feel Great: NYC's Hottest Healthy Chef Tells All
mbg Contributor
By Leah Vanderveldt
mbg Contributor
Leah Vanderveldt is an author living in Brooklyn, New York. She received her bachelor's in communications and media from Fordham University, and is certified in culinary nutrition from the Natural Gourmet Institute. She is the author of two cookbooks: The New Nourishing and The New Porridge.
Franklin Becker is the executive chef of vegetable-forward restaurants The Little Beet and The Little Beet Table in New York City and executive chef and partner of Hungryroot. He talked to mindbodygreen about his journey from being diagnosed with diabetes in his 20s, to becoming a chef who celebrates healthy, seasonal produce.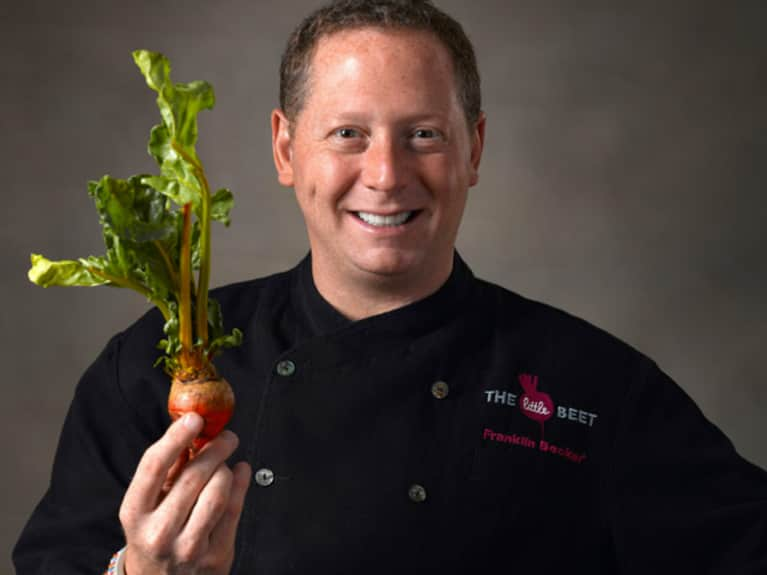 1. Health is about tuning in to your body's needs.
"I began cooking when I was 14 years old. I turned it into a career and attended the Culinary Institute of America after college. About four years into my career, I was diagnosed with diabetes — I was 27 years old.
"Before I was diagnosed, I was waking up constantly in the middle of the night. I was sweating and frequently urinating. I was dizzy and my equilibrium was off.
My food philosophy is what I call KISS: Keep It Simple and Special
"I immediately changed my diet and started to focus on vegetables and lean proteins like fish and cut out soda altogether. I lost 40 pounds my first month," says Franklin.
2. Simple is best.
"My food philosophy is what I call KISS: Keep It Simple and Special. It's what I live by. Buy the best ingredients, get the best results. Focus on flavor first and presentation second.
"I always have vegetables, olive oil, nuts, lemons — and popcorn, on hand. All vegetables in-season do it for me. I love coaxing out flavors and making them shine. I also love fish. Like vegetables, there are so many flavors bouncing around, it's just glorious."
3. Diets aren't the answer.
"My advice for anyone looking to reform their eating habits is to approach things slowly. The saying "slow and steady wins the race" is true.
"Don't diet or change your lifestyle drastically; just introduce healthy eating habits little by little. Diets are fads; they last a little while and then they are done."
4. Eating well inspires more changes.
"Truth be told, we hope we can achieve mass expansion with The Little Beet. Not just for personal gain but because that means our way of doing things has caught on and our mission of changing the way people eat is complete.
"We believe that if people eat right, they are more apt to exercise, live clean, perform better at work. and most importantly, be healthy."
5. Vegetables are the way of the future.
"I think [vegetable-forward dining] is here to stay. People follow people. The more locations we open, the more competitors will open, the more the world will change.
"I was in Portland the other day, and the farmers market was amazing! Thousands of people enjoying the outdoors, eating healthy, living the lifestyle that we embody."
If you're in New York City, you can see Franklin (and try his food) at the event Veg Out: Stretch, Sip, And Savor, Hosted by Haylie Duff on October 17.
Photo courtesy of The Little Beet