How I Lost Weight & Changed My Life With The Paleo Diet
In December of 2014, I looked in the mirror and saw what many Americans today see: an overweight and unhappy person staring back at me.
Not only was I overweight, but I was dealing with many health issues including irregular heartbeat, tachycardia, digestive problems, acid reflux, and regular panic attacks. My life and health were crumbling right before my eyes.
I was angry, I was sad, and I was very scared. I was only 25 years old, and it seemed like every day I was struggling just to make it to the next day.
It's not as though I hadn't tried losing weight before. In fact, it seemed like losing weight was all I ever thought about. I was very uncomfortable in my body.
I tried every new fad: diet, workout, pill — you name it. The trouble was, I had become addicted to what I was putting in my body. I developed an emotional attachment to food and alcohol, both of which caused a rapid decline in my health.
At the time, I didn't know my body was addicted to these unhealthy foods. I simply thought I had no self-control and losing weight was just not in the cards for me. It took me years to realize there was indeed a better way to live life.
This way of eating seemed like the answer, but was it realistic?
It wasn't until last year that I finally began to gain control of my life and health.
December 2014 marked one year of my engagement to my current husband, which meant there were only five more months until our wedding. When we got engaged in December 2013, I made myself a promise I was going to lose weight so I would look and feel beautiful on our wedding day.
The problem was, I didn't lose weight — I gained weight. I topped out at my highest weight in December 2014, just five months before our wedding.
I have always been inspired by fitness trainer Shaun T and decided to order his newest workout program, called Insanity Max 30. At the same time, I began to hear about the Paleo diet and decided to read up on it.
The diet made total sense to me — cutting out foods that typically make us less healthy like dairy, sugar, and alcohol, as well as grains and legumes. I never imagined myself eating a diet of strictly vegetables, fruits, high-quality meat/protein, and healthy fats, even though that sounded a lot healthier.
This way of eating seemed like the answer, but was it realistic? At the time I couldn't remember the last meal I'd had that could be considered strictly Paleo. Regardless of my hesitation, I was desperate, and I decided to ease my way into the Paleo diet.
To say the Paleo diet has completely reshaped my life and changed my relationship with food is an understatement.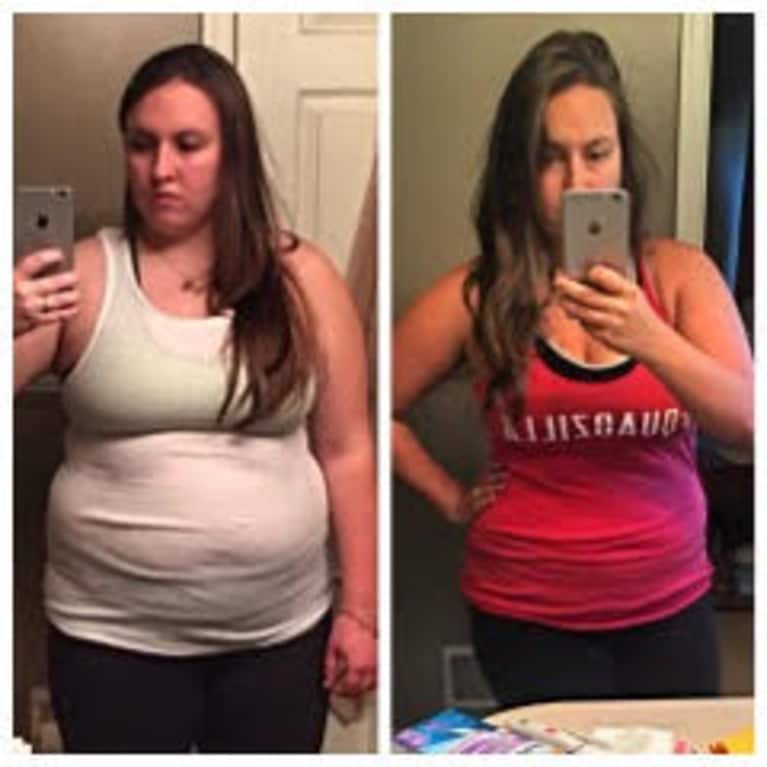 Not only did the weight fall off me, but I never felt deprived, I was sleeping exceptionally better, my relationships improved, my overall happiness skyrocketed, my athleticism improved, and my sex life went from 0 to 100 real quick!
I came to the point where I loved what I was eating and I went from craving pizza and ice cream to craving grass-fed beef burgers and asparagus.
I no longer felt that sick, disgusting, wanting-to-go-belly-up-on-the-couch feeling I used to get after meals. I developed an absolute love for cooking and experimenting with new recipes.
I continue to stick to a (mostly) Paleo diet. If my diet is ever "off" or if I have one too many "treats," my body tells me. I know now the effect that grains, dairy, sugar, legumes, and most importantly, alcohol have on my body.
The Paleo diet truly allowed me to regain control of a body that I thought was long gone. It allowed me to finally feel sexy again and love my body. Most important, it allowed me to overcome numerous health issues that were holding me back in so many ways.
Today when I look in the mirror, I no longer see an overweight, unhappy person — I see a badass, sexy woman ready to take on the day.