12 Things Nutritionists Eat For Brunch On The Weekends
Is there anything better than weekend brunch? You finally have time to French press some coffee and cook up those eggs or pancakes you've been craving all week long. Whether you're a bacon-egg-and-cheese master or basically an omelet sous chef, there are ways to make your favorite weekend dishes just a tiny bit healthier. Here's what our favorite nutritionists cook up for their families when they have some extra time.
Spinach And Red Pepper Frittata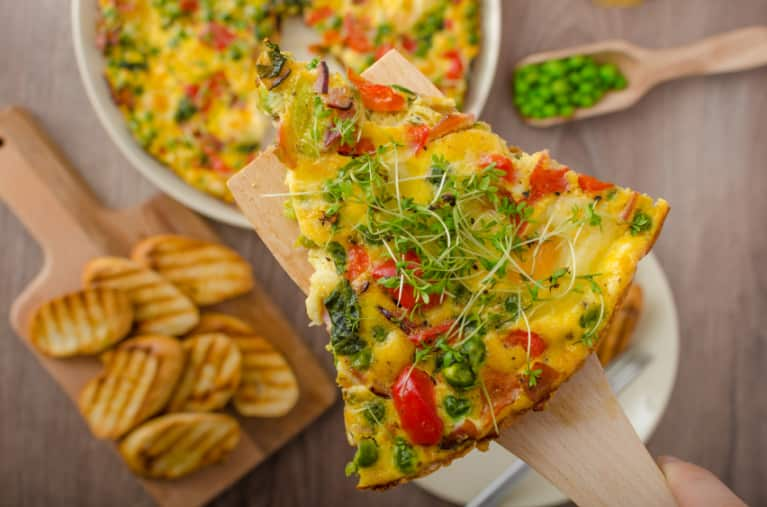 "On the weekends, I usually stick to eggs because I love them," says Dr. Kellyann Petrucci, a naturopathic physician and certified nutrition consultant. "I'll do scrambled eggs with berries, half of an avocado, or a spinach and red pepper frittata. Every once in a while, the kids and I will indulge in pancakes or waffles, made with coconut or almond flour. Another special treat we enjoy is nitrite-free, preservative free bacon."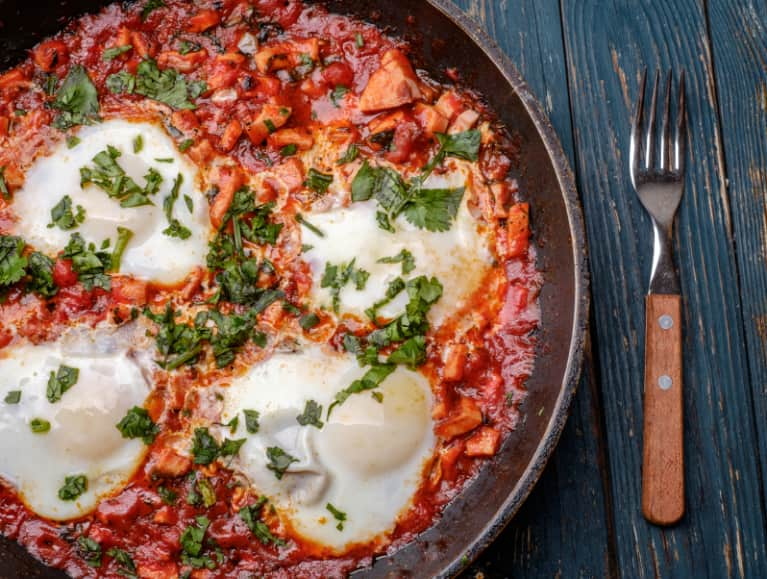 "I have a lot of recipes I love for weekend brunch," says Mikaela Reuben, culinary nutritionist and health consultant. "I'll make egg shakshuka with feta, spinach, chili, and sliced avocados on top. Or I'll have chocolate quinoa with mixed berries, banana, candied nuts, and goji berries. Another great recipe is scrambled eggs in a pan with quinoa, cherry tomatoes, spinach, garlic, and roasted sweet potatoes."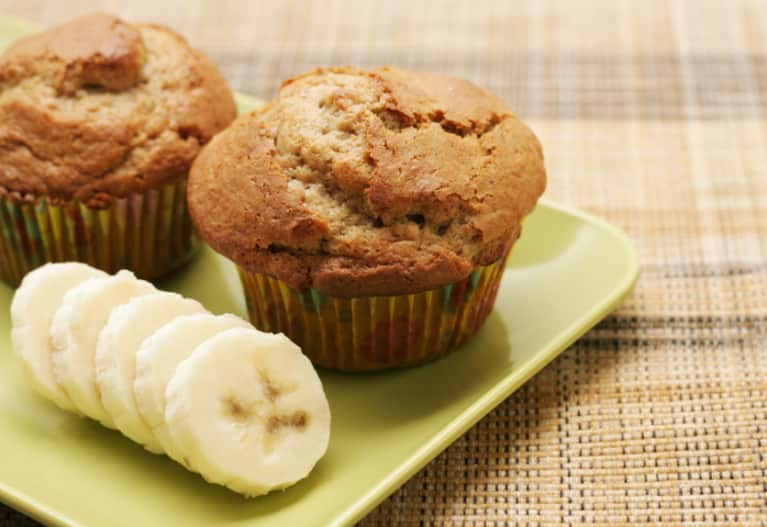 "On the weekend, I actually turn my oven on," says Bonnie Taub-Dix, owner of BetterThanDieting.com and author of Read It Before You Eat it. "I usually bake muffins (like these pumpkin ones) and pair them with a medley of fresh fruit, cottage or ricotta cheese, or a frittata — depending on what my family requests!"
Poached Eggs With Kale And Smoked Salmon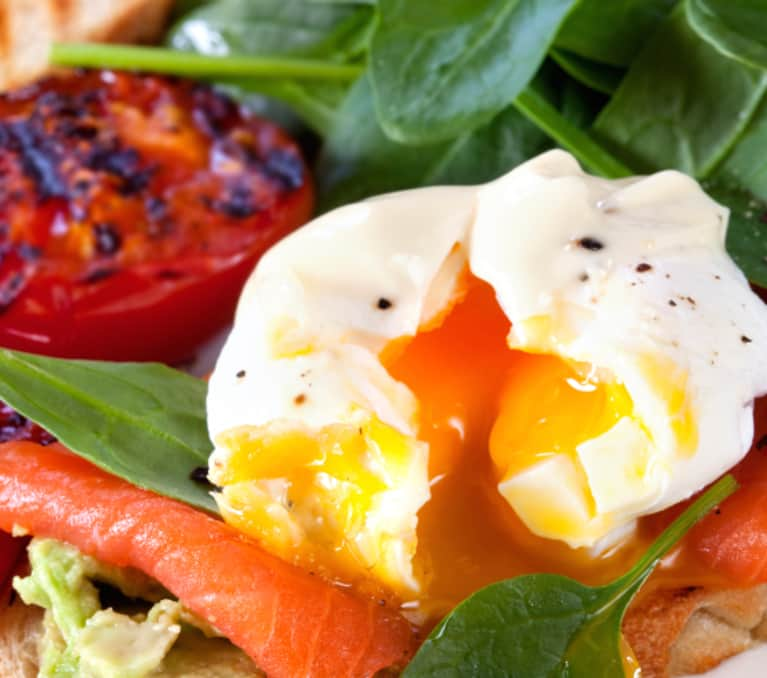 "My weekend ritual is usually poached or fried eggs, cooked in ghee or coconut oil," says Robin Berzin, a physician and health coach, who specializes in women's nutrition and health. "I'll sauté veggies like kale, Swiss chard, and add smoked salmon. It's the perfect way to get greens, protein, and healthy fats on your plate after an early morning workout!"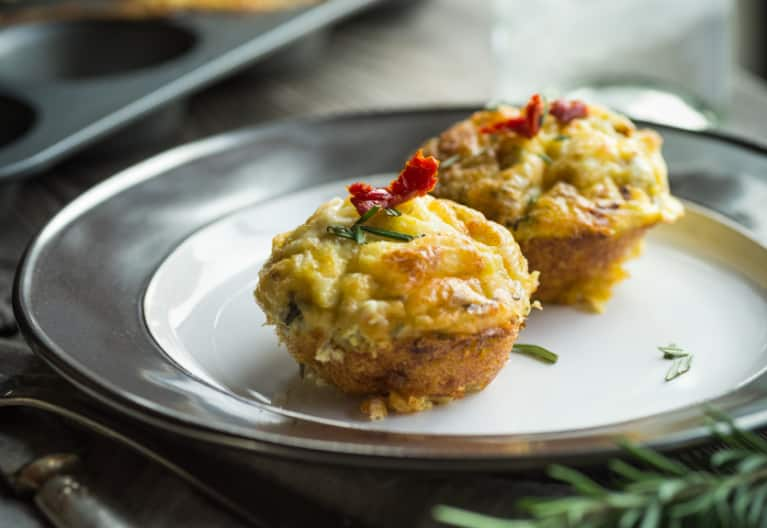 "My family loves my egg muffins," says Elissa Goodman, a holistic health coach. "I make them with eggs, broccoli florets, Applegate Italian sausage, unsweetened almond milk, coconut oil, baking powder and a bit of cheddar cheese! After the weekend, they provide a great grab-and-go option that you can keep in the fridge and warm up before you head out."
Gluten-Free, Buck-Wheat Pancakes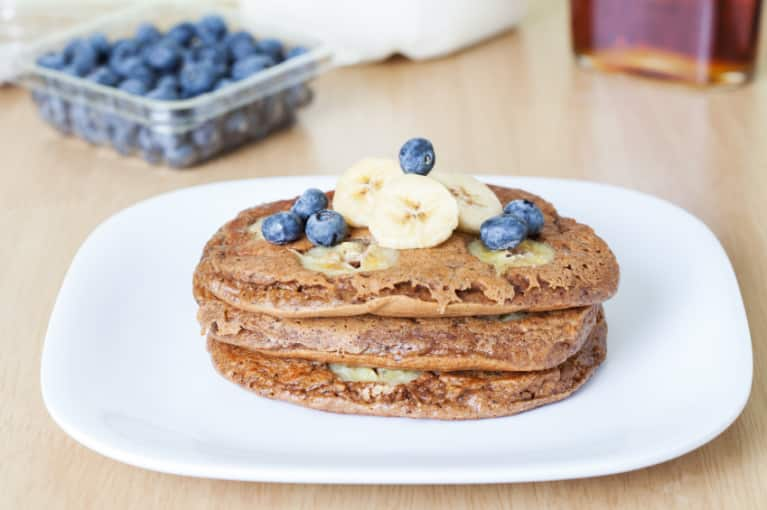 "I've been really into making gluten-free, buck wheat pancakes," says Rachel Meltzer Warren, MS, RDN, and author of The Smart Girl's Guide To Going Vegetarian book and blog. "I usually top them with whatever fruit is currently in season."
Veggie Omelet With Goat Cheese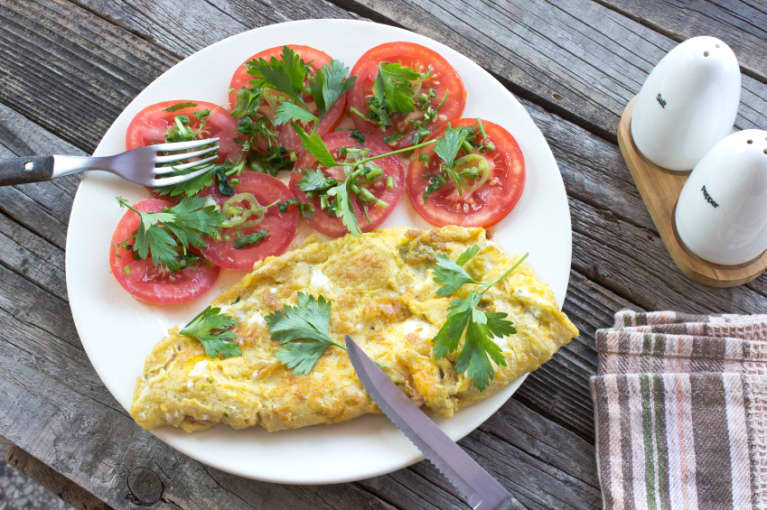 "If I'm going out to brunch, I almost always order a veggie omelet with goat cheese," says Robyn Coale, RD, and author of the blog, The Real Life RD. "I'll also have toast with butter, jam, and hash browns. Sometimes an occasional mimosa."
Homemade Gluten-Free Granola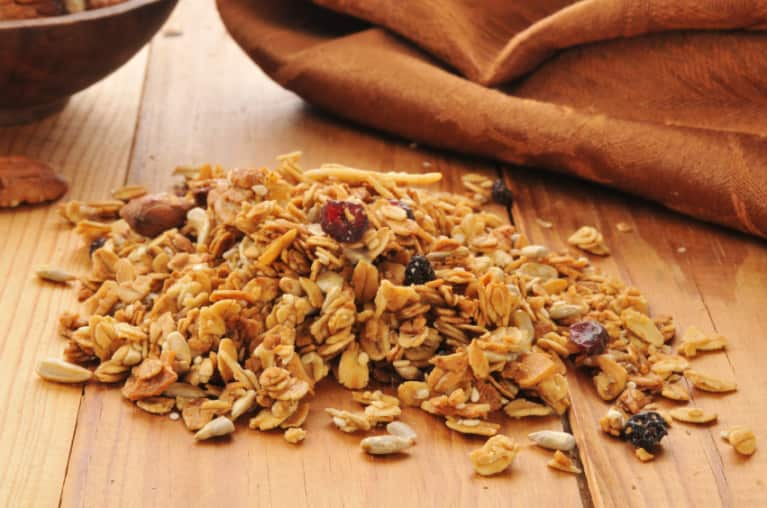 "I love to make homemade, gluten-free granola," says Talia Pollock, holistic health coach and author of the blog, Party In My Plants. "It's so much healthier than the store-bought stuff because you use the highest quality oils and sweeteners. Bonus: It can last for a whole week stored in a sealed container. I cannot get enough of my pumpkin pie granola."
Poached Eggs With Avocado Hollandaise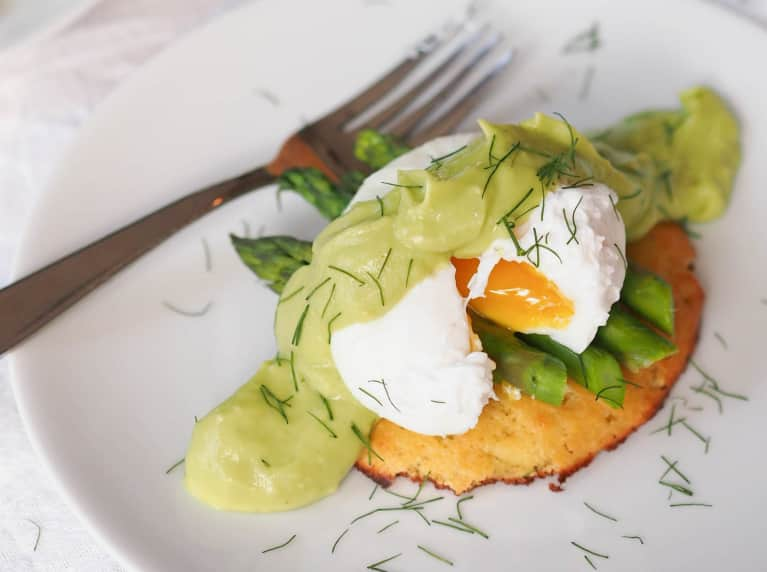 "Every so often, I love to cook a decadent weekend brunch for me and my husband," says Rachael Hartley, RD, and author of the blog Avocado A Day Nutrition. "It usually involves poached eggs with grain-free biscuits, asparagus, and avocado hollandaise. Yum!"
Veggie Omelet With A Side Of Fruit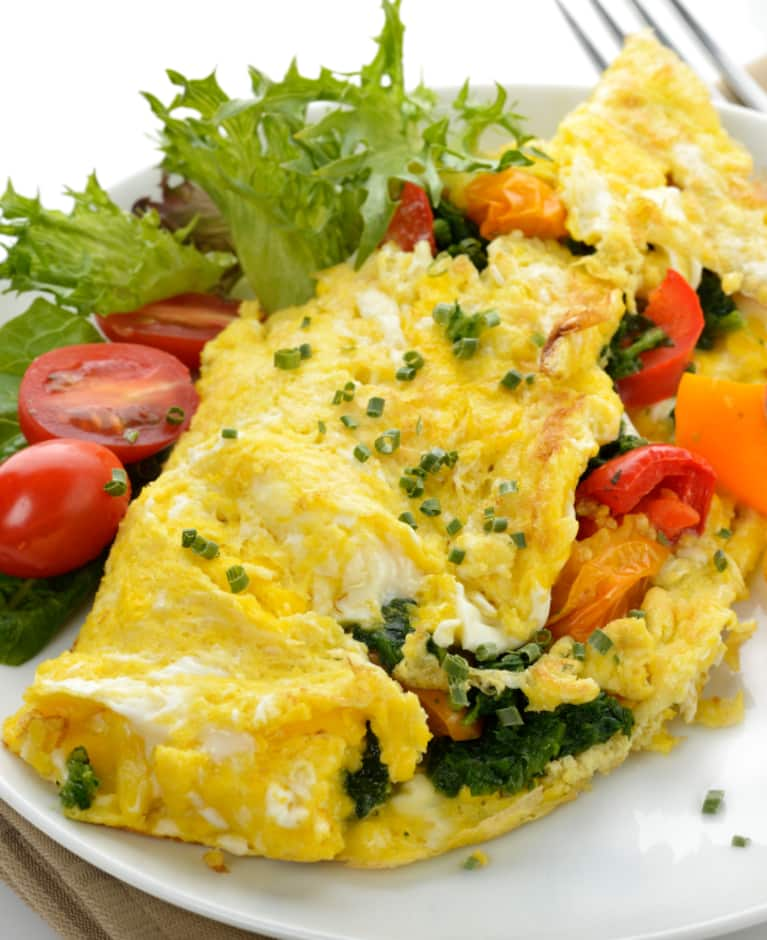 "My weekend brunch always incorporates eggs," says Alicia Anskis, a registered dietitian. "Whether or not I cook at home or go out with friends, I usually have some version of a veggie omelet with goat cheese. If I'm out to eat, I'll request a side of fruit instead of home fries."
Egg And Cheese Breakfast Sandwich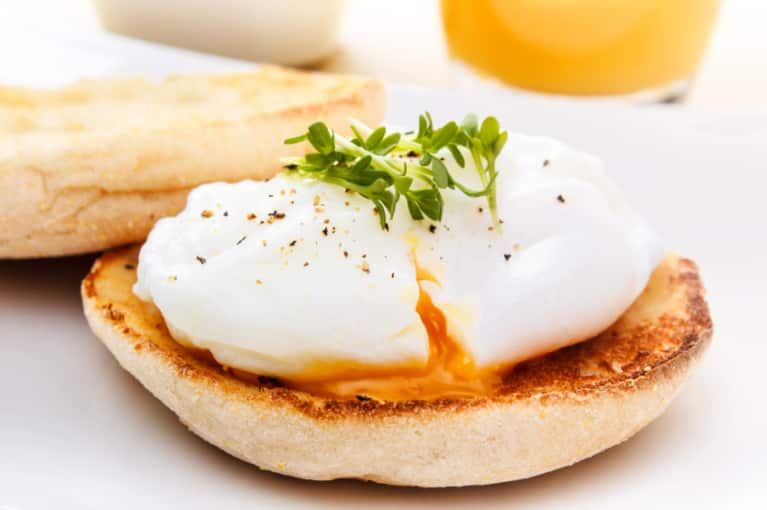 "I'll make breakfast sandwiches with egg and cheese on whole-grain English muffins," shares Jenna Braddock, RDN, and author of the blog Make Healthy Easy. "Even if we go out to eat for brunch, I usually will still order eggs and whole-grain toast in some form. It works for me, so why mess with it?"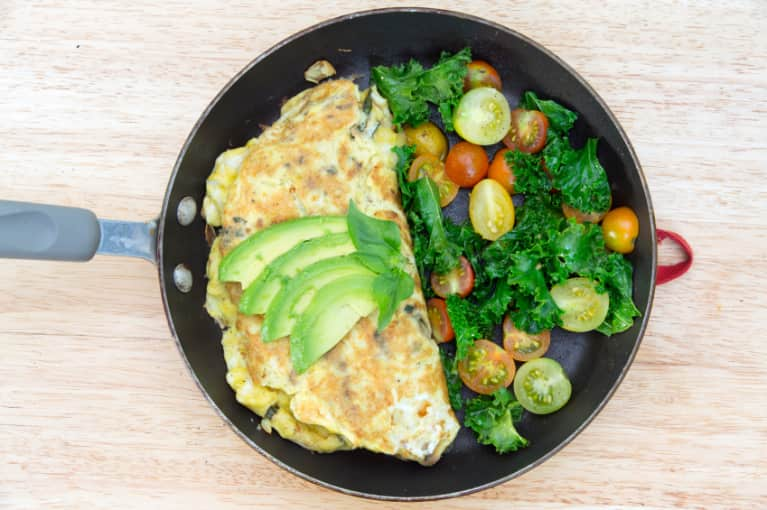 "I'll usually do a 'fridge clean-out omelet'," says Emily Hein, RDN and author of the blog, Zen & Spice Nutrition. "I'll add tomatoes, avocado, leftover chicken, bell peppers, and cheese. Goes great with coffee!"
Photos courtesy of iStock Photos
Looking for more advice from these knowledgable nutritionists? Check out these stories:
Feeling a little fatigued? Feel like something's just not right, but Western Medicine tells you, "you're fine"? Jason Wachob, founder & CEO of mindbodygreen, tells all in his health story. Sign up now for FREE!