The 8 Best Frozen Veggie Burgers You Can Find Pretty Much Anywhere
Veggie burgers get a bad rap — especially the frozen hockey pucks you find at the supermarket.
Admittedly, none of them can top fresh veggie burgers, mixed, formed, seared, and spatula'd off the skillet onto your plate. But some of them actually do taste good, stay together well, and are really freaking cheap. No, you won't get that juice-dripping-down-your-chin quality that only exists in medium-rare burgers and the very best veggie burgers, but you can't think of them as burgers. (We've gotta stop calling them that.)
Think of them instead as veggie patties — some grain-based, some black bean-based, some 'shroom-based (really anything-but-meat-based) — that also happen to please your tastebuds between two buns.
We had a burger tasting at the mbg office in which we sampled a whopping 17 frozen veggie patties and lived to tell the tale. Some we had to spit out (pretty sure it was dog food), while others had us coming back for seconds. The best ones, we found, didn't try to imitate meat; we could taste (and see!) individual vegetables in them. Our least favorites had the chill-inducing texture and look of rubbery meat, no vegetables in sight.
Only eight of them made the cut, and here they are:
Scores are all out of 10.
Trader Joe's Vegetable Masala Burger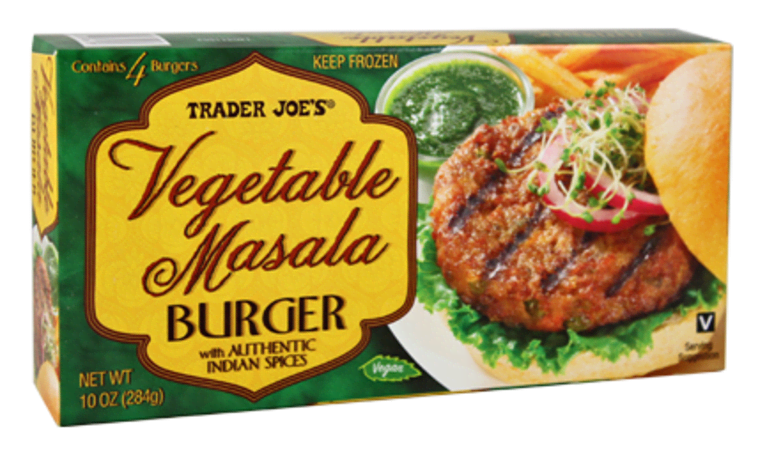 This was, far and away, everyone's favorite. Its distinct Indian flavor elicited a couple oohs and aahs. Since the burger is potato-based and intensely flavored with coriander, cumin, red chili powder and turmeric, it's basically a flattened samosa.
People thought it was "spicy and flavorful," and "an exotic variant from a typical veggie burger." But since it's packed with seven different vegetables — potatoes, carrots, green beans, bell peppers, onions, corn and green peppers — it does fall apart a bit.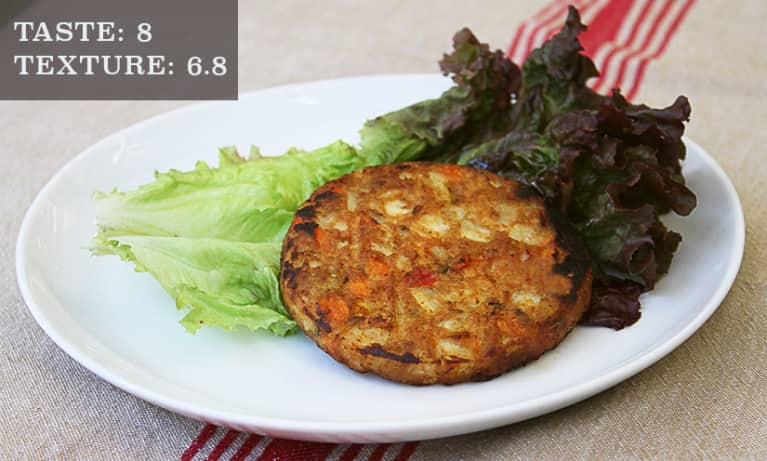 Dr. Praeger's California Veggie Burger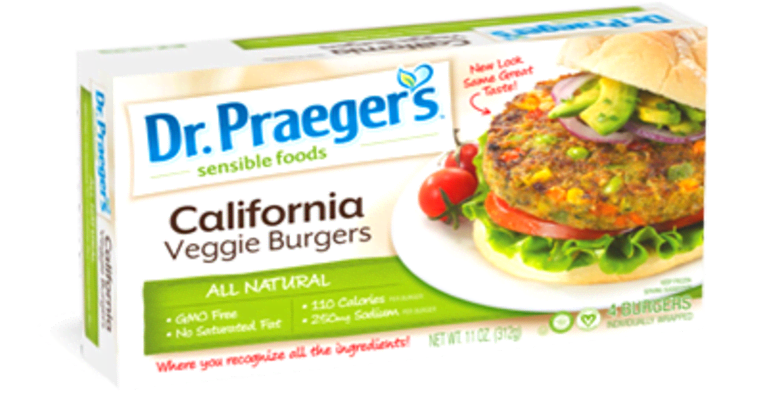 It says it on the box: this burger is "Where you recognize all the ingredients!" Not only that, but you can actually taste the corn, onion, carrots, peas, string beans, and soy beans. (They must give it that "roasted vegetable flavor!") Everyone seemed to love that about it. It was a bit "soft and mushy" on the inside, but mbg staffers said it "stays together" and had "a crunchy texture on the outside."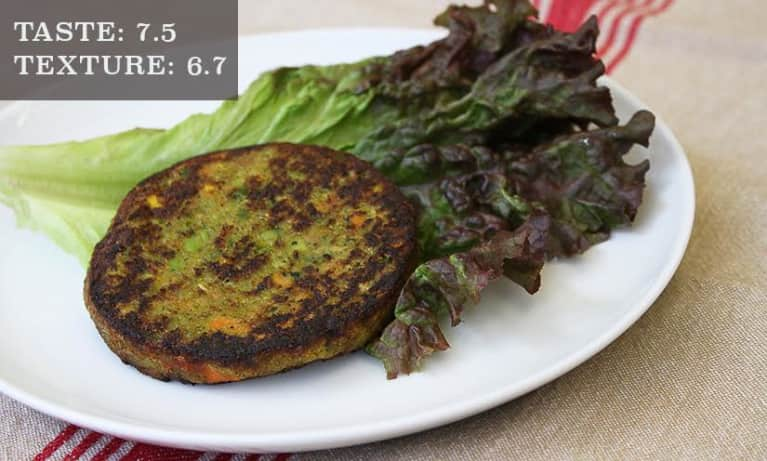 Amy's California Veggie Burger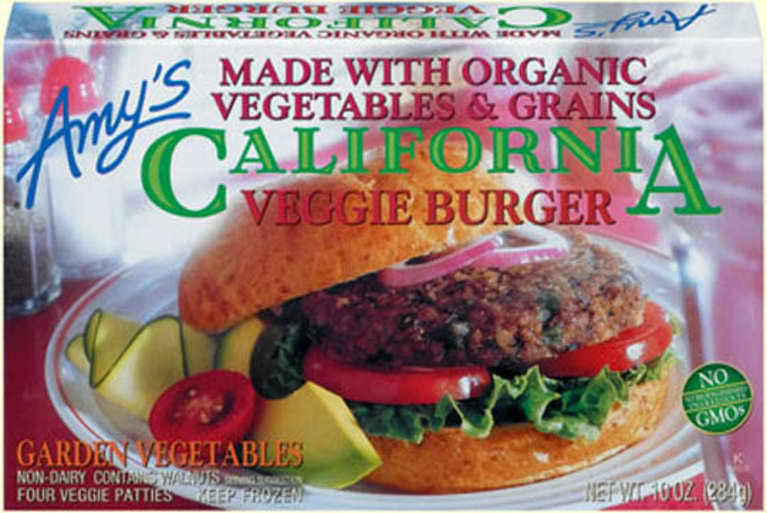 This one had a nutty and earthy flavor, with an almost chocolatey aftertaste, as it's made from a grain and mushroom base and contains walnuts. We were convinced it contained wild rice, but it's actually bulgur wheat. It crisped nicely and stayed together, but we found it a little "dry" and "gritty" on the inside. Still, we enjoyed the "roasted veggie taste."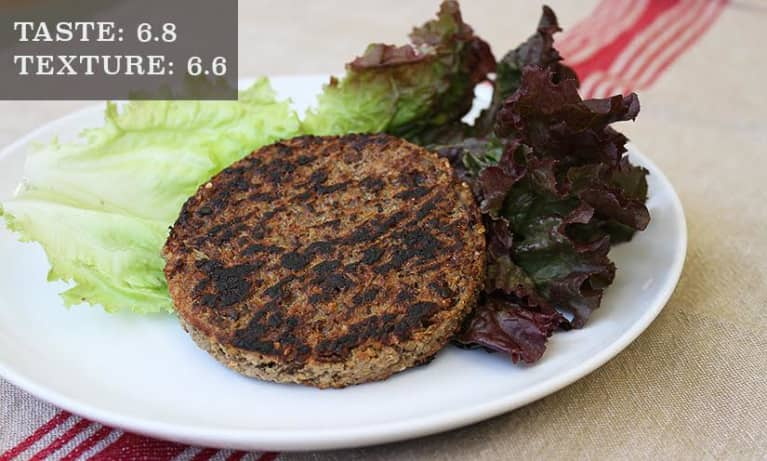 Gardenburger Original Veggie Burger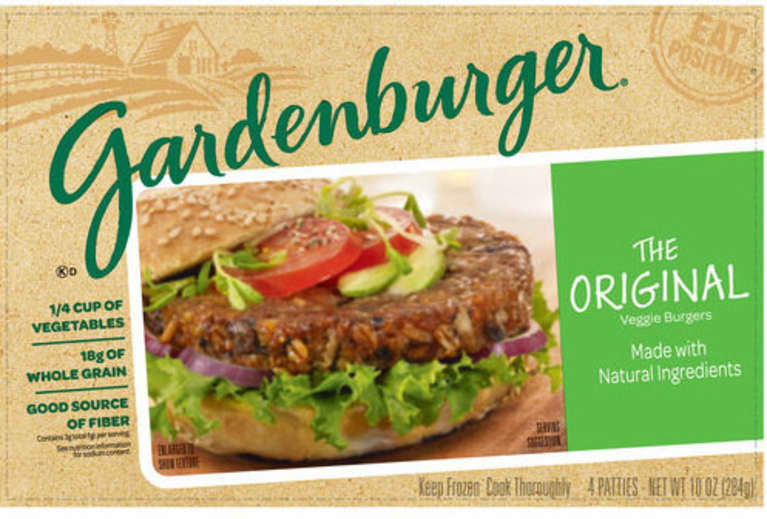 Like Amy's, this burger is grain- and mushroom-based — this time, with long-grain brown rice, bulgur wheat, and button, cremini, and portobello mushrooms — but the taste is dominated by the rolled oats and, even more pronouncedly, the mozzarella and cheddar cheese (look away, vegans!). That cheese is what makes it. Some people thought it had "too much rice," but most appreciated how "moist" and "mushroomy" it was.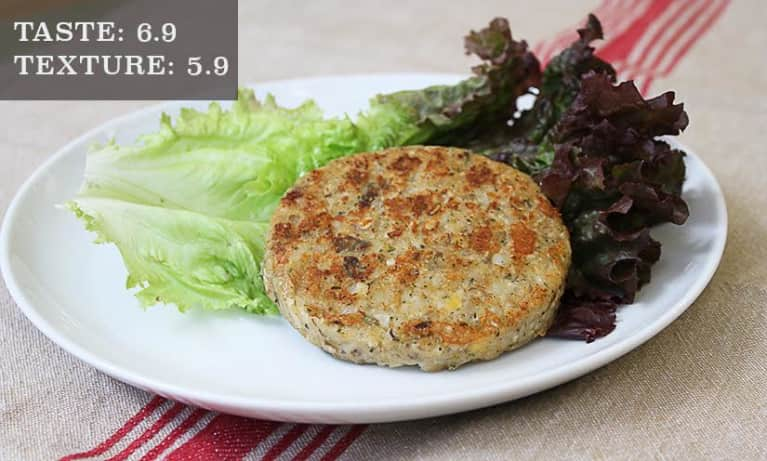 Little Green Handcrafted Black Bean Burger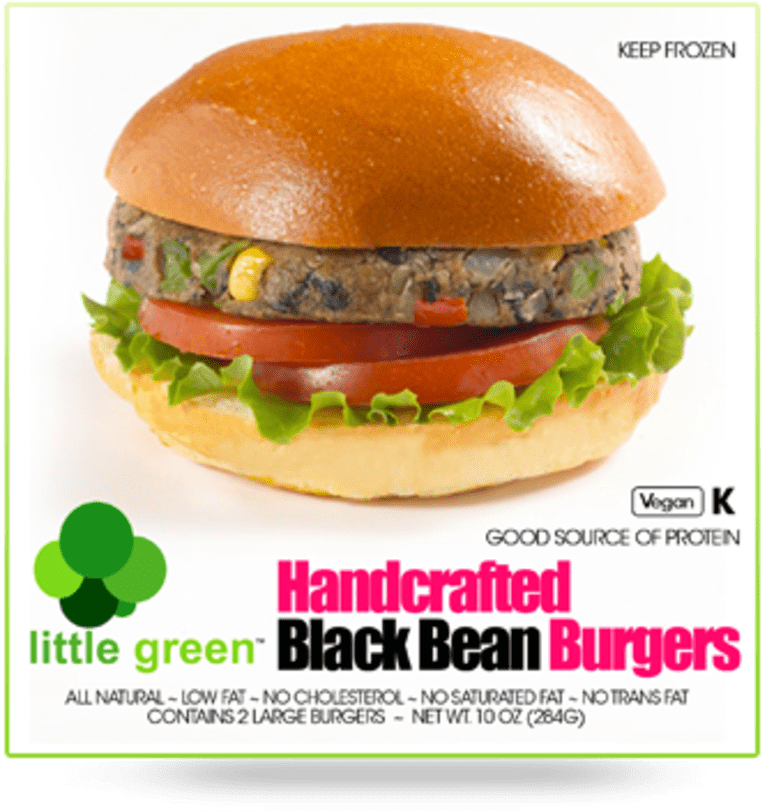 With its black beans, spanish onions, corn, bell peppers, cumin, and chili powder, this burger has a distinctly "Mexican" or "Southwestern" flavor. It's flavorful with a zing of spice, but the "mushy" texture is a little off-putting; it's like the innards of a burrito food-processed and pounded into a tightly-packed patty (which could be appealing to some!)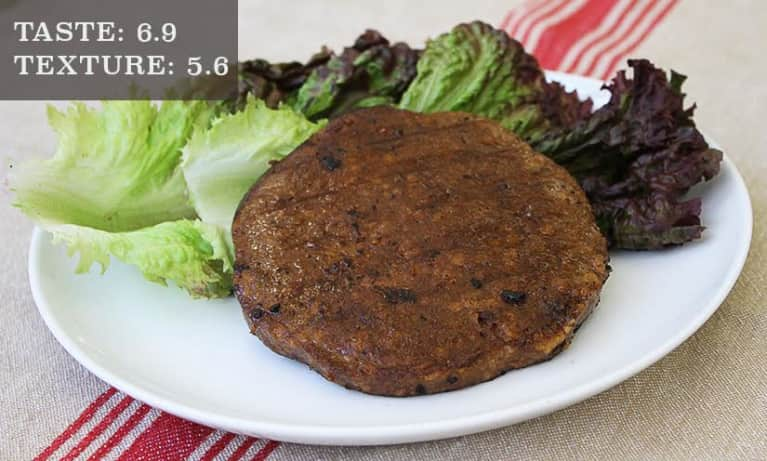 This soy-based burger had the most similar texture to meat — like sausage — but to many, that was a turnoff. People "would have preferred to see the vegetables." The flavor was good though — lots of spices, onions and garlic. Someone said that all it needs is "a little bit of BBQ sauce."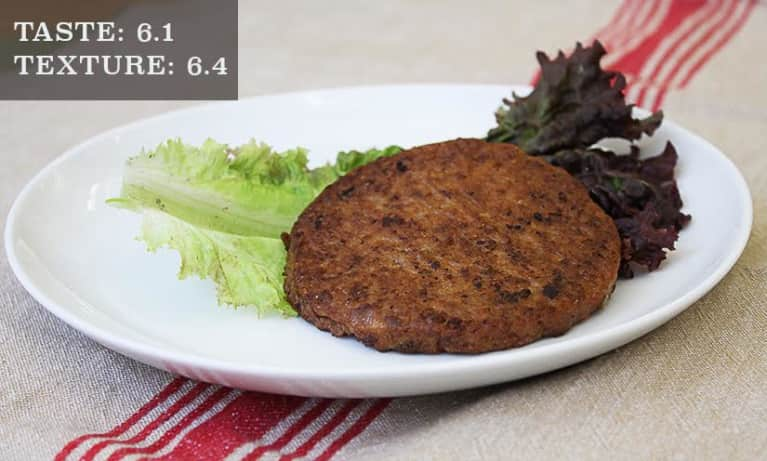 MorningStar Grillers Original
This one easily has the most unidentifiable ingredients in it ("autolyzed yeast extract"? "pyridoxine hydrochloride"?) — and that certainly can't be good — but it did taste the most like a burger. Some people were happily surprised at that, filling in the comment section with hearts, while others were weirded out, describing it as "slimy," "fake," and "rubbery."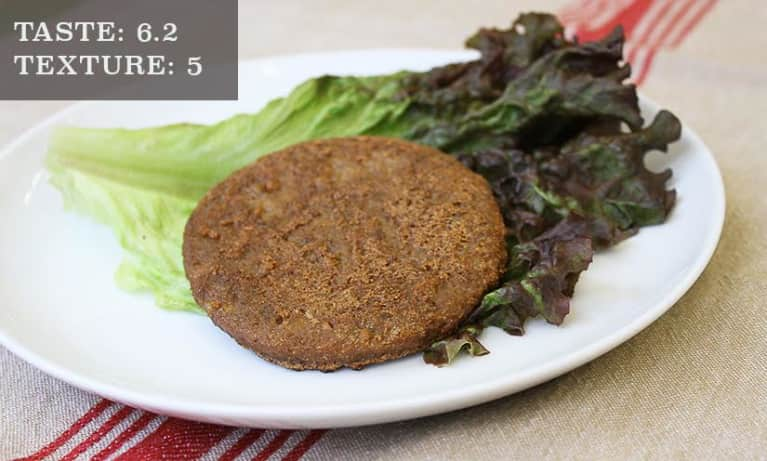 Hilary's Eat Well The "World's Best" Veggie Burger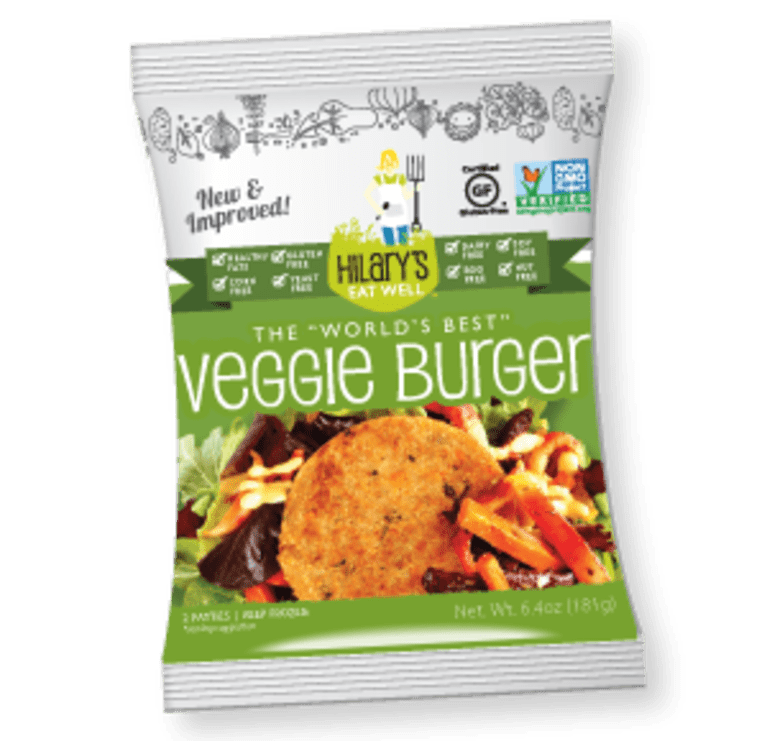 This millet- and quinoa-based patty was defined by its "crunchy" and "grainy" texture (which some people liked and others described as "way too dry."). It was a bit "bland," but because of the sweet potato in it, it was "almost sweet," and tasted "kind of like cauliflower."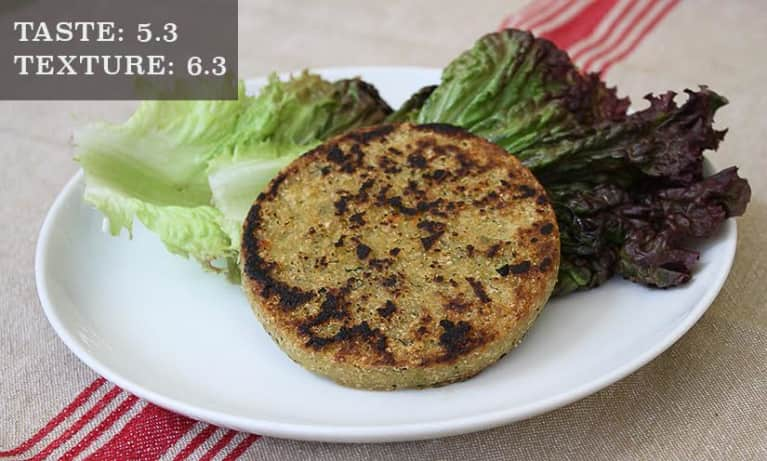 Do you have a favorite frozen veggie burger that didn't make the list? Let us know in the comments!