A Mini Guide To Using Healthy Fats
Unrefined oils and fats are flavorful, aromatic, and a far healthier choice than their refined counterparts. These delicious unprocessed oils can be used in a variety of ways, from non-heated dips, drizzles, and dressings to high-heat frying and grilling.
A quick glance at the nutrition facts on labels will tell you whether an oil or fat is predominantly saturated, monounsaturated, or polyunsaturated. Once you know that, remember these tips:
1. Are you cooking on high heat?
Want to sauté on high? Opt for a fat that's mostly saturated, like:
ghee
butter
coconut oil
palm oil
Saturated fats are stable and can withstand high heat without breaking down. Tip: Butter is best suited for medium-high heat since its water content boils at 212°F and will start fizzling and flying out of the pan.
2. Want to use low to medium heat?
If you're using medium or low heat, opt for monounsaturated fats. Those include:
Fruit oils
hazelnut
pecan
peanut
pistachio
almond
macadamia
Drippings from pork and poultry
You can use these oils for baking, too!
3. Are you using no heat at all?
Save polyunsaturated walnut oil and seed oils (sesame, flax, hemp, butternut squash, acorn squash) for no-heat preparations — drizzle them on ice cream or waffles, make salad dressings with them, dip bread in them, or garnish dishes at the table with these intensely flavorful oils.
Welcome to the delicious and nutritious world of unrefined oils and fats! You'll find more information — plus more than 80 recipes featuring unrefined oils and fats — in the pages of The Big Book of Healthy Cooking Oils.
Pan-Fried Beet Chips and Artichoke Tapenade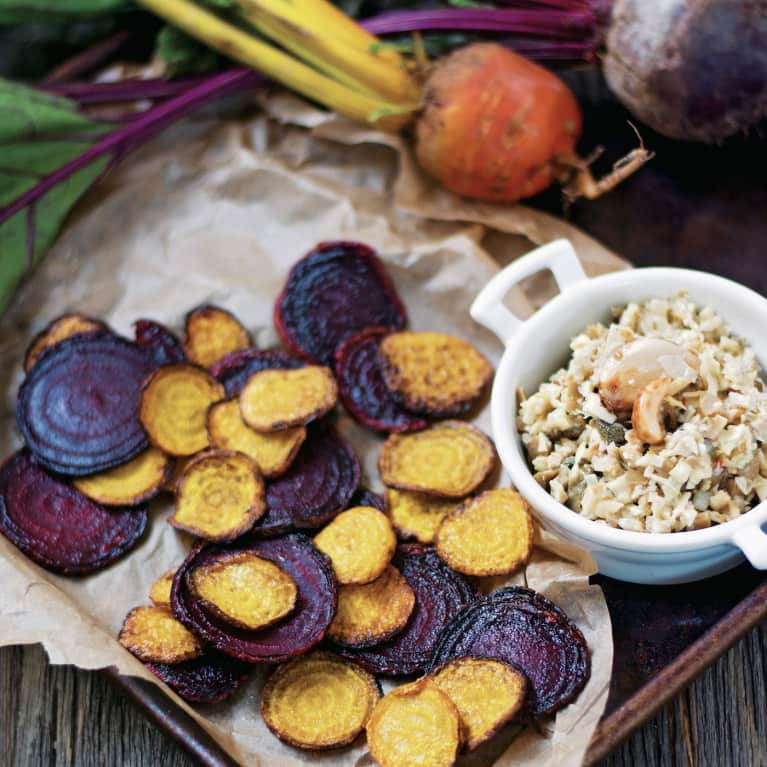 Traditionally, tapenade is made with olives, but in this version, the main ingredient is artichoke hearts. The salty aspect of brined artichokes means they make a better tapenade than frozen or fresh artichokes, plus they're easier to use. Just whirl them through a food processor with the remaining ingredients, and you've got tapenade!
The creamy whole-milk Greek yogurt provides a lush background to the brined artichoke and salty capers, but if you'd rather have a more traditional non-creamy tapenade, simply omit the yogurt. Either version is tasty with the beet chips. Because extra-virgin olive oil is in both the tapenade and the chips, you'll still enjoy a hint of olive flavor.
Makes about 1½ cups tapenade
Ingredients for the tapenade
Extra-virgin olive oil for cooking
2 cloves garlic, chopped
14 ounces (400 g) brined artichoke hearts, drained
2 teaspoons (6 g) capers, drained
Juice of ¼ lemon
1 teaspoon thyme
¼ cup (58 ml) plain whole-milk Greek yogurt*
Ingredients for the chips
Extra-virgin olive oil for cooking
2 raw beets, peeled and cut into thin slices
Sea salt for sprinkling
Preparation
1. In a small skillet, sauté the oil and garlic over medium-low heat for 3 minutes, or until the garlic is fragrant and starting to turn golden brown. Transfer the mixture to a food processor and add the remaining tapenade ingredients. Blend until smooth.
2. In a large skillet, heat the oil over medium heat. Add the beets, arranging them in a single layer so that none overlap. You'll need to cook them in batches. Cook them for 8 to 10 minutes, or until both sides are turning golden brown, flipping the beets halfway through.
3. Remove the beets to a plate covered with paper towels and sprinkle them with salt. You might have to cook each subsequent batch of beets for less time because the pan will be hotter (or reduce the heat slightly). Serve the chips with the tapenade.
The chips are best eaten promptly, but leftover tapenade can be refrigerated for 4 days.
*Omit the yogurt for a paleo-friendly tapenade.
Recipe and photo excerpted from The Big Book of Healthy Cooking Oils
Cover Photo Credit: Getty Images