15-Minute Dinner: Smoky Mushroom Tacos
mbg Contributor
By Leah Vanderveldt
mbg Contributor
Leah Vanderveldt is an author living in Brooklyn, New York. She received her bachelor's in communications and media from Fordham University, and is certified in culinary nutrition from the Natural Gourmet Institute. She is the author of two cookbooks: The New Nourishing and The New Porridge.
I love food — eating it, cooking it, and writing about it are kind of my jam. But by the time I get home from work in the evening, the last thing I want to do is spend an hour in the kitchen.
My perfect weeknight meal is packed with vegetables and whole foods, fills me up, and tastes delicious. And ideally it doesn't cut into my precious couch/bad-TV/sweatpants time.
15-Minute Dinners are all about feeding yourself well with minimal effort.
Tacos are the ultimate speedy meal. Almost any simple mix of food becomes enticing when cradled in a tortilla and topped with avocado.
In this recipe, you can use any mushrooms you'd like. I used pre-sliced baby bellas out of pure laziness. Since this recipe clocks in at around 10 minutes, you would definitely have the time to slice your own though.
You can also add some extra protein by taking the breakfast taco route: Top with a scrambled egg or scrambled tofu.
Smoky Mushroom and Pepper Tacos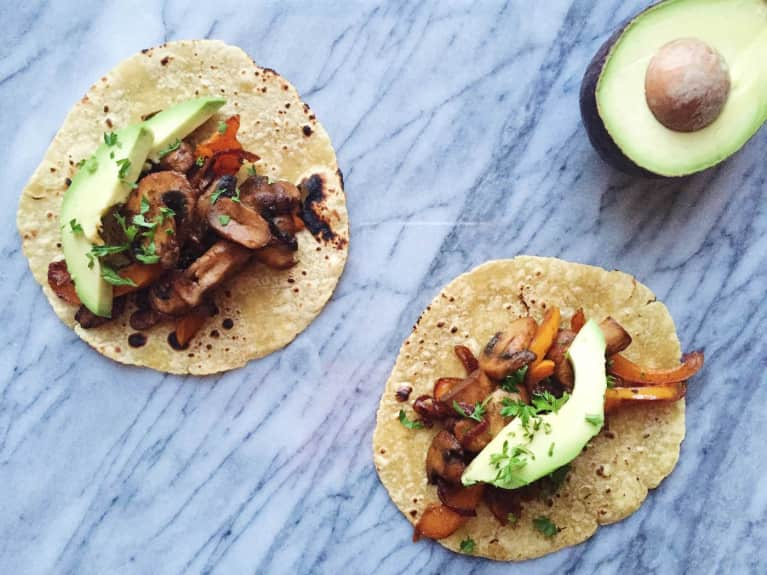 olive oil
½ red onion
1 small orange (or color of your choice) bell pepper
½ teaspoon smoked paprika
½ teaspoon cumin
2 cups baby portabella mushrooms, sliced (you can get pre-sliced mushrooms to save time)
corn tortillas
avocado, sliced
cilantro
hot sauce
Preparation
1. Slice red onion and bell pepper into thin pieces. Warm olive oil in a large pan over medium-high heat. Add onion and peppers and cook, stirring for 5 minutes. Add a splash or two of water if the pan becomes dry. Add smoked paprika and cumin, and cook, stirring for 1 minute.
2. Add mushrooms, and cook, stirring, for 2 to 3 minutes until the mushrooms are nicely browned.
3. Heat corn tortillas in a dry pan over high heat until slightly charred on either side. Build your tacos with desired toppings.
Photo courtesy of the author