Thighbrows, Thigh Gaps, & Bikini Bridges: When Will It End?
September 21, 2015 — 9:00 AM
Apparently, arms, legs, necks, and stomachs aren't good enough names for women's body parts.
For as long as I can remember, we've had self-deprecating names for them instead: "crow's feet" for the wrinkles people develop on the outer corner of their eyes, "gobble neck" for any skin that hangs down from where the neck meets the chin, "muffin top" for the part of our midsection that hangs over the waistline of tight pants, and the list just goes on and on.
To make matters worse, in addition to the things we're not supposed to have, we now have nicknames for the things we're supposed to have.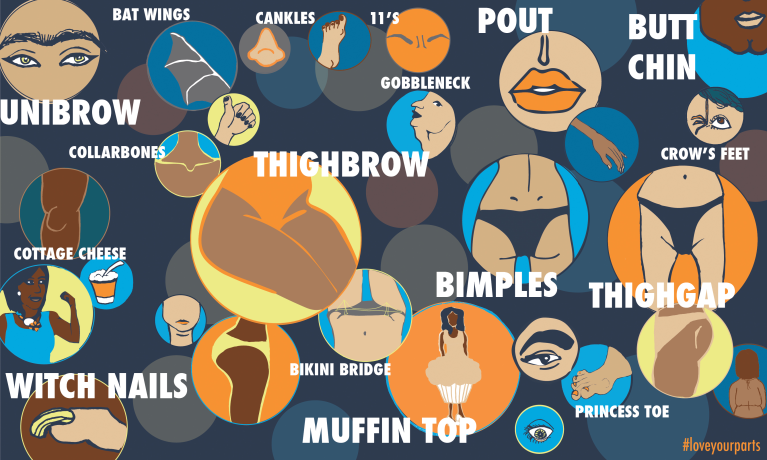 We all know about "thigh gap" — the space between people's thighs that shows they're so thin their legs don't even touch. But now, thanks largely to the Kardashian-Jenner Krew, "thighbrow" — the little roll of skin that forms above a thigh when a woman sits or kneels, producing what looks like a thigh "eyebrow" — is what's hot right now. Yes, that's actually a thing.
Some people think that the thighbrow is a body-positive version of the thigh gap, but we see it as just another thing the Internet wants us to obsess over having or not having.
Like Aristotle said, "The whole is greater than the sum of its parts." So true. You are you — not a collage of "good" and "bad" body parts. So, let's (please!) stop nicknaming them.
These absurd body standards are not only overwhelming to keep track of; they're also impossible to attain.
#loveyourparts
Illustration by Chloe Bulpin for MBG.