Make This Tonight: Farro + Pesto Bowl (Ready in 15 Minutes!)
My ideal weeknight meal is packed with vegetables and whole foods, fills me up. and tastes delicious. And ideally it doesn't cut into my precious couch/bad-TV/sweatpants time.
15-Minute Dinners are all about feeding yourself well with minimal effort.
Farro is an ancient grain from Italy, so it seemed appropriate to pair it with pesto, cannellini white beans. and savory-sweet garlic tomatoes.
It has a hearty, almost nutty taste and a satisfying chewiness. Feel free to sub in quinoa for an equally quick and tasty meal in a pinch!
This bowl makes great leftovers and tastes even better for lunch the next day.
White Bean, Pesto, and Farro Bowl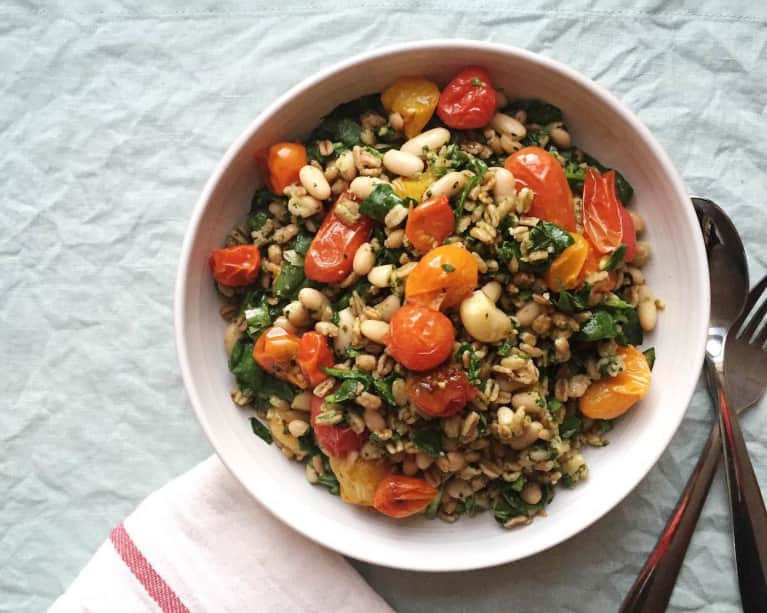 olive oil
1-2 cups cherry or grape tomatoes
3-4 garlic cloves, crushed under the blade of a chef's knife
salt
½ cup farro
2-3 cups of spinach or baby kale, roughly chopped
1 14-ounce can of cannellini beans, drained and rinsed
1 heaping tablespoon prepared pesto (homemade or store-bought)
Preparation
1. Set a kettle on to boil water and preheat oven to 425°F.
2. Toss tomatoes and garlic cloves on a baking sheet with a drizzle of olive oil and sprinkle with salt. Place in the oven and bake for 12 to 15 minutes.
3. Meanwhile, combine 1 cup boiling water and farro in a medium pot with a lid. Simmer for 10 to 15 minutes until soft.
4. Drain off any excess water, and return to the warm pot. Add spinach, white beans, and pesto, and stir. Cover and let stand for a minute or two until the spinach has wilted.
Taste, season, and stir. Transfer to bowls and top with roasted tomatoes and more pesto or olive oil, if desired.
Photo courtesy of the author