15-Minute Dinner: Thai Vegetable + Chickpea Curry
I love food — eating it, cooking it, and writing about it are kind of my jam. But by the time I get home from work in the evening, the last thing I want to do is spend an hour in the kitchen.
My perfect weeknight meal is packed with vegetables and whole foods, fills me up, and tastes delicious. And ideally, it doesn't cut into my precious couch/bad-TV/sweatpants time.
15-Minute Dinners are all about feeding yourself well with minimal effort.
This Thai curry works with just about any mix of vegetables you have lying around. Average broccoli and carrots are quickly spruced up with my secret weapon: Thai red curry paste (but you could use green, if you'd prefer). It packs a flavor punch while adding a nice hit of spice.
Thai Vegetable and Chickpea Red Curry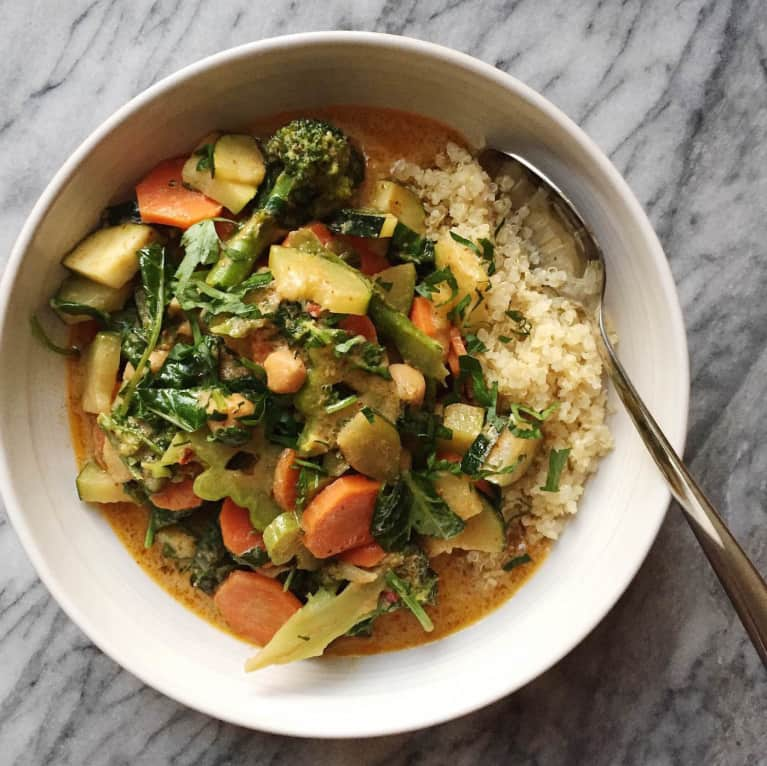 1 small head of broccoli
1 medium carrot
1 small zucchini
1 tablespoon curry paste, or more to taste
¼ cup vegetable broth or water
pinch of salt
1 14-ounce can coconut milk
1 14-ounce can chickpeas, drained and rinsedTo serve:
cooked quinoa (optional)
cilantro leaves
Preparation
1. If you want to serve the curry over quinoa, put it on to cook now. Chop you broccoli into small florets. Chop your carrot and zucchini into similar bite-sized pieces.
2. Heat a large pan or pot with a lid over medium-high heat. Add curry paste and vegetable stock and stir. Heat, while stirring to spread out the paste, for 30 seconds. Add vegetables and salt; stir and cover for 3 minutes.
3. Add coconut milk and chickpeas; stir and cover. Cook for another 5 minutes. Remove lid, and cook for another 2-5 minutes until the vegetables are tender (or to desired softness).
4. Season to taste and serve over quinoa or on its own, topped with cilantro.
Photo courtesy of the author