I Was Abusing Drugs & Alcohol At 16. Here's How I Turned My Life Around
When I was 16, I hit the party scene pretty hard. I was sneaking around, drinking, and experimenting with drugs.
As I got older, I started going to concerts and music festivals to do the same thing. One time, at an outdoor show, I took a mixture of substances that made me so paranoid I felt like someone was chasing after me.
During the middle of the set, my friend and I took off running and drove 45 minutes home in the middle of the night. We had nobody to turn to for help — my parents had no idea where I was or what I was doing. It would've taken just one more drink or one more hit to throw me off the deep end.
My relationships suffered because I wasn't taking care of myself. Sometimes when I drank I'd get belligerent and pick fights with my boyfriend over nothing.
After getting caught partying as a minor a few too many times, I got kicked off my high school swim team. I pretended I didn't care at the time, but deep down I felt like a complete failure.
I went to a small school so everyone knew what had happened. The other swimmers barely talked to me and my coach gave me that distinct "I'm disappointed in you look" every time I passed him in the hallways. Rumors spread and the joke was on me — I suddenly had even more time on my hands to drown out my feelings with drugs and alcohol.
It would've taken just one more drink or one more hit to throw me off the deep end.
My rock bottom came when I ran away from school and hid out at a friend's house for three days. I shut off my phone and didn't tell anyone where I was going. I was trying to escape myself.
When I returned home, two cops were waiting for me. One grabbed my arms and the other my legs and they dragged me off to juvenile detention.
The long weekend I spent there was life-changing. I met young girls who would rather "do time" than go back to their abusive families. Meanwhile, my parents visited me all four days — delivering new journals, thoughtful cards and giant Toblerone bars.
There, I had a crystal clear realization that I was taking my life for granted. I had so much to be grateful for. I knew my I was destined to do more than get high. Spending time in juvie was actually the best thing that ever happened to me because it set me on my true path.
I walked away completely transformed.
My life was very different when I got home. I finally ditched the 'friends' I used to get in trouble with, and I had too much free time after being banned from school activities.
While reading a Cosmopolitan magazine, I noticed a lot of celebrities carrying around rolled-up mats and talking about this "yoga" thing. I knew I needed an outlet to release some pent-up energy, so I found the only yoga class my hometown offered.
Spending time in juvie was actually the best thing that ever happened to me
That first class exceeded my expectations and I felt an inner peace and presence I had never before experienced. I was hooked. From that class forward, I made yoga and meditation a priority in my life.
First thing in the morning, I'd wipe my sleepy eyes and sit on my meditation cushion for at least five minutes. No matter what I had going on that day, I made time for my mat. Whether it was a 20-minute video or a 90-minute hot yoga class, I showed up.
I started turning down party invitations, calling it quits at 10 p.m instead. I traded greasy pizza for green smoothies. Instead of going out, I spent a lot of time reading self-help books, painting and writing poetry. I became more comfortable with being alone.
And a year or so into my practice, I decided to get certified to teach because it was clear that yoga was completely changing my life. My relationships were improving; I was more grateful and mindful throughout the day, and I was making better decisions. Alcohol didn't really interest me anymore. I'd have a drink or two every one in a while, but my yoga made me a lot more aware of alcohol's negative effects on my body.
The strides I was making in my spiritual life were far more rewarding than any adult beverage could ever be. I found myself meditating for 10 minutes instead of five. I could finally stand on my head! I was meeting really cool people... totally sober.
My body also started changing for the better: My skin glowed, I felt stronger and had way more energy. Friends and family commented on my positive attitude. All in all, I felt like I was living up to my true potential. I felt more... me.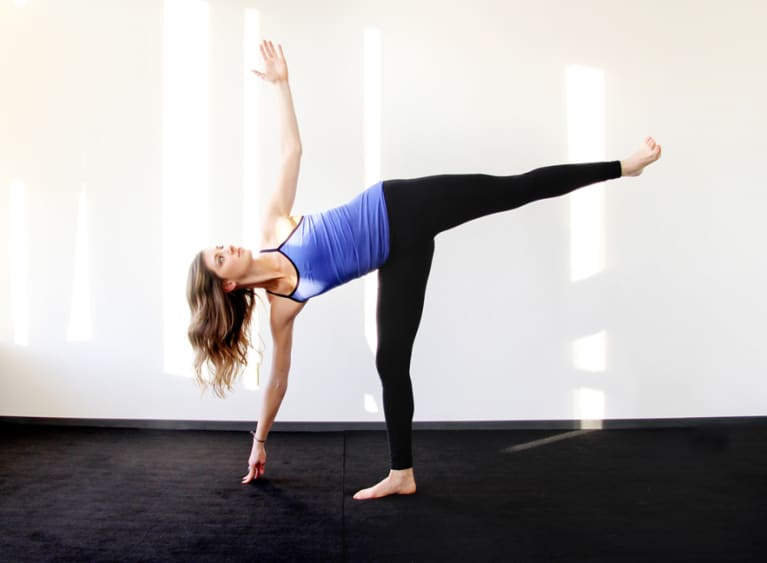 When I look back on my transformation, one thing is very clear: I didn't wake up one day and decide to change my life.
I didn't give up cocktails and concerts.
I didn't intentionally fire my friends.
I didn't pluck my bad habits off the tree of temptation.
They simply fell off.
I've realized that you can't force yourself to give up something you've been doing for a long time. You'll either resent your decision or find yourself in the same place six months later. You have to replace the old way with a new way. You have to be disciplined and dedicated to your yoga.
If you trust yourself and trust the process, you will see results. Not overnight. Not by willpower. Not by force. But through commitment and devotion to your practice.