Summer's Not Quite Over Yet With This Blueberry + Lavender Lemonade
Lemonade seems like it would be good for you — lemons are, after all, one of my nature's wonder fruits, packed with detoxifying nutrients. But most lemonades are packed with inflammation-causing sugar. They also typically heat the lemon juice, breaking down the delicate Vitamin C and enzymes that make it so good for you in the first place.
This lemonade is lightly sweetened with honey, and is never heated enough to destroy any of its goodness. The lavender adds a lovely sweetness, and the blueberry adds additional antioxidants and a lovely purple hue.
I make a big batch and keep it in my fridge to keep me going through the last of these hot summer days!
Healthy Blueberry Lavender Lemonade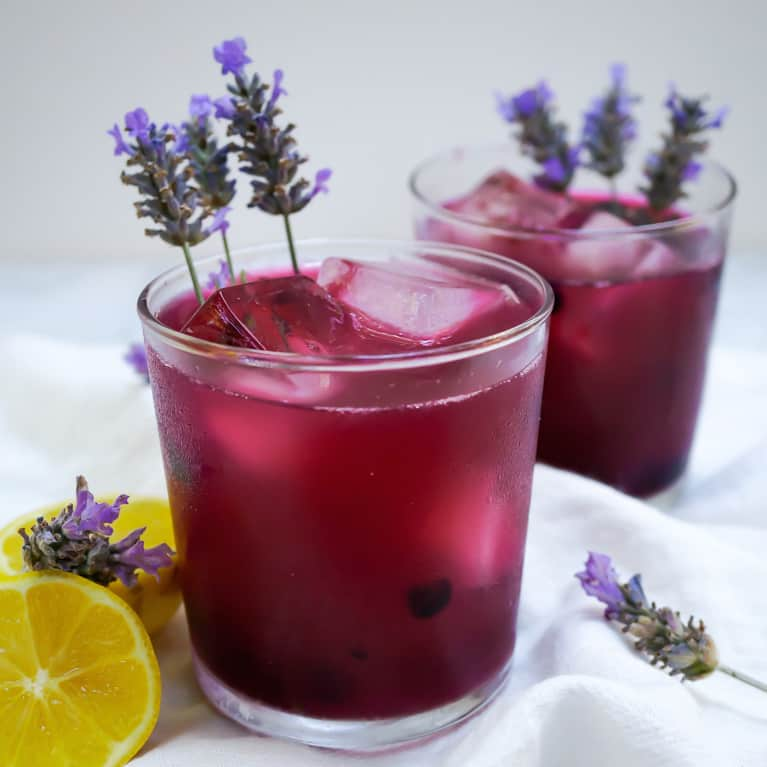 Makes 2 glasses
Ingredients
1 tablespoon dried culinary lavender
2–3 tablespoons honey, depending on desired sweetness
2 tablespoons frozen blueberries, divided
Juice of 3 large or 4-5 small lemons
16 oz water (preferably filtered)
Preparation
1. Boil the water and then stir in the dried lavender. Let steep for about 10 minutes, then strain out lavender using fine mesh strainer (you can also just steep the lavender in the water like tea, if you have a loose-leaf tea strainer). Let it cool until it's just warm to touch, and then stir in honey until honey dissolves.
2. Add lemon juice. (Adding the lemon and honey when it's not super hot preserves the health benefits of both of them) To serve, lightly muddle 1 tablespoon blueberries in the bottom of each glass before topping with ice and lemonade. Garnish with a sprig of lavender to serve.
Photo courtesy of the author