5 Key Ingredients For Creating Delicious Meals (That Just Happen To Be Vegan)
From the editor: The secret to making a vegan meal isn't recreating a meaty meal with some dubious "meat substitute", it's about bringing out the best in the ingredients you're working with. It's about cooking real food that tastes wonderful, and just happens to be vegan.
Here are five ingredients (and three recipes!) to help take your plant-based meals from good to great.
1. Smoked paprika
I have two favorite methods for creating smoky flavor in vegan recipes. One is to use a bit of smoked paprika. Both sweet and hot paprika can be found in smoked forms; any online spice merchant should sell them, and smoked paprika can often be found at grocery stores with a good spice selection.
The other is to use chipotle chiles in adobo sauce, a rich blend of paprika, oregano, garlic, salt, and vinegar.
Both are used in the Smoky Black Bean + Sweet Potato Chili recipe (below) to create an especially smoky flavor.
2. Beans
Sure, beans add substance and protein to a meal easily, but nutrient-packed legumes aren't just a filler — they can be an exciting and flavorful element of a dish in their own right. For spice-infused black beans, see the chili recipe below.
3. Sweet potato or winter squash
Sweet potato and winter squash (like butternut or kabocha) are a perfect place to start when creating a plant-based meal.
The creamy and colorful kabocha squash in the kale salad (below) gives substance to the dish, so you can serve it as a filling appetizer or a lighter meal. This is an ideal salad for holiday entertaining, or just for brightening your table on a chilly night.
4. Toasted nuts
Elevate nuts and seeds by quickly toasting them to bring out their natural flavors and give a satisfying crunch. Different textures in a dish make it more interesting and enjoyable — without meat or cheese.
5. Fresh herbs
The perfect topping to complete dishes from multiple cuisines, leafy cilantro brightens the charred Cauliflower + Oyster Mushroom Tacos (recipe below) to really make them shine.
All fresh green herbs can have a similar effect on even the simplest dishes.
Smoky Black Bean + Sweet Potato Chili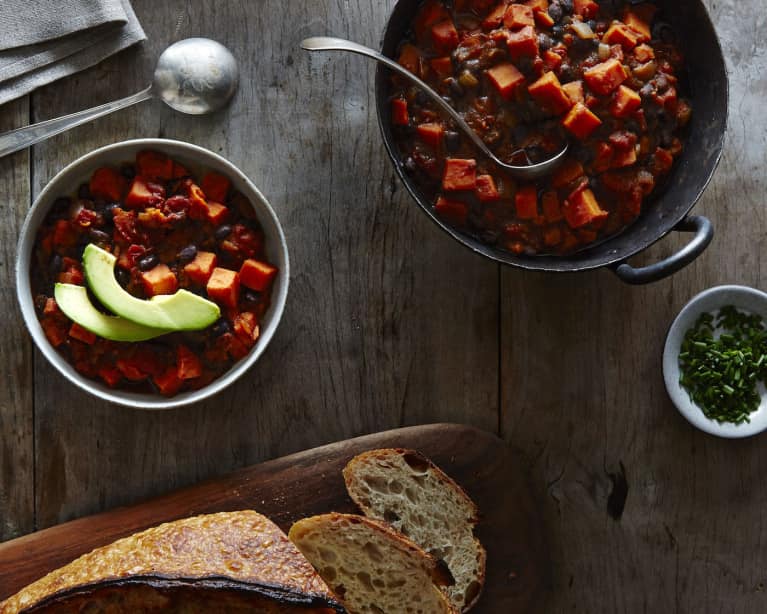 This is the chili recipe you want in your back pocket. Sweet potatoes and black beans are a classic pairing, and no recipe shows them off better than this one.
This chili is always a hit at potlucks and gatherings. Just be sure to reserve a few servings for the freezer. You'll thank yourself later.
Serves 6
Ingredients
1 tablespoon olive oil
2 cups (320g) chopped white or yellow onion
4 cups (540g) diced sweet potatoes, in 3⁄4-inch (2cm) cubes
2 cloves garlic, minced
1 chipotle in adobo, finely chopped (see tip)
1 tablespoon chili powder
2 teaspoons ground cumin
1⁄2 teaspoon smoked paprika
1 (14.5-ounce/411g) can diced tomatoes
3 1⁄2 cups (600g) cooked black beans
1 1⁄2 cups (590ml) vegetable broth, plus more as needed
Salt
1 large Hass avocado, sliced, for garnish
1⁄4 cup (10g) thinly sliced chives
Preparation

1. Heat the oil in a large pot over medium heat. Add the onion and sauté until tender and translucent, about 8 minutes. Then add the sweet potatoes and garlic and sauté until the garlic is fragrant and the sweet potatoes are just becoming tender, 8 to 10 minutes. Add the chipotle in adobo, chili powder, cumin, and paprika and cook, stirring constantly, until the spices are very fragrant. Stir in the tomatoes, beans, and broth and bring to a boil.
2. Decrease the heat to maintain a simmer. Cook, stirring occasionally, until the sweet potatoes are tender, 30 to 35 minutes, adding more broth as needed to achieve the desired consistency. Season with salt to taste.
3. Let the chili sit for a few minutes so the flavors meld. Serve topped with the avocado and chives.

Kale Salad With Kabocha Squash, Toasted Hazelnuts + Pomegranate Seeds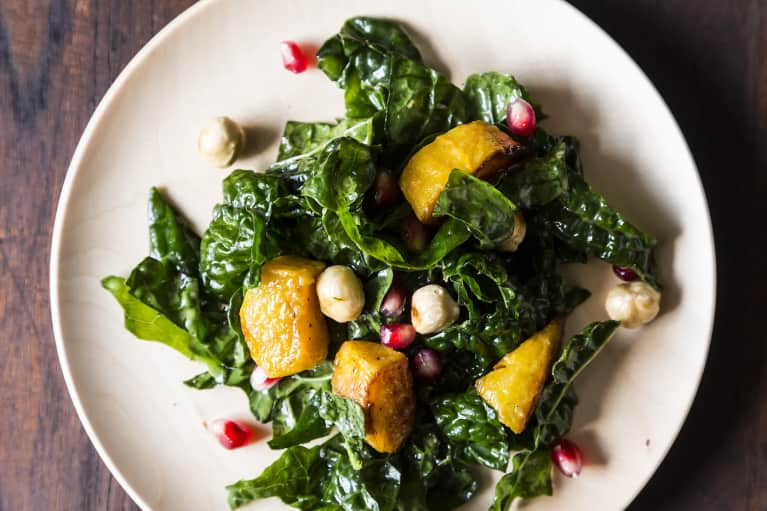 Kale salads are so popular these days that it's easy to take them for granted. But a great one can still be show stopping, as is the case here, in part thanks to the lively vinaigrette and tart, crimson pomegranate seeds.
Serves 4
Ingredients

1 small kabocha squash (about 1 pound/450g), cut into 1.5-inch (4cm) pieces
4 tablespoons (60ml) olive oil
Salt and pepper1⁄2 cup (65g) hazelnuts
2 tablespoons freshly squeezed lemon juice
1 teaspoon Dijon mustard
1 teaspoon maple syrup
1 large bunch curly kale, stemmed and torn into bite-size pieces
3⁄4 cup (130g) pomegranate seeds
Preparation

1. Preheat the oven to 375°F (190°C).
2. Toss the squash with 1 tablespoon of the olive oil, then spread on a rimmed baking sheet. Sprinkle with salt and pepper. Bake for 15 minutes, then stir well.Bake for 15 to 20 minutes longer, until tender. Let cool to room temperature.
3. Meanwhile, spread the hazelnuts in a small baking pan or pie plate and toast in the oven for 4 to 6 minutes, until golden. Check them frequently and remove them the moment they start to get brown. Let cool slightly, then rub the nutsbetween paper towels to help remove the skins. Coarsely chop the nuts.
4. Put the remaining 3 tablespoons of olive oil in a small bowl or cup. Add the lemon juice, mustard, maple syrup, and 1⁄4 teaspoon of salt and whisk until well blended. Season with pepper.
5. Put the kale in a large bowl and drizzle with 3 tablespoons of the dressing. Massage the dressing into the kale with your hands until the kale has a soft, almost wilted texture. Add the squash, hazelnuts, and pomegranate seeds and toss gently until all the ingredients are evenly coated. Taste and mix in more dressing if desired.
6. Divide the salad among four plates and serve. Stored in a covered container in the fridge, any leftovers will keep for 1 day.
Cauliflower + Oyster Mushroom Tacos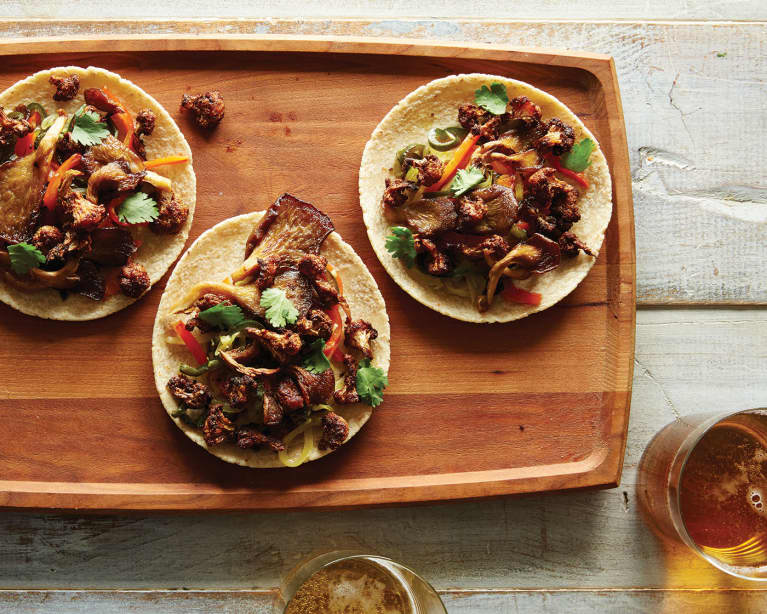 A lot of vegan tacos are filled with rice, beans, or faux meat, but vegetables can provide plenty of substance and flavor all on their own. In this recipe, spice-rubbed, crispy roasted cauliflower meets chewy, tender sautéed mushrooms, and the result is a satisfying contrast of textures and flavors.
Don't be afraid to slightly char the cauliflower; that will just give it an even better flavor—trust me on this one. The garnish of cilantro complements the other flavors perfectly, but feel free to use different toppings, such as salsa, guacamole, sliced avocado, or hot sauce.
Serves 4
Ingredients

1 head cauliflower, cut into small florets (6 to 8 cups/600 to 800g)
4 tablespoons (60ml) olive oil
1 tablespoon chili powder
1 tablespoon smoked paprika
1 teaspoon ground coriander
1⁄2 teaspoon ground cumin
Pinch of red pepper flakes
Salt and pepper
1 cup (115g) thinly sliced Vidalia or Spanish onion
1 large or 2 small poblano chiles, thinly sliced
1⁄2 cup (75g) chopped red bell pepper
1 clove garlic, minced
6 ounces (170g) oyster mushrooms, thinly sliced
2 teaspoons freshly squeezed lime juice
8 (6-inch/15cm) crisp corn tortillas
1⁄2 cup (20g) chopped fresh cilantro, for garnish
Preparation

1. Preheat the oven to 425°F (220°C).
2. In a large bowl, toss the cauliflower florets with 2 tablespoons of the olive oil until evenly coated. Sprinkle with the chili powder, paprika, coriander, cumin, red pepper flakes, and a generous pinch of salt. Toss again until the cauliflower is evenly coated. Spread the cauliflower on a rimmed baking sheet.
3. Bake for 20 minutes, until crispy.
4. Heat the remaining 2 tablespoons of olive oil in a large skillet over medium heat. Add the onion, poblano, and red bell pepper and sauté until the onion is tender and a bit golden, about 15 minutes. Add the garlic and sauté for another minute. Stir in themushrooms, then season with salt and pepper. Cook until the mushrooms are tenderand crispy (5 to 8 minutes). Remove from the heat and stir in the lime juice. Taste and adjust the seasonings as desired.
5. For each taco, put 1⁄4 cup (60ml) of the mushroom mixture in a tortilla. Top withsome of the roasted cauliflower and a tablespoonful of cilantro.