A Woman With ALS Posted This Breathtaking Photo With Her Newborn
September 10, 2015 — 14:43 PM
In 2014, Amanda and Chris Bernier received the best news they'd ever gotten in their lives: they were going to be having their first child.
But then, just two weeks later, they received just about the worst news imaginable: Amanda had been diagnosed with ALS, a progressive neurodegenerative disease that causes the deterioration of motor neurons.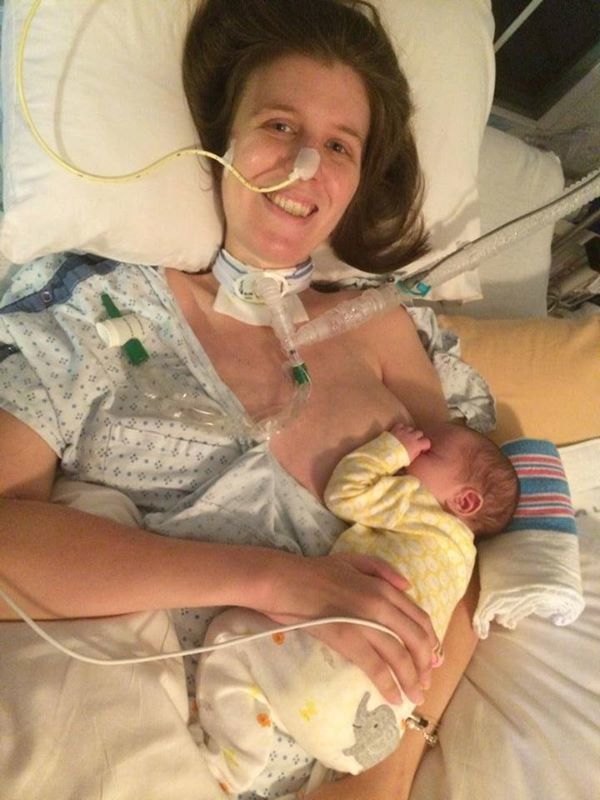 Amanda, a firefighter who had been running in races her whole life, felt her legs giving out as she climbed into a fire truck responding to an emergency call from her community. She thought it was most likely ALS since her mom, grandma, and other family members had passed away from it. But she was only 29.
"I am glad that I will be by her side as her angel."
They soon learned that she has the most aggressive form of the disease. In five months, she went from firefighting to not being able to move anything but her head and only being able to breathe on a ventilator.
But she was still able to give birth to a healthy daughter — via c-section.
"As soon as I was rolled to my room Peanut was placed on my chest," Amanda wrote in a Facebook post. "I was blessed that she immediately knew what to do. The nurses that I had gotten to befriend over the past quarter of a year knew how important it was to me to breastfeed. They were determined to help me give that gift to her."
She continued to breastfeed Peanut, persevering through the cracked and blistered nipples, until she formed teeth. Since Amanda has no startle reflex, it was difficult to teach Peanut to stop biting her and pulling on her tracheal tube.
However, with the help of family members, she figured out how to pump breast milk without sitting upright.
"A very important goal of mine was to freeze as much milk as I could so my daughter would still have breast milk when I was no longer here," she explained. But she was still concerned that Peanut wouldn't know who she was. She couldn't do the things mothers usually do for their child, like changing their diapers and comforting them when they cry.
But she found ways to connect with her, through music, sound games, and sign language videos, and her daughter acknowledges her. She now smiles broadly any time she sees her mom.
We'll let Amanda have the last word:
Having ALS is not how I pictured my life. It breaks my heart that I can't be the mother that I wanted to be. It crushes my soul that she wont have her mother for much longer and she will grow up with out me. However everything happens for a reason so I am glad that I will be by her side as her angel.
You can donate to Amanda and Chris' foundation Amy's Angels here.