A Quick & Simple (Accidentally) Vegan Tomato Soup
In an effort to reduce my family's carbon footprint, I recently decided to move our diet to "mostly vegan." The shift was seamless and went largely unnoticed since we were eating very little animal protein to begin with.
My husband isn't picky and our two-year-old eats just about anything I put in front of him — as long as I read a book to him while we have dinner. (Some might call this bad parenting, but the belly laughs at our dinner table say otherwise!)
One of the recipes that made the transition to "mostly vegan" practically effortless is this (accidentally) vegan tomato soup.
The recipe came together a couple of years ago when I was staring into my pantry for dinner inspiration. It took some fiddling to get the quantities just right, but somewhere between disorder and my complete lack of motivation to pull on street clothes for a grocery run, this vegan tomato soup cemented itself as a regular in our dinner rotation.
The coconut milk is full of healthy fats and makes the soup creamy. The maple syrup cuts the tang of the tomatoes while the Herbs de Provence and celery seed lend their perfect herbiness to the pot.
We slurp down big ladlefuls of this soup with toast, or completely non-vegan grilled cheese sandwiches!
Accidentally Vegan Tomato Soup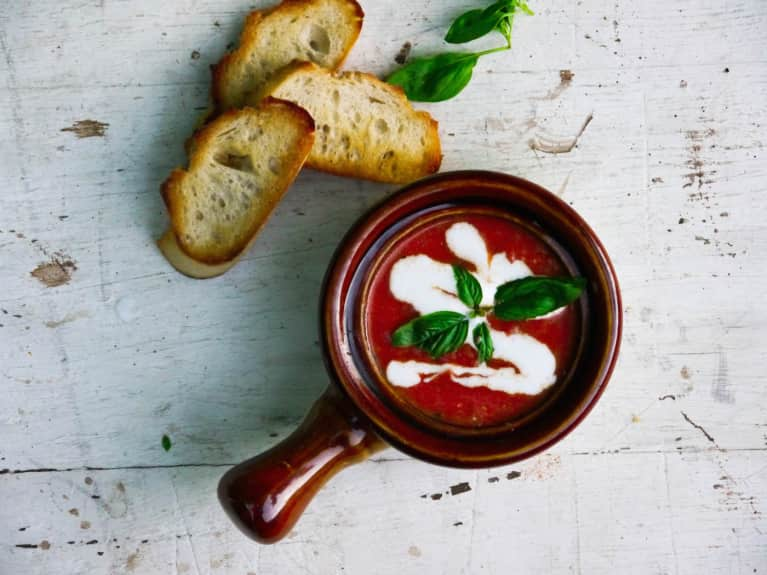 2 x 28-ounce cans crushed tomatoes
1 x 14-ounce can regular (full fat) coconut milk
5 tablespoons maple syrup
1 medium onion, diced
3 cloves garlic, minced
½ teaspoon Herbs de Provence
½ teaspoon celery seed
1 tablespoon olive oil
Kosher salt and black pepper to taste
Preparation
1. Sauté the onions in a large pot or soup kettle over medium heat until translucent. Add the garlic and allow to cook about 2-3 minutes. Stir in the crushed tomatoes and bring to a gentle simmer.
2. Remove the pot from the stove and transfer the tomato mixture into a blender and puree, making sure to vent the blender by draping a kitchen towel over the pop-out opening.
3. Once the mixture is smooth, transfer back into the soup pot. Stir in the coconut milk, maple syrup, Herbes de Provence, and celery seed. Season with kosher salt and black pepper to taste. Simmer the soup for about 10-15 minutes. Ladle and serve.
Photo courtesy of the author
Want more vegan soups? Try these: