Artist Olivia Steele On The Life Advice She Swears By, And #Wellth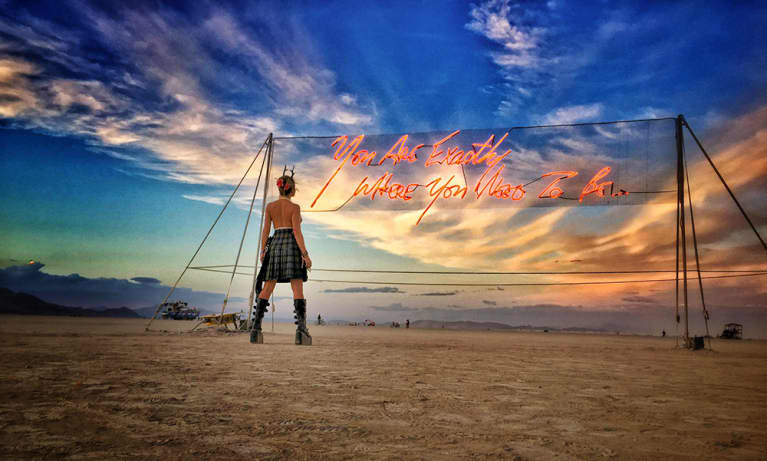 I've spent the past year thinking a lot about "wellth" — the idea that success is found in a lifestyle devoted to mental, physical, and emotional health. (I even wrote a book about it.) In this new series, we're celebrating visionaries who embody what it means to be wellthy.
If you've been to Burning Man or Art Basel or Summit Series, then you'll recognize Olivia Steele's incredibly awesome neon art.
mbg: Favorite way to break a sweat?
OS: Tantric sex and acro yoga and JetSet Pilates.
Favorite healthy place to eat?
What do you love about your work?
I love all my collectors that I have ever met. They are ALL fascinating, wonderful, cool, beautiful, and fun humans. It's reassuring to vibe with the people who value my work and connect on a mutual level.
The houses and commercial spaces of all the places I've gone to install in have been remarkably well-designed and architecturally relevant buildings, and this always puts a big smile on my face. It never gets old to feel awed by a space, and I'm so blessed.
What are your favorite holistic healing treatments?
Doing a vision quest, Ozone therapy, BodyTalk, acupuncture, watsu, and ayahuasca.
Does having a spiritual practice play into being an artist?
Being an artist is a spiritual practice, or at least for me it is. Working with light and especially messages that raise consciousness and promote awareness is intimately tied into my spirituality and quest for knowledge of the great mystery. I go into an active state of meditation when I am making or installing my art. I often get a lot of downloads in the process. My visions, lessons, and discoveries are then reflected in my productions.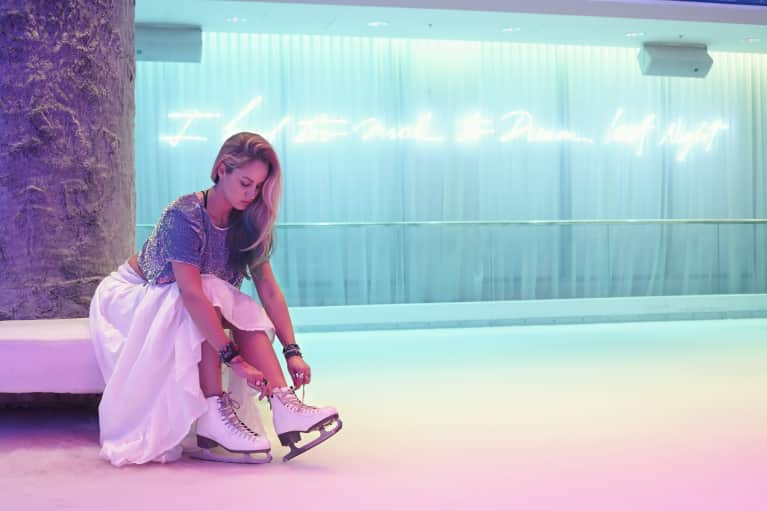 Favorite way to get some nature?
For connecting to nature, doing a vision quest in the Pyrenees, Basque Country. For escaping to nature, living on the beach/jungle in Tulum, Mexico, and floating down the canals and lagoon in the Sian Ka'an Biosphere nearby.
What does wellth mean to you?
The first point that comes to mind is: how does one measure wellth? To the best of my knowledge, Wellth could probably be measured in happiness, satisfaction/contentment, accomplishment, and health. If I wanted to know if someone is wellthy, I would ask, Are you happy? Are you satisfied with yourself? What have been your most relevant accomplishment. And check the status of health. All of this applies on a business and commercial level, not just a personal one.
To do what you love and love what you do — and to gather resource and independence as a result of it — is a most precious accomplishment. If you've got this, then everything else just sort of aligns. If you're truly living your purpose, the universe will always provide the rest. I'd say wellth multiplies when you share your gifts with word and is rewarded with abundance.
Any advice for someone who's looking to build a life that they love?
Please, whatever you do, do it for the right reasons and with conviction.
You really want to love your life? Be prepared to totally detach yourself from all conditioning, fear, and ego to unlock the little magic tricks of the universe — and a life of love is full of magic!
Do remember: no success in business can make up for failure at home.
Don't forget: morals and class, never leave home without them.