15-Minute Grilled Veggie Bowl (Vegan and Gluten-Free!)
Bowls are all the rage right now, and with good reason. They're easy to throw together, pack a lot of nutrients, and are full of flavor.
Today we're sharing a recipe for the most delicious bowl ever. It's packed with protein and healthy fats to keep you feeling full and energized throughout the day, AND it only takes 15 minutes to throw together. Let's get cooking!
15-Minute Grilled Veggie Beach Bowl and Sun-Dried Tomato Dressing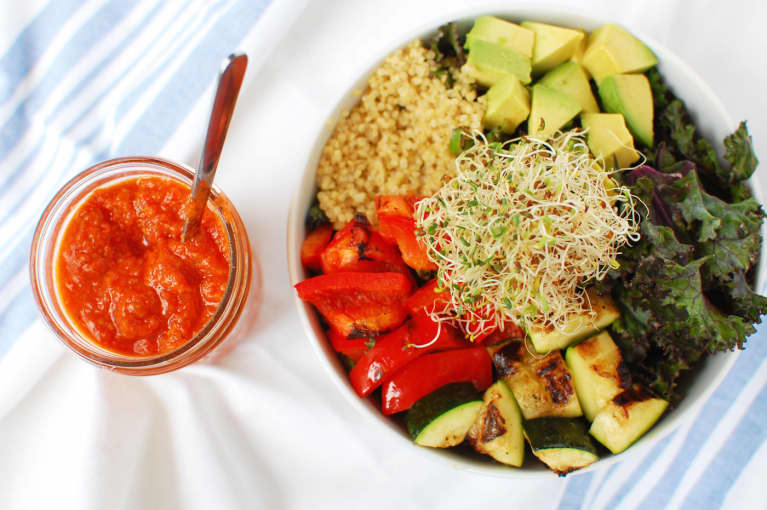 1 cup quinoa, uncooked
1½ cups water
1 red bell pepper, sliced into quarters
1 zucchini, sliced into quarters
⅓ cup sun-dried tomatoes
4 cups kale leaves, chopped
¼ cup extra-virgin olive oil
¼ teaspoon sea salt
¼ teaspoon black pepper
1 garlic clove (minced)
1 tablespoon apple cider vinegar
1 teaspoon oregano
1 avocado, peeled and sliced
1 cup alfalfa sprouts
Preparation
1. Combine your quinoa and water in a saucepan and place over high heat. Bring to a boil. Once boiling, reduce to a simmer and cover. Let simmer for 12 to 15 minutes or until water is absorbed. Remove from heat, fluff with a fork and set aside.
2. Heat your barbecue over medium heat. Toss red pepper and zucchini in a splash of extra-virgin olive oil and season with sea salt and pepper. Grill your red pepper and zucchini for about 5 minutes per side.
Note: If you don't have a grill, you can roast your vegetables in the oven at 420°F for 10 to 15 minutes per side.
3. While your veggies cook, prepare your dressing by combining the sun-dried tomatoes, olive oil, sea salt, black pepper, garlic, apple cider vinegar, and oregano in a blender or food processor. Add ½ cup warm water and blend until smooth.
4. Massage your kale in a bit of extra virgin olive oil and sauté in a frying pan over medium heat just until wilted. Remove from heat immediately.
5. Transfer your vegetables off the grill and coarsely chop. Divide quinoa into bowls and top with grilled veggies. Add wilted kale, diced avocado, and sprouts. Drizzle with desired amount of sun-dried tomato dressing.
Photo courtesy of the author