A Super Simple Make-Ahead Lunch: Spinach Soup
Our editors have independently chosen the products listed on this page. If you purchase something mentioned in this article, we may
earn a small commission
.
From the editor: Green smoothies are great for breakfast or a snack. As we head into fall, we can start exploring the green smoothie's less trendy sibling: green soup.
This simple soup blends up into much more than the sum of its parts for a tasty meal or first course packed with all those feel-good greens.
Simple Spinach Soup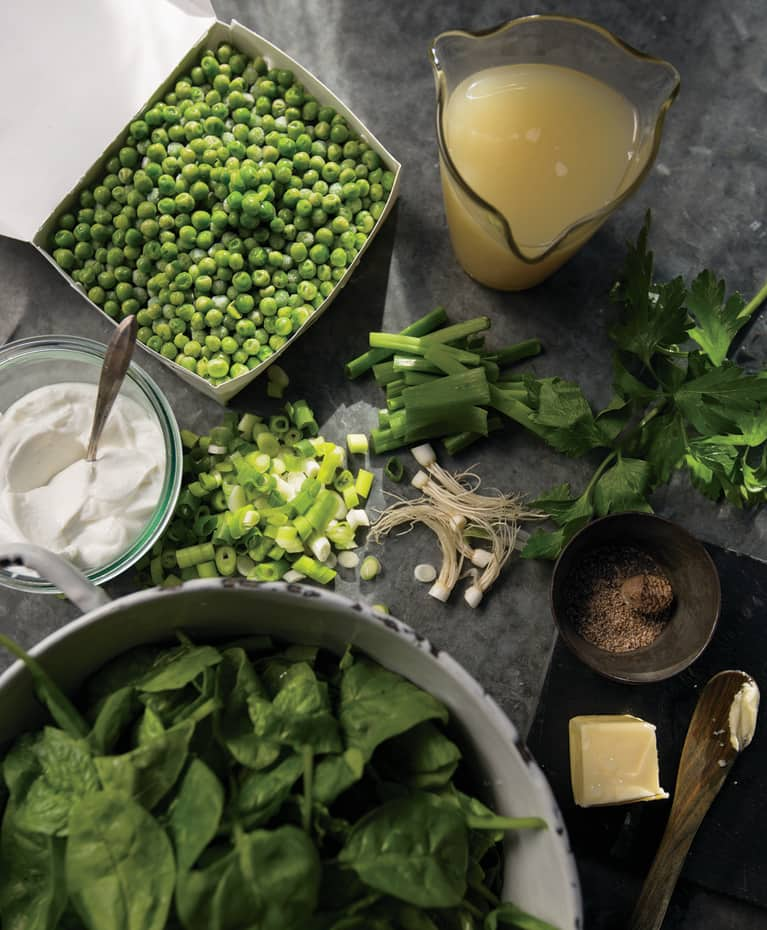 2 tablespoons unsalted butter
1 bunch scallions, chopped, reserving a handful for garnish
1 cup fresh shelled (or frozen) peas
1 quart low-sodium chicken (or vegetable) broth
6 cups spinach leaves, tough stems trimmed
Pinch freshly grated nutmeg
Kosher salt
Freshly ground black pepper
½ cup chopped fresh Italian parsley
1 cup chilled plain Greek yogurt or sour cream, plus more for garnish
Preparation
1. In a large saucepan, melt the butter over medium heat. Add the scallions and cook, stirring, until wilted but still bright green, about 2 minutes. Add the peas and chicken broth and bring to a simmer. Cook until the peas are tender, about 7 minutes. Add the spinach and season with nutmeg, salt, and pepper. Simmer just until the spinach wilts and is tender, about 4 minutes.
2. Transfer the soup to a blender or food processor (do in batches if necessary). Add the parsley and yogurt and process until smooth. Adjust the seasonings (salt and pepper to taste) and transfer to a bowl or pitcher. Refrigerate until very cold, at least 3 hours. Serve the soup in bowls, with a dollop of yogurt or sour cream and a sprinkle of chopped parsley.
Recipe from Farmhouse Rules by Nancy Fuller. Copyright © 2015 by Fuller Farmer, LLC. Used with permission by Grand Central Life & Style. All rights reserved.
Header Photo Credit: Getty Images