I (Almost) Went Plastic Free For A Week. Here's What Happened.
mbg Sustainability Editor
By Emma Loewe
mbg Sustainability Editor
Emma Loewe is the Sustainability Editor at mindbodygreen and the author of "The Spirit Almanac: A Modern Guide To Ancient Self Care."
During my time as green editor here at mbg, I've been put in touch with some pretty impressive eco-heroes. Stories of no-impact city living, entirely self-sustaining oases, and lifelong commitments to spreading environmental awareness have inspired me to pursue some green feats of my own.
To kick off a series of weekly eco-challenges, I just attempted to go seven days without using any disposable plastic. That means no beauty products in plastic containers, next to no packaged food (most cans and boxes are lined with plastic) and no single-use cutlery or carriers. While recycling is certainly a great thing, the process has its kinks, and the best way to cut down on one's environmental impact is to lessen consumption altogether.
It was a pretty revelatory seven days, and the experience made me more conscious of my own blind consumption tendencies. Here are some highlights and takeaways — hopefully they will give you a laugh and inspire you to lessen your own plastic footprint a bit.
Saturday. A potato-heavy week.
It's a sunny fall day in Brooklyn and the farmer's market is packed. With two canvas shopping bags by my side, I'm ready to take on any plastic that comes my way. "No thanks," I strongly reply when asked if I need a plastic bag for my lettuce, ready to accept my crown as eco-ambassador of New York City. But my confidence starts to waver once I look more closely at my food options.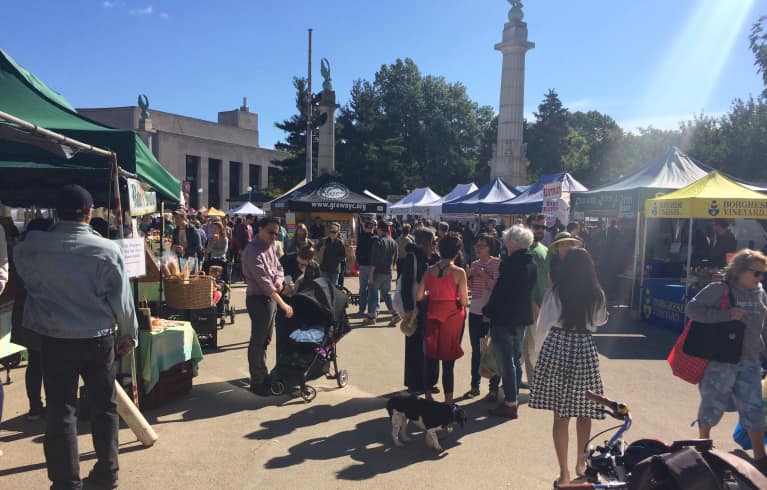 Despite the fact that I'm at a fresh food market, plastic blankets almost everything. Tomatoes sit in plastic cartons, fresh bread is packaged in paper and plastic wrap, and cheese is wrapped in plastic, too. After a few minutes of scouring for loose veggies, I settle on some carrots, corn, broccoli, and lots of potatoes. In a flash, I'm all out of cash (guess I should have glanced over this before my trip).
As I walk away from the market, I'm disappointed that my options were so limited. I start to wonder how this no-plastic diet will fare on my waistline, and I wish I actually liked potatoes.
I suddenly feel intensely aware of the fact that we live in a disposable culture.
Sunday. Let the plastic nightmares commence.
All I see is plastic. The stuff is literally everywhere — it's in the package of new shoes I just got in the mail, it encloses the milk I so desperately want to put in my coffee, it's in the hands of every shopper I pass on the street. I've become hyper-aware of its existence and, though I don't often remember my nightmares, I swear it was prominent in mine last night.
Monday. Sorry about the carrot juice.
It's my first day in the office since starting my challenge, and I forgot to bring the lunch I packed last night (vegetables, in case you were wondering). There's a treat in the office today — cookies of all different varieties, all wrapped in plastic. I glance at them longingly as I devour my second banana of the morning.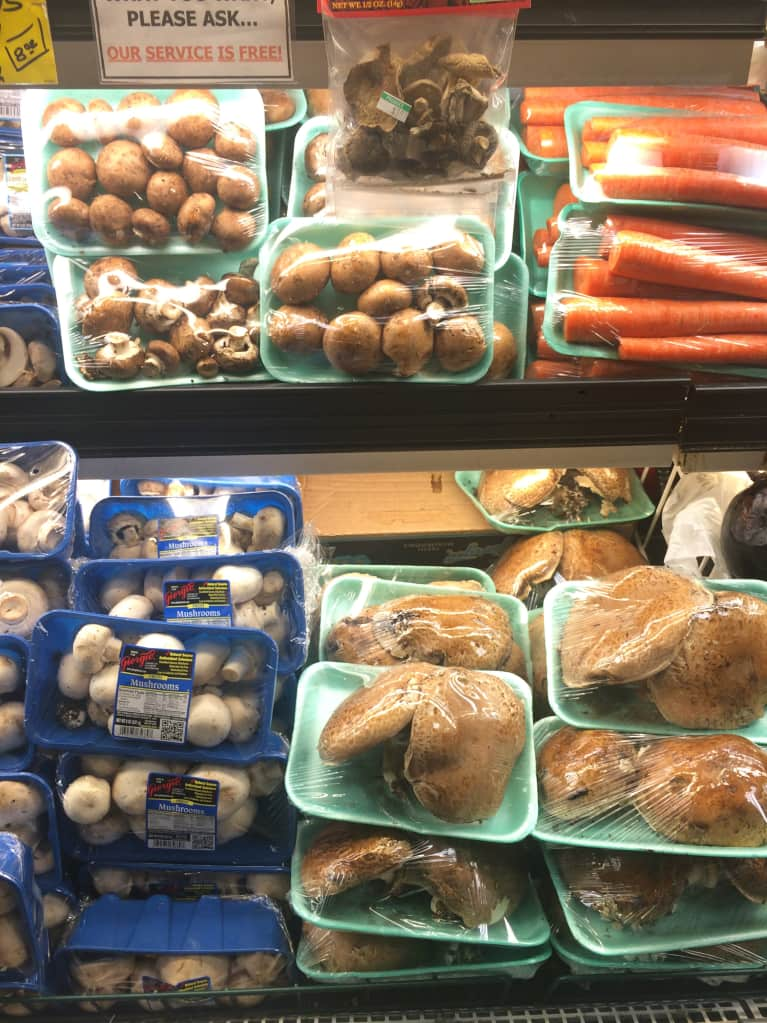 Once lunchtime arrives, I brave the streets to find a suitable eco-friendly option. After settling on a shop that wraps its sandwiches in paper, I browse the aisles of a nearby health food store. Free juice samples beckon me to the bar, and I only realize that they are served in little plastic cups once I've already picked one up. I lower the carrot juice in embarrassment, and give the woman who made it — clearly confused — a nod of apology.
The food store is on the same level as the farmers market, plastic-wise, and I'm discouraged to see some fresh veggies covered in Cling Wrap that could easily be sold loose.
Tuesday. A win for coffee lovers everywhere.
It's hard for me to describe the depths of my coffee addiction. I spend a shameful amount of time at Starbucks and they greet me by name at the one near work. Drinking water out of a reusable container is second nature to me, but I never thought to apply the same idea to my morning (and midmorning, and afternoon) brew.
But now I know that Starbucks not only allows you to provide your own cup, they actually give you a discount for doing so. I swear their coffee actually tastes better out of my steel mug, but it may just be the knowledge that I paid 10 cents less for it.
Wednesday. My hair reeks of vinegar.
Strange things start to happen when you don't wash your hair for a few days. My shampoo and conditioner's plastic packaging makes it off limits, so I've spent the beginning of this week embracing an all-natural look. But I can't take it anymore — my hair is a collage of dry and oily patches, and I probe our beauty editor for some DIY tips.
She recommends an apple cider vinegar wash, so I test it out along with a baking soda shampoo for good measure (I'm already using baking soda as a toothpaste and it's surprisingly not disgusting).
The vinegar and baking soda washes are simple enough to make — you just have to mix each ingredient with water — but tricky to apply. Their liquid textures make showering more of a delicate dance to get the product into the hair and out of the eyes. Once applied, my hair certainly feels cleaner, but it's distinct vinegar scent leaves me reaching for my actual shampoo in defeat.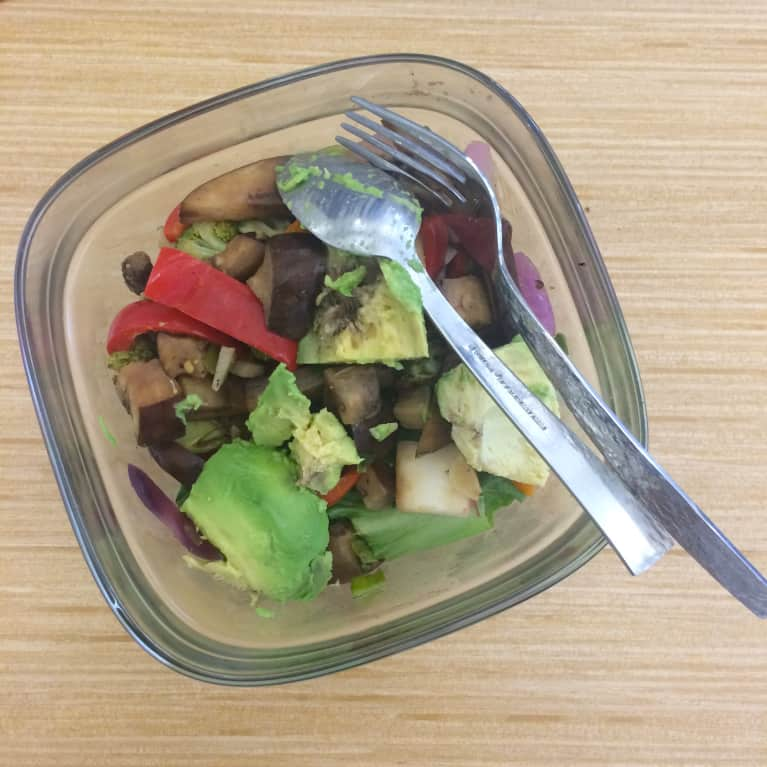 Thursday. I've lost 3 pounds.
A plastic-free diet could be the next weight-loss craze — I've lost 3 pounds this week. Just when I start to feel like I've fallen into a routine and mastered the art of reuse, a co-worker calls me out for drinking out of a plastic cup. Even six days into the challenge, it's still second nature to me to reach for things like this, and I suddenly feel intensely aware of the fact that we live in a disposable culture.
Friday. Reusable reflections.
Though this week wasn't impossible, living without plastic is definitely more of a challenge than it needs to be. Though food shopping proved a significant test, some parts of the last seven days were painless and, dare I say, kind of enjoyable.
Here's what I've found to be the most doable ways to cut down on the plastic consumption in everyday life. Do the earth a solid, and try some out for yourself this week:
Carry all drinks in reusable cups.
Nix plastic carry-out containers and disposable silverware.
Do your best to buy unpackaged produce whenever possible.
Use canvas shopping bags and avoid plastic produce bags.
Say no to individually wrapped food items.
Photos courtesy of the author
Preview Illustration by Chloe Bulpin, mbg creative