7 Badass Athletes Who Didn't Let Pregnancy Slow Them Down (Photos)
Years ago, being "with child" used to be a career ender for big-time athletes — not anymore. Today, women are realizing they don't need to cut their athletic careers short to start families. Being a mom only makes them stronger. Need a little proof? The 2015 U.S. Women's World Cup Team had three moms on their roster when they dominated the competition this past July.
Not only are moms still capable of kicking butt, they can bring the heat whether they're in their first, second, or third trimester. As always, we recommend you consult with your doctor to decide on the right level of fitness for your pregnancy. In the meantime, check out these seven amazing, pregnant athletes who prove that women are strong and beautiful in every state:
Mary Helen Bowers, Professional Ballerina And Creator Of Ballet Beautiful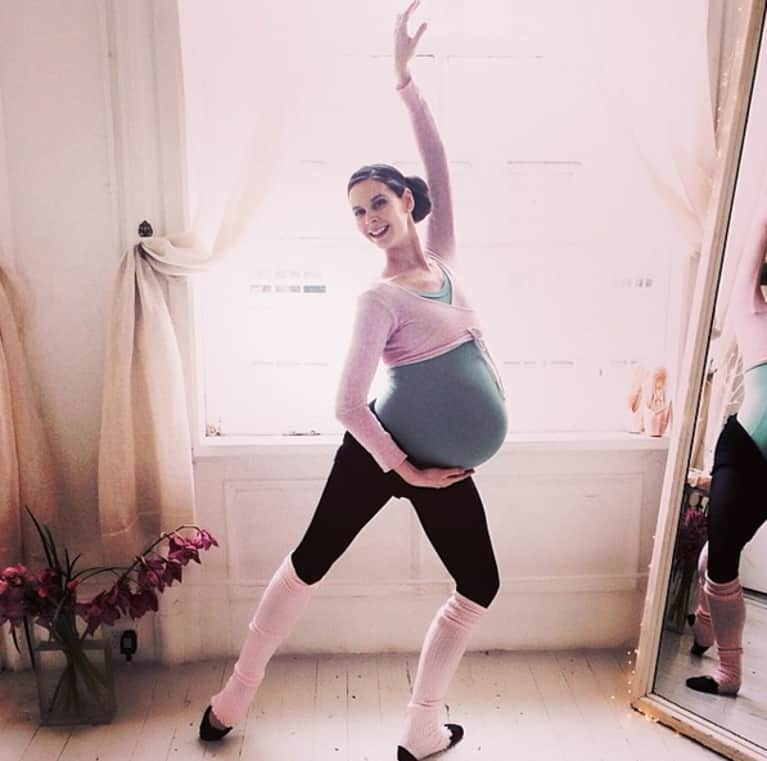 Bowers is one badass ballerina. Not only did she train Natalie Portman for her award-winning role in the film Black Swan, but she was also dancing on her due date. After giving birth, she launched a prenatal workout DVD series, so the rest of us can look as awesome as she did while preggers.
Photo courtesy of @balletbeautiful

Bethany Hamilton, Professional Surfer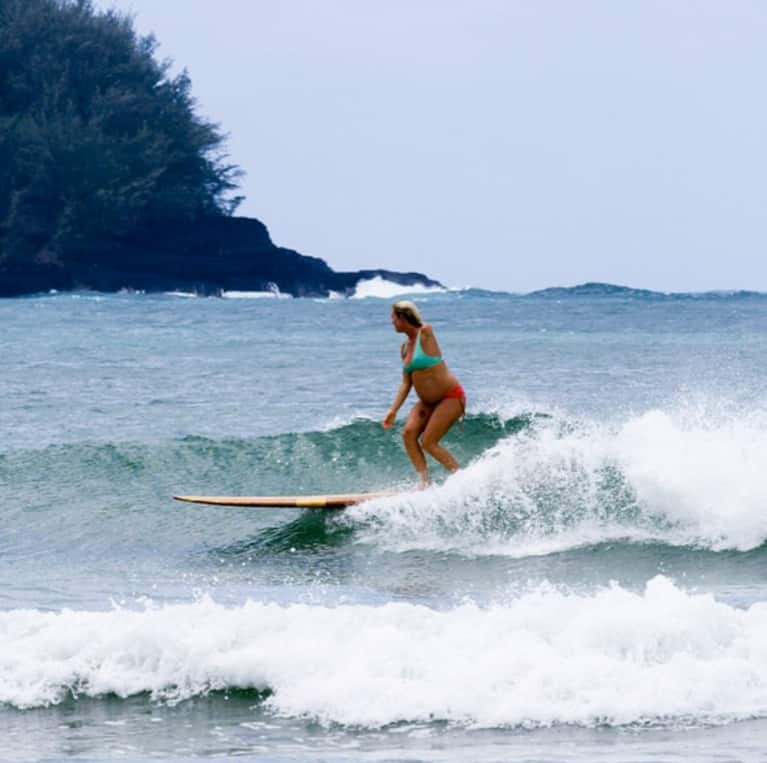 Hamilton is no stranger to headlines — at age 13, her life changed forever. While surfing, she was attacked by a 14-foot tiger shark and lost her left arm. She got back on her surfboard a month later and hasn't gotten off since. This year, Hamilton made headlines again for surfing while six months pregnant. Her retort: She was simply enjoying an active pregnancy.
Photo courtesy of @bethanyhamilton

Kinberly Novaes, MMA Fighter
Novaes, a celebrated Brazilian MMA fighter, was having difficulty losing weight for a fight in August 2015, so she went to see her doctor. Surprise, surprise! This powerhouse athlete discovered she was 24 weeks pregnant. When Novaes (and her fans) counted backward, she realized she had been 12 weeks pregnant when she won the Noxii 115-pound title in May. Had she known at that time, she might not have stepped into the ring, but clearly being pregnant did not affect her prowess.
Photo courtesy of @kinberlynovaes

Alysia Montano, Olympic Runner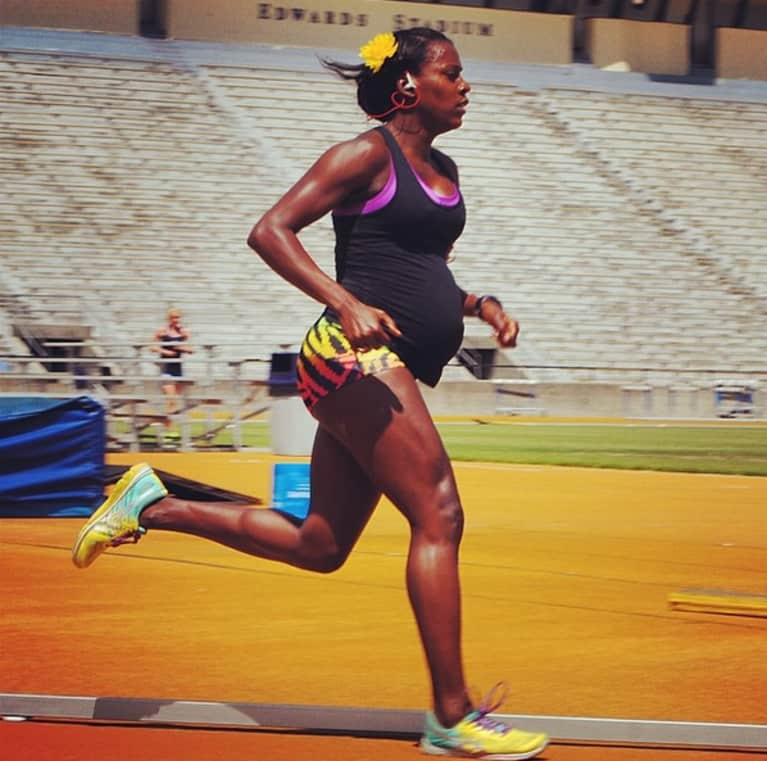 Last summer, Montano was 34 weeks pregnant when she ran an 800-meter race in the U.S. Track and Field Championship in California. And she kicked butt: She completed the race in 2 minutes, 31.13 seconds, just 35 seconds slower than her personal record. To commenters who thought maybe she shouldn't be running, she said, "What I found out mostly was that exercising during pregnancy is actually much better for the mum and the baby. I did all the things I normally do… I just happened to be pregnant."
Photo courtesy of @alysiamontano

Kerri Walsh Jennings, Olympic Gold Medalist (Beach Volleyball)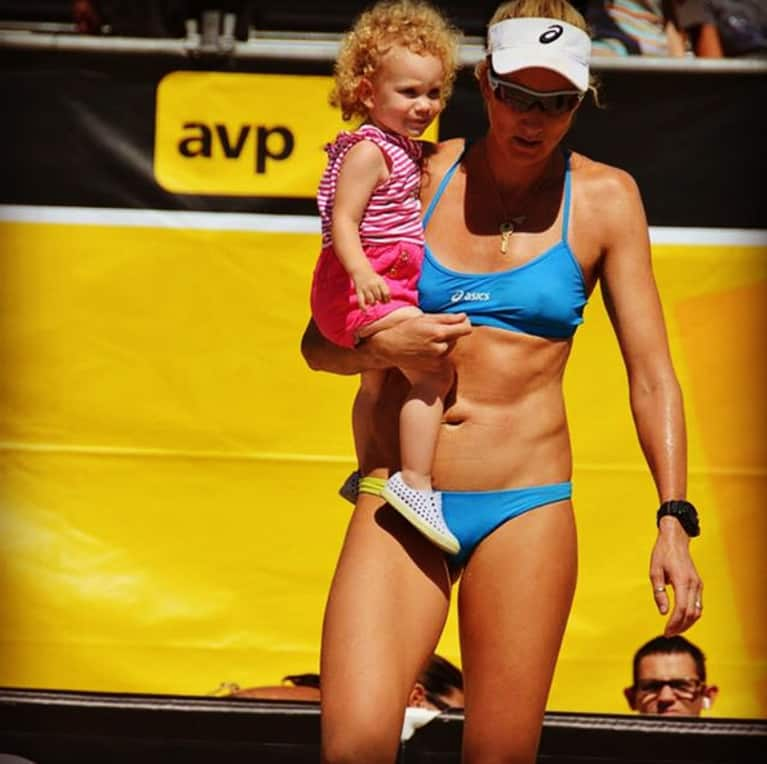 After Walsh Jennings won her third Olympic gold medal at the London Olympics in August 2012, she revealed that she was actually five weeks pregnant during the game: "When I was throwing my body around fearlessly, and going for gold for our country, I was pregnant," Walsh Jennings told the Today show six weeks later. In April 2013, she and her husband welcomed daughter Scout to the world.
Photo courtesy of @kerrileewalsh

Heidi Kristoffer, Creator Of CrossFlowX At The Movement In NYC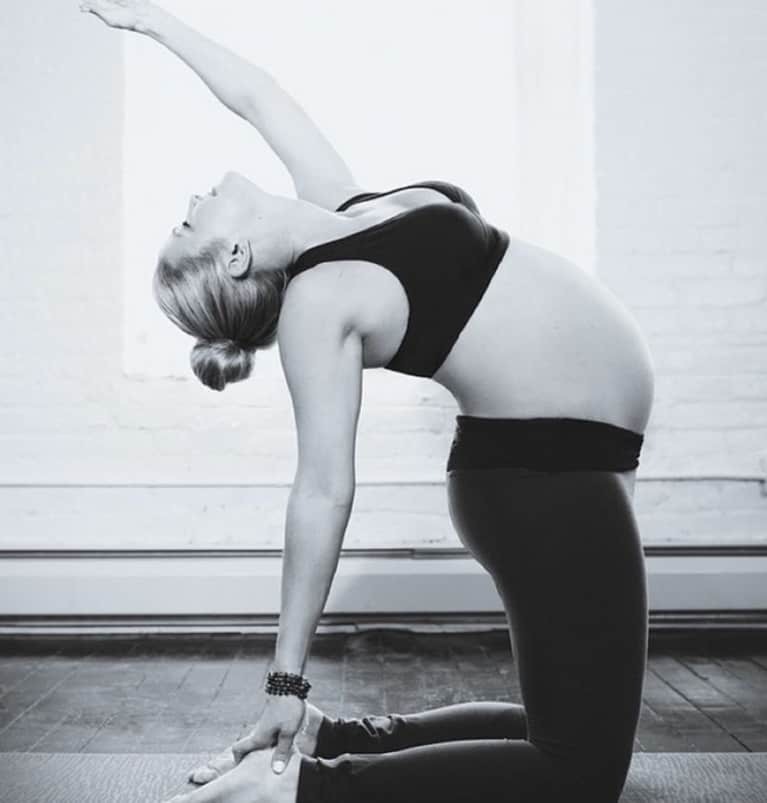 There was no stopping this yogi when she became pregnant with twins in late 2014. She was practicing vinyasa yoga and taking regular SoulCycle classes throughout her second trimester. She described her pregnancy fitness philosophy to FitBump.com: "Whatever feels good!"
Photo courtesy of @heidikristoffer

Paula Radcliffe, World Marathon Record Holder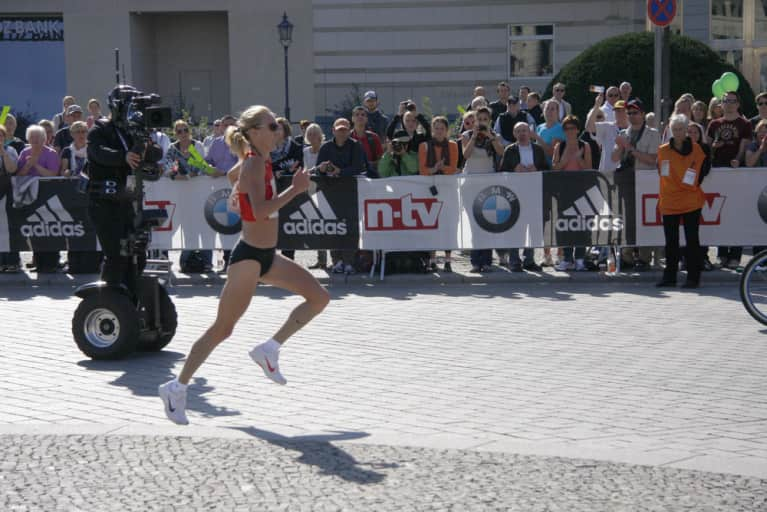 Radcliffe won the New York City Marathon in 2007, just nine months after giving birth. She trained throughout her pregnancy, despite critics' comments. "If I couldn't run for nine months, I'd go insane," she told the Telegraph in 2006. Clearly she knew what she was doing.
Photo courtesy of Shutterstock

Hero photo courtesy of Shutterstock